Since Google first tweeted about what the Pixel 4 will look like in real life, it was evident that Google will not stop just there. In fact, it's a lesson that the tech giant learned from the gigantic Google Pixel 3 leak chaos: 'leaking' your own product is probably a good idea.
Google Pixel 4 Face Unlock
Now, Google is talking about another cool feature of Google Pixel 4 — Face Unlock. This builds on past reports which suggested that Google would bring native facial recognition support to Android Q. However, Google indirectly tells us that the Pixel 4 face unlock will be entirely different from the iPhone's.
https://youtu.be/KnRbXWojW7c
In a new blog post, Google writes that Face Unlock will work "without any fuss." Powered by the new Soli chip, the Pixel 4 device will automatically unlock the device as soon as you reach for it.
Google also uses this opportunity to jibe the Apple iPhones. The problem with Face ID is that the device should be upright for Face ID to work. Meanwhile, Google claims the Pixel 4 face unlock will work in almost all orientations.
As you reach for Pixel 4, Soli proactively turns on the face unlock sensors, recognizing that you may want to unlock your phone. If the face unlock sensors and algorithms recognize you, the phone will open as you pick it up, all in one motion. 
What Google fails to remember is that Apple has already overcome the issue with 2019 iPads. And it goes without saying the fix will also reach 2019's iPhones. Since Google is again making this "Pixel vs iPhone", it is important for Google to realize that Android users will have high hopes from the Pixel 4's Face unlock.
Not only does it have to be better than iPhones, but it should also beat other unlocking mechanics such as the in-display fingerprint scanner.
Soli chip on Google Pixel 4; Large Bezels
As I mentioned above, the new face unlock is powered by the Soli chip. Google has been working on Project Soli for more than five years. Soli is a motion-sensing radar that will Pixel 4 to detect motions and gestures performed near the phone.
Pixel 4 will be the first device with Soli, powering our new Motion Sense features to allow you to skip songs, snooze alarms, and silence phone calls, just by waving your hand.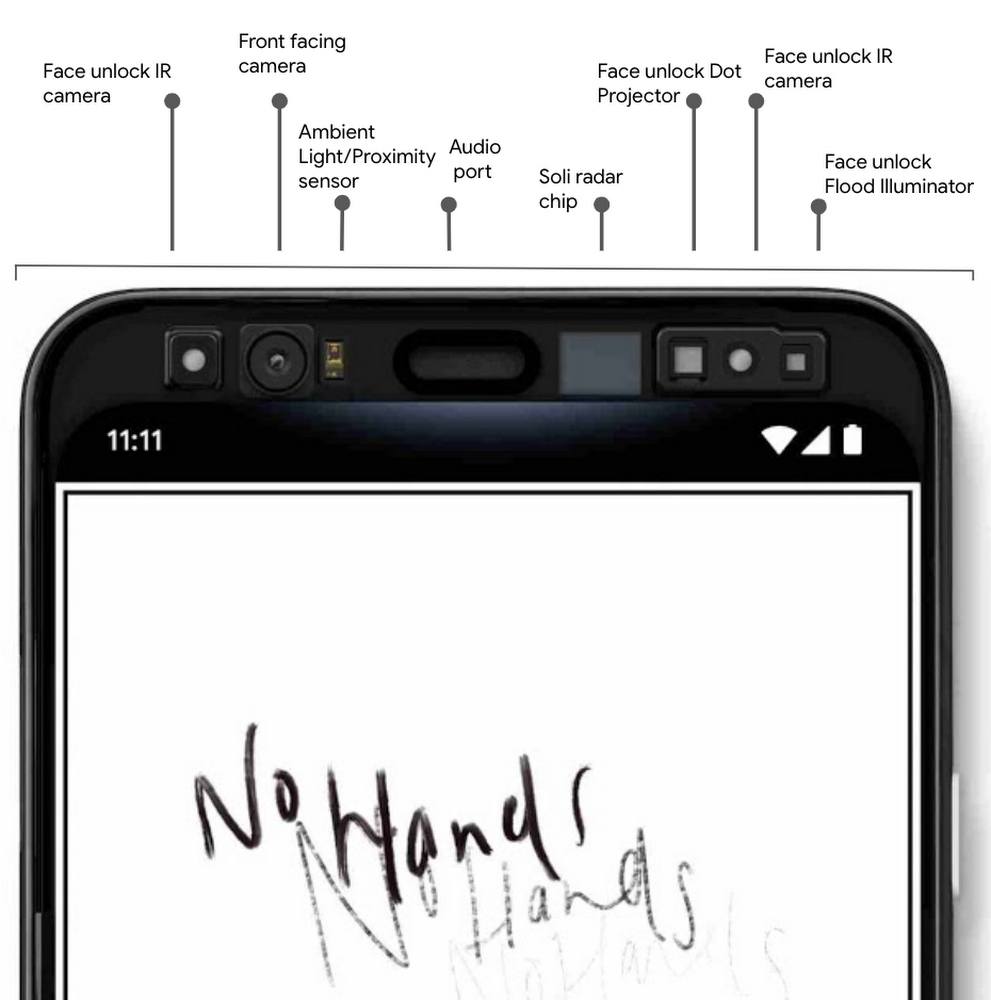 While all that is great for increasing the dying sales of Pixel devices, the Face unlock feature and Soli chip could bring an incredibly large bezel to Pixel 4.
Given the current trend where smartphones are jumping towards full-screen devices and under-display cameras, we believe it will surely be a dog fight for Google to stand out, again.