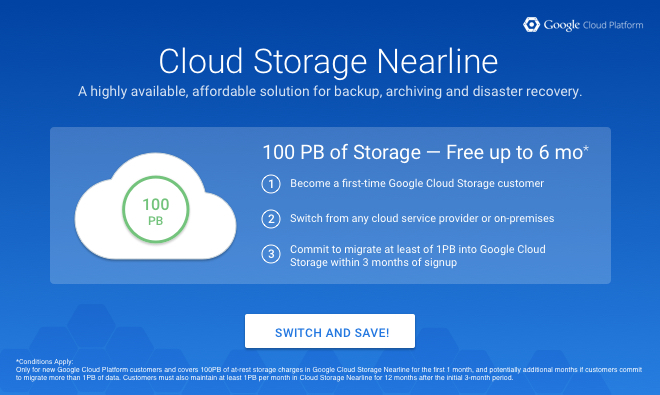 Google had announced its cold storage facility Google Cloud Storage Nearline nearly four months ago. Cold storage is not a new idea, but the convenience to access to your old data is a big put off taking a couple of hours before the data is available again. Google Cloud Storage Nearline strives for a better performance.
N
ot to be mistaken akin to Google Drive,
Google's Cloud Stora

ge
Nearline provides 100 Petabytes of cloud storage. This is the beta version of the earlier announced Nearline and offers premium archiving and backup services to big enterprises. Google is charging $0.01 per GB of data for one month. 1 petabyte is 1 million Gigabytes, so the credit of $1 million for the maximum storage.
Another advantage except the huge and cost-effective storage that Nearline provides is the retrieving speed of the archived data. Currently, the read rate is provisioned to be 4 Mbps per terabyte of stored data. To give even faster access to the files, Google has offered an on demand I/O feature for the companies that join them now, and would be free for first three months after the launch.
The cloud storage will be available to all the organizations that switch to Google's Cloud Storage Transfer Service and will be able to import large amounts of online data from HTTP/HTTPS locations such as Amazon S3 into Google Cloud Storage.
Google Cloud Storage also simplifies the life-cycle management of your objects with automated archival to Nearline and scheduled deletions.
Google has targeted Amazon and created a TCO (total cost of ownership) calculator so you can check yourself how much extra you are saving using Nearline than from Amazon Web Services.
To create a better cloud service, Google has doubled its number of partners. They were already working with Veritas/Symantec, NetApp, Iron Mountain and Geminare and have now added 5 more global cloud backup providers to the list that include Actifio, Pixit Media, Unitrends, CloudBerry and Filepicker.
Know more about Google Cloud Storage Nearline here.