Starting in August, Google Chrome will block resource-heavy ads that put a load on the network and/or on the CPU. In Google's own words, these are ads that "drain battery life, saturate already strained networks, and cost money."
A few examples are ads that mine cryptocurrency, are poorly programmed,  and are unoptimized for network usage.
Google is doing this because of the disproportion in resources shared by ads. Even though the most egregious ads add up to only 0.3% percent, they are still problematic since "they account for 27% of network data used by ads and 28% of all ad CPU usage.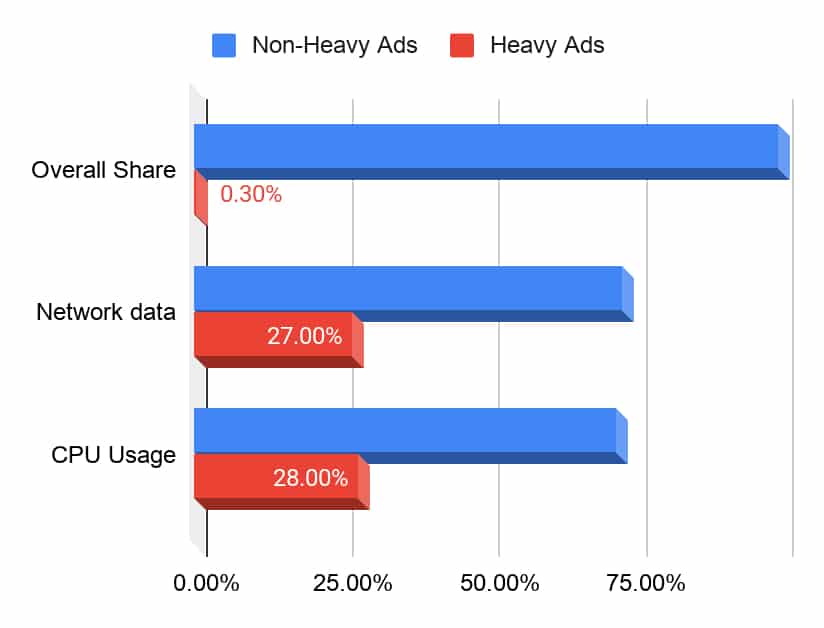 Therefore, Google has decided to block such ads that put a heavy toll on the system's CPU, and thus use an extensive amount of battery.
What are the new thresholds for an optimized ad?
The new thresholds for ads in Google Chrome are "4MB of network data or 15 seconds of CPU usage in any 30 second period or 60 seconds of total CPU usage."
Failing to comply with the new standards, Google Chrome will show an "Ad removed" window with a message that the ad has used too many resources.
Since joining the Coalition for Better Ads two years ago, Google has been actively removing bad ads to give users better web experience.
In December 2018, Google introduced protections against misleading and intrusive advertising, or what Google called "abusive experiences." Other than that, Google already has an in-build adblocker. In May 2018, it also came up with the idea of muting auto-play videos by default, according to our browsing habits.
Google has put in efforts into this so that people don't have to look for third-party adblockers to block all kinds of ads, rather than a few nasty ones. This not only hurts the publishers but also affects Google's primary source of revenue. Over 82% of Google's parent company, Alphabet, income comes from advertising.