Apart from its own feature set, tons of browser extensions are what make Google Chrome stand different from other web browsers. Just like it has for Android, Google maintains a dedicated storefront for Chrome users to find and install their favorite extensions.
The extension developers can also make users install Chrome extensions from their websites as well – a method called inline installation. This is to save users' time and efforts of visiting the Chrome Store and installing the extension from there. But Google says inline installation could be used for abusing and deceiving users.
In an attempt to improve transparency and security, Google will be removing the ability for developers to provide inline installation for their extensions. Instead, they'll have to link to the Chrome Web Store page of their extension.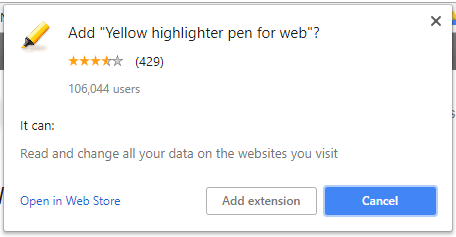 Google notes that extensions installed via the Store have fewer chances of getting uninstalled or reported by the users. One of the reasons why users often face problems with inline installation is the lack of information. The same is displayed alongside extensions in the Chrome Store.
Google will eliminate inline installation in three phases:
Firstly, it's disabled for extensions published on or after June 12, 2018. Upon clicking the install button, the user will be redirected to the Chrome Web Store in a new tab.
Inline installation for existing extensions will be disabled on September 12, 2018, and users will be redirected to the Chrome store page.
Lastly, Google will remove the inline install API from Chrome (Chrome 71).
The move could improve users' trusts on Chrome Extensions. But, on the other hand, the Chrome Web Store often serves as a home to numerous malicious extensions that unsuspecting users install on their devices. Anyway, the new changes could provide a better and safer way to get Chrome extensions.
Source: Chromium Blog