Despite being the most popular browser on the planet, if there is one thing that Google hasn't been able to fix, it's the Google Chrome high CPU usage, which devours even the mightest PCs.
While Chrome's technique of considering each tab as a separate process is primarily to blame, the number of opened tabs also accounts for the high memory and CPU usage.
Users aware of this have been using The Great Suspender Chrome extension. Now, Google has introduced an in-house tab suspender in Chrome version 79. The "Tab Freezer" feature essentially freezes tabs that are inactive for more than five minutes, thus freeing up RAM and CPU resources.
How to enable Google Chrome tab suspender?
Google is still experimenting with the new feature. Therefore users will have to enable it in the Chrome flags manually.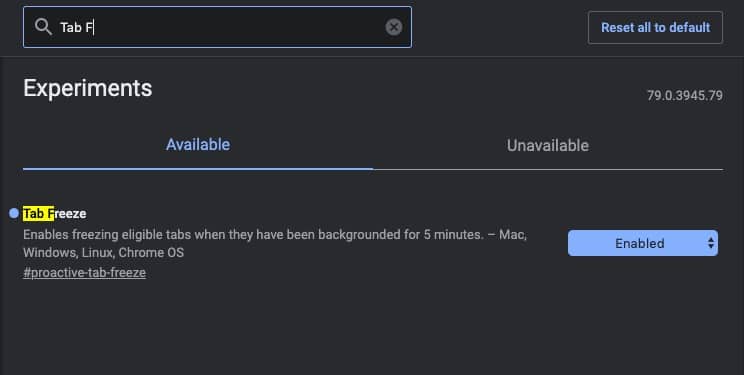 First, update Google Chrome to version 79
Type chrome://flags into the address bar and press enter
Search for "Tab Freeze"
Enable the flag and relaunch the browser
Bear in mind that tab freezer will not kill the tabs, but suspends them indefinitely until you click back on it.
What else is new in Google Chrome 79?
Other than the tab suspender, Google Chrome 79 comes with many security-related features. One big addition is that Chrome will now warn users when their password has been stolen in a data breach.
Previously, the password checkup tool was only a Chrome extension. However, Google is integrating the feature into Chrome, starting with version 79.
While logging in a website, Chrome will store "strongly hashed copy" of username and password and will compare them with credentials leaked in a data breach.
Aside from that, Google has added a tool than scans and blacklists bad websites on the go. There is also a new profile section UI and many security bug fixes.