Coronavirus has emerged as one of the biggest threats to the world. To tackle the spread of the virus efficiently, Google and Apple have joined hands.
The two tech giants are partnering to create a contact tracing app that will track those who are exposed to the virus. Today, both companies shared how the contact tracing app will work and how they are planning to make sure that app notifications are not intrusive.
The app, as detailed by Apple and Google, will work on Bluetooth low energy signals instead of relying on GPS signal data. The companies are also developing an API that'll integrate with the contact tracing apps offered by the public health department.
How will the Apple-Google contact tracing app work?
Apple and Google released a library of reference codes (an SDK for the Android app and Xcode toolkit for the iOS app) to outline the basic functioning and design of the apps.
In a series of images shared today, Apple and Google showcased how users will receive notifications from the COVID-19 contact tracing app.
The app will abide by the following rules:
Explicit user consent will be required to run the app.
No location data will be used or collected from users.
It will make the user's decision whether to share the data or not, and he/she could even choose the type of data that will be shared.
The app will not reveal any identifiable information about Coronavirus infected people to Google, Apple as well as to other users.
The app is solely intended for exposure notification.
The app will work across Android and iOS platforms.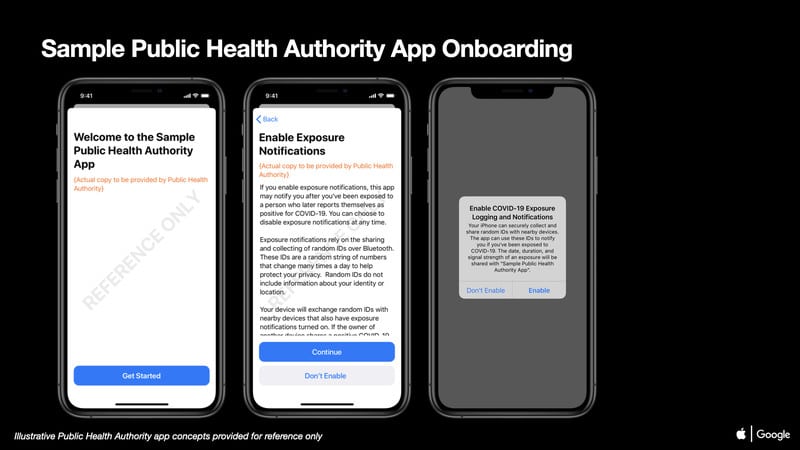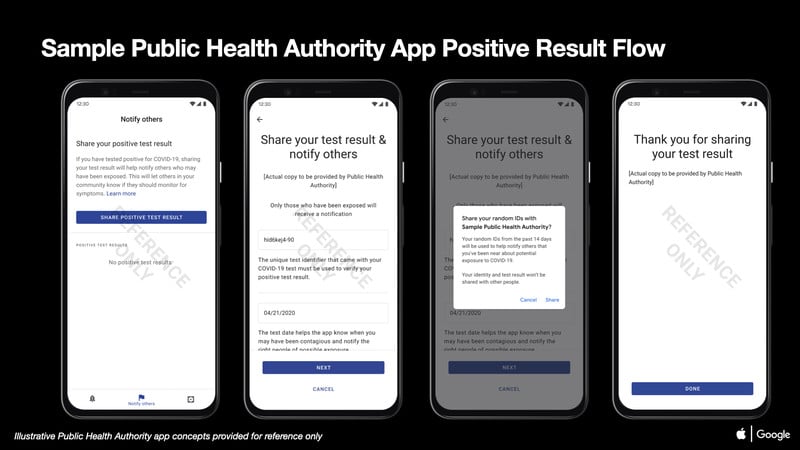 No, it won't track users' location.
Tracking apps from Google or Apple usually rely on GPS signal data to pinpoint the location of users. Naturally, users expected the same on the contact tracing app.
However, today, Apple and Google confirmed that they wouldn't track the location of users in the app developed by their joint efforts.
According to both companies, their primary goal is to ensure that the privacy of users remains intact, and the app is not exploited by government agencies to collect data.
With their collaborative efforts, Apple and Google want to build a mechanism that will notify users whether they have been in contact with a Coronavirus positive patient without requiring an app.
Both companies said that they had been approached by various governments all over the world to help them build a contact tracing app using their technology.
With Android and iOS powering a hefty chunk of smartphones used in the world, Google and Apple's joint efforts will undoubtedly help in curbing the spread of COVID-19. The effort will also be the bedrock for building efficient contact tracing systems in the future.