Glitch is a simple tool for creating web apps, launched in 2017. It offers a workspace for developers to share and customize web apps. Now with more than 5 million apps and bots on the platform, Glitch has launched a paid subscription that would offer advanced features to those who avail it.
The $10 per month ($96 annually) premium subscription will let you upgrade the bite-sized apps you can run on its platform. Until now, Glitch allowed anyone to write and blend code. It also lets users publish bots, web apps, and other projects and host them for free on the platform. However, the free hosting came with its limitations.
The apps published for free had limited RAM and storage. The worst part was that the user-created micro apps would be shut down if it went inactive even for a few minutes. This forced users to wait through a sluggish boot before using them.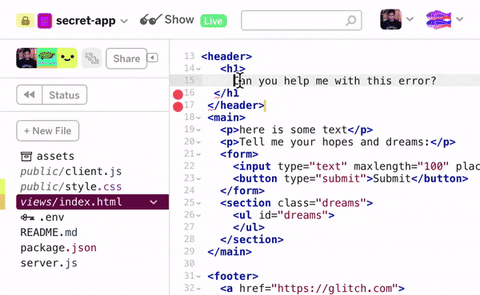 But, with the paid subscription, users would be able to choose five of their apps to run non-stop. Other features include removing rate limits from all of their apps, offering double the free tier disk space allotment (now 400MB) and quadruple memory to 2GB.
Coding on Glitch is like working together in Google Docs. It means that multiple people can work on the same project at the same time. There's no setup required, and you can see the changes in your app, live on the web as you type.
The apps on Glitch are bite-sized and usually come with limited scope, but they can perform specific tasks that other apps cannot. You can find free productivity apps that track your focus, or COVID-19 data visualizer or fun apps like Magic Sketchpad. But, the new service will definitely give more advantages to power users and that is something worth paying for.