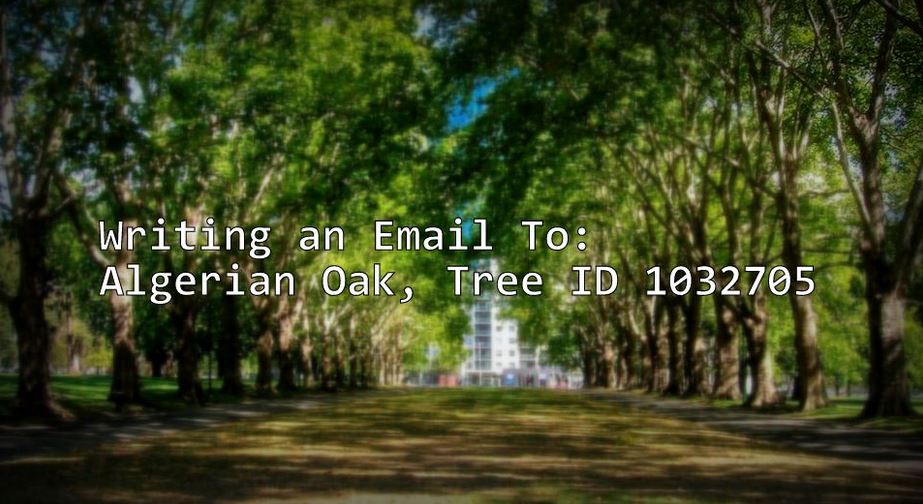 What will you say to a tree, given an opportunity to talk to one? A thank you maybe or perhaps a hug, to give us life supporting Oxygen, and bringing us rain, and ward off global warming, and preventing soil erosion, and enhancing the scenic beauty, and the list continues. Ok, what about surprising the tree with a love letter? Yeah, you read that right – a love letter!
T
he citizens in Melbourne, Australia are showing their gratitude towards the trees in the most unique way. Officials in 2013 assigned the trees ID numbers and email addresses to report the problems like dangerous branches along the roads. And the people did report, except that they were not complaints but thousands of messages containing greetings, asking the trending topics, confessions of love, and even existential dilemmas.
Check out some of these emails:
To: Algerian Oak, Tree ID 1032705

2 February 2015

Dear Algerian oak,

Thank you for giving us oxygen.

Thank you for being so pretty.

I don't know where I'd be without you to extract my carbon dioxide. (I would probably be in heaven) Stay strong, stand tall amongst the crowd.

You are the gift that keeps on giving.

We were going to speak about wildlife but don't have enough time and have other priorities unfortunately.

Hopefully one day our environment will be our priority.
Also, there is a tree that wrote about himself. (from Al's perspective; Al is a tree by the way)
To: Oak, Tree ID 1070546

11 February 2015

How y'all?

Just sayin how do.

My name is Quercus Alba.  Y'all can call me Al.  I'm about 350 years old and live on a small farm in N.E. Mississippi, USA.  I'm about 80 feet tall, with a trunk girth of about 16 feet.  I don't travel much (actually haven't moved since I was an acorn).  I just stand around and provide a perch for local birds and squirrels.

Have good day,

Al
These are the few letters that show the connection between the people of Melbourne and Nature. The city project was aimed to generate smooth working of institutional technologies and encourage locals to feel and express their part in the society at the micro level.
Also read: Get Electricity from Solar Energy-harvesting 3D Printed "Trees"
No one has expected such sort of reaction in the times when everyone is tightly scheduled. Moreover, when lost in the gadgets, no one cares about the environment.
This little observation makes us realize that Humans and the mother Nature share a deep bond and it must be kept as such. Plants, animals and everything in this environment deserve to be treated with affection and respect.
And right now I feel like talking to my dog Mars and telling him how much he means to me..
Source: Atlantic
Do you like the Aussies way of thanking the trees? Subscribe to fossBytes newsletter for more interesting stories.
[newsletter_signup_form id=1]