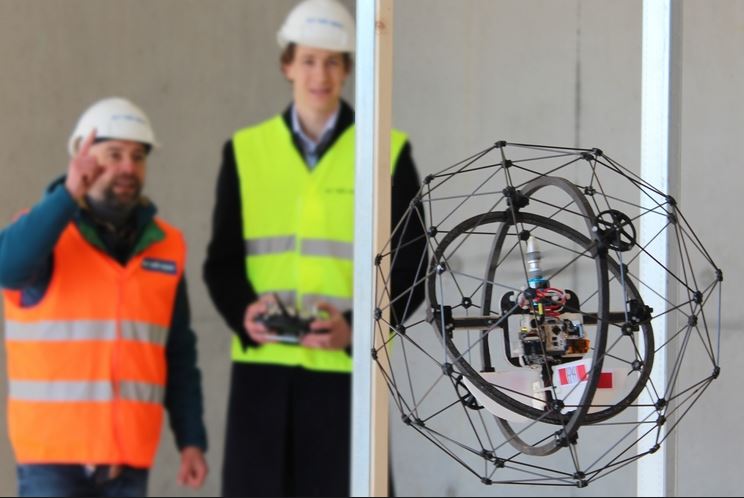 The list of new and innovative drones keeps on increasing day by day. We've seen Ambulance drone, Nixie– the wearable selfie drone, Star Wars Millenium Falcon drone and a lot more. The latest entry in the list of drones is the Collision Proof Drone! Engineers have added a new advantage to the features of drone. Inspired by the from ability of insects bouncing back from windows and walls, drone technology finds solution to the major challenge of crashing.
The team of engineers of Flyability, Switzerland, have developed a drone which flies without crashing. They have found the way to make the drone continue its flight fearless of hurdles in the path. This very important feature of Gimball earned it a million dollar prize of "Drones for Good" – an international competition in Dubai on February 7, 2015. Over 800 teams participated from 57 nations.
To make drone collision proof, engineers made it fit inside a spherical carbon fiber cage. The drone is set into combination of two frames. Drone does not avoid obstacles but rather it uses the obstacle itself to proceed further. The outer rotating skull of drone bears the force of contact with obstacles, letting the inner structure stable. The camera and other machinery stays intact after collision with any surface or object.
Also read: Star Wars Fan Makes the Fully-functional Iconic Millennium Falcon Drone
"We were wondering why insects were so capable of going inside any building – yet had limited senses such as eyesight. One capability that was completely overlooked was their ability to collide into surfaces. For insects, this isn't a big deal – but it is for robots." says Dr. Adrein Briod, Co-founder and CTO of Flyability.
This collision proof drone proves to be advantageous in various applications involving crashing damages. During rescue missions, drones are obvious to get damaged while flying through devastated structures. Collision proof drone are effective in such cases. Other applications include inspection of industrial sites, rail and roadways, firefights, etc. as Flyability says.
Patrick Thevoz, Co-founder and CEO of Flyability highlights features and use of Gimball- the collision proof drone in the following video:
---
Read our special coverage on drones here.
Get the best deals on Drones:
---
Stay tuned for latest technology news from fossBytes.
---