To this day, Friends is one of the best sitcoms ever to appear on television screens and many of you will agree with me without a second thought. This NBC show ran for a period of 10 years and each season featured a hilarious Thanksgiving episode. The combination of Joey, Chandler, Monica, Ross, Phoebe, Rachel and Thanksgiving made these episodes special.
Also read: If Friends was an Indian Soap Opera
I have compiled a list of my top 5 favorite and best Thanksgiving episodes from Friends. Take a look:
5. "The One Where Ross Got High" (Season 6)
---
4. "The One with Rachel's Other Sister" (Season 9)
---
3. "The One with the Football" (Season 3)
---
2. "The One with the Rumor" (Season 8)
---
1. "The One With All The Thanksgivings" (Season 5)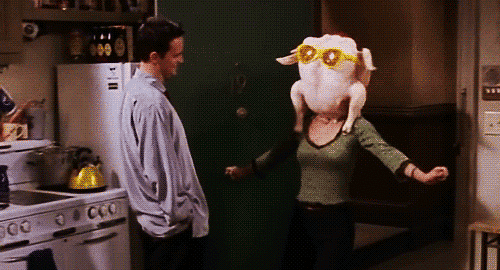 Watch these best Thanksgiving episodese again and rejoice the never ending freshness of Friends.
Compiled from various sources: etonline, buzzfeed, giphy etc.
---
Also read: If Friends was an Indian Soap Opera
---