No matter how vastly Windows has improved on the UI front over the years, the feeling of using older Windows Start menus is still priceless to most people. The good news is if you're using Windows 11 build 22000, there's a way to experience the older Windows 7 style start menu and bring back memories.
Meet StartIsBack, an application that allows you to switch between Windows 7 and Windows 10 styled Taskbars on Windows 11 without much effort.
How do I get Windows 7 Taskbar on Windows 11?
The StartIsBack app is pretty easy to use. All you need to do is.
1. Visit the official website and download the StartIsBack.exe file.
2. Double-click on the executable file to install it.
3. The app will open as soon as the installation's done, and the Windows Explorer will restart with all the Taskbar icons moved to the left.
4. You can then select from three options — Proper Windows 11, Kinda Windows 10, and Remastered Windows 7.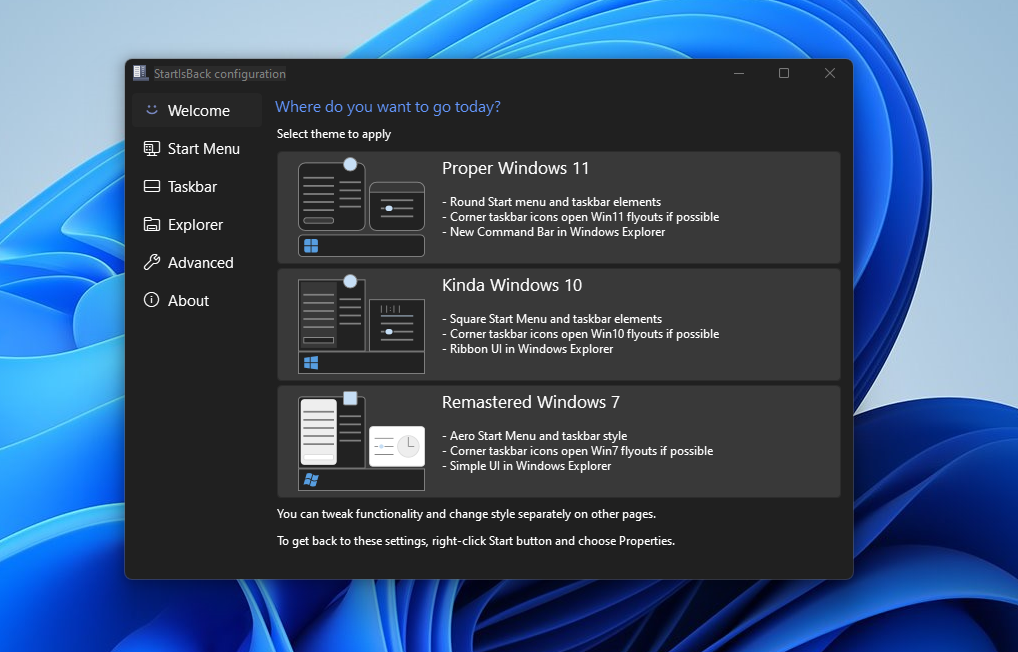 As the name suggests, the "Proper Windows 11" option replaces the Windows 11 Start menu with a Windows 7-like menu, Windows 11 icons, and rounded corners.
Similarly, the "Kinda Windows 10" option replaces the Windows 11 start icon with Windows 10's and comes with an overall boxy design and translucent taskbar element.
The "Remastered Windows 7" option changes the taskbar's look to resemble Windows 7 completely. It's very well implemented.
Do you miss Windows 7's Taskbar and icons? I hope Microsoft allows us to switch to the OG Taskbar style? Let us know your thoughts and opinions in the comments section below.