Google introduced gesture navigation for the first time with Android 9 Pie but it used 2 buttons to navigate. With Android Q, Google aims to provide a true gesture navigation experience with much smoother transitions and new features.
Although the beta 5 introduces new features to the gesture navigation, when a Redditor tried to use a third party launcher in the beta 5 build, he got a notification that said "System navigation updated." After this, he wasn't able to set gesture navigation as default.
Basically, if you use a third party launcher in beta 5, you cannot use gesture navigation. So, Android enthusiasts should be ready to use either 2-button or 3-button navigation. When we change the default android launcher, gesture navigation mode is automatically disabled and changed to other available options.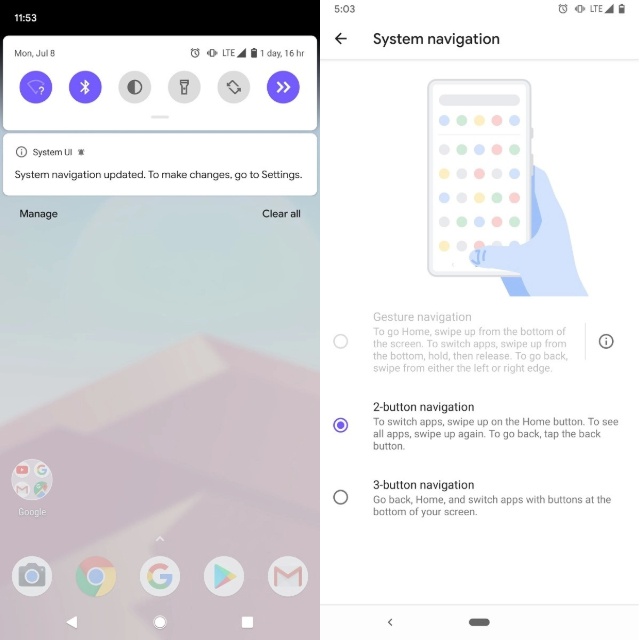 When we tried to use a third-party launcher on beta 4, we saw that gesture navigation mode was pretty buggy with a third-party launcher.
Adding to that, gesture-based navigation was not perfect with third-party launchers either. This could be the reason why Google disabled this feature in the beta version 5 of Android Q. It is unclear whether this limitation will carry over to the upcoming beta release.
In similar developments, Chris Banes, Android Developer Relations Lead at Google, tweeted about the upcoming change in the drawer behavior. Users can open the drawer by peeking the drawer and then swiping it.
Chris Banes explained the feature in a tweet:
🚧 The drawer behavior is changing. Users will be able to open the drawer by peeking the drawer, and then swiping. Big benefit is that this works with existing apps with "old" DrawerLayout versions. pic.twitter.com/WVyOzQFzHO

— Chris Banes (@chrisbanes) July 2, 2019