Gaming is one of the genres that has been significantly attracting more userbase and Windows users for a long time. Even though Linux is so far behind in the race, it has picked up pace in the last few years. Special thanks to Proton, which has completely changed the scenario of gaming on Linux by bringing out-of-the-box support for Windows games.
If you don't know, Proton is Valve's combined solution forked out from Wine with additional patches and libraries like DXVK (implementation of DirectX Over Vulkan). Proton provides easy-to-setup and run Microsoft's Windows compatible software on a Linux-based operating system. Speaking of games, Proton has brought about 6000 games to Linux in the last two years, as per the latest blog by the Boiling Steam.
About 6000 Platinum Games On Linux
If we look at the graph created by Boiling Steam, Proton has pushed Linux way ahead and has been a game-changer since its launch. The graph depicts the growth of "Platinum" games using Proton that works perfectly on Linux without requiring any tweaks.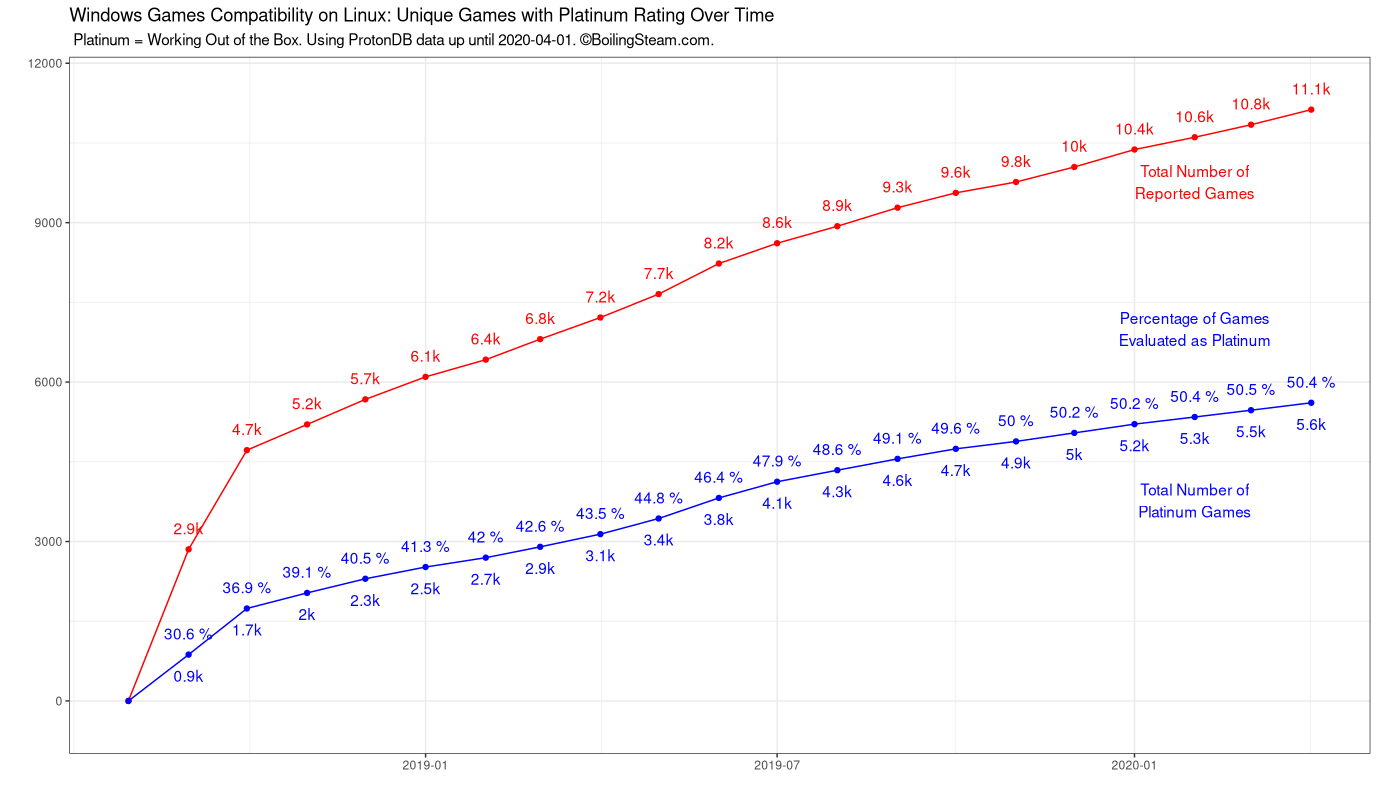 Out of around eleven thousand games reported by April 01, 2020, about six thousand (50% of total reported games) come under Platinum rating. The upward curve shows the growth of Linux gaming by adding hundreds of games every month and getting a Platinum rating.
For detailed information, you can also look it up at protondb.com, a site that aggregates reports from Linux gamers around the world and generates statistics.
Proton delivers a more reliable experience playing even old Windows games using Wine than running it on Windows 10. Also, the DXVK library in Proton enables running games on Linux with native or even better performance.
Multiplayer Games On Linux?
We can't deny that most people like multiplayer games, hence, nowadays, games come with multiplayer as their main product. As a result, the anti-cheat engines become a necessity to make the game fair for everyone.
However, not all but several games still do not support multiplayer on Linux, due to dependency on Windows-specific anti-cheat software. Therefore, people relying on Linux have to dual boot Windows alongside for gaming.
Source: Boiling Steam