People have been disassembling game controllers to customize them for years. Most often, this was to paint and decorate them to add a personal or artistic flare. GameSir has launched its G7 Xbox controller with toolless faceplates that make customization easier than ever.
As a foreword to this review, I am not a painter, I'm terrible at drawing and all other visual arts. I haven't practiced the use of a brush or paints in any considerable capacity. The results of my experimentation, however awesome (unlikely) or awful (likely) you find them, are entirely borne of my own limitations as you'll see when my work is compared to that of someone much more capable.
The GameSir G7 is a controller that is designed for Xbox and PC gaming. It has some nice bells and whistles like super smooth ALPS Hall effect analog thumbsticks and satisfyingly tactile buttons. But, arguably, the biggest feature that it has over other controllers is that it has faceplates that are designed to be removed for painting. I'm not a big gamer, but I do like novel products, and I believe this is one. So, this will be less of a controller review and more of a review of the experience of customizing the controller.
You can read our full review by clicking hehttps://fossbytes.com/gamesir-g7-xbox-controller-review/re.
GameSir G7 Specifications
Compatibility
Xbox and PC
Connectivity
Wired — 3m Detachable USB-C Cable Included
(No Bluetooth connectivity)
Audio
3.5mm Headphone Jack with Mic and Mute Button
ABXY Buttons
5 Million Actuation Tactile Microswitches
Thumbstick/Joysticks
ALPS Hall Effect Magnetic Thumbsticks with Low-Fiction Ring
Triggers
Hall Effect Magnetic Analog Triggers
Rear Buttons
Two Rear Remappable Buttons (M1 and M2)
Product Size
152 x 103 x 63 mm / 5.98 x 4.06 x 2.48 in
Net Weight
256g / 0.56 lbs
Package Size
160 x 118 x 113mm / 6.30 x 4.65 x 4.45 in
Software
GameSir software for tweaking and customizing the controller experience.
GameSir G7 Specifications
Included in the box
Swappable White Faceplate
Swappable Black Faceplate
Xbox Game Pass Ultimate Card (1-Month Trial)
3m USB-C Cable
User Manual
Thank You Card
GameSir Sticker
Quality Control Certification
Thoughts on the GameSir G7
The G7 is a touch smaller than a first-party Xbox One controller. This might not be a big difference to some, but I find it's enough to be very noticeable. It could also make it much more suitable for children. The texturized grip across the back also changes the feeling of the controller in the hands in a noticeable way that I think will be just as subjective as the size in terms of comfort.
The analog sticks are incredibly smooth. The low-friction ring on the faceplate makes movement along the perimeter of the throw to be much smoother than both my PS5 and Xbox One controllers. The Xbox One, for more of an apples-to-apples comparison, feels smooth on its own, but when used following the G7 it almost feels gritty in contrast.
The triggers are also very smooth feeling. They require significantly less force to actuate than either the Xbox One controller or the PS5 controller. In addition to the lower actuation force, the throw travel also appears to be shorter. This adds up to an experience I think will be very personal and even vary by game genre. I can imagine the easier and short actuation to be better for competitive shooters, but a longer travel distance on the trigger throw might be preferred for racing games that leverage the full analog input range.
The other buttons have a satisfying tactile feeling. I can't tell how the actuation force differs from the Xbox One controller because the tactile feedback on the Xbox One controller is present at the very beginning of the button throw, but on the G7 the feedback seems to be produced by the button bottoming out. Because of this, the peak force required for actuation occurs at different points in the throw. This changes the feeling of the buttons dramatically. The Xbox One has a bit stronger feedback because it occurs at the beginning of the throw, it's very clear whereas the G7's feedback ends up being a composite of the microswitch and the button cover reaching the end of the throw together. I prefer the tactile feeling of the Xbox One controller, but not by much and it might just be more of a habitual attachment.
The Game G7 doesn't have wireless connectivity. This is, in my opinion, a big drawback. But that G7 does ship accompanied by a thick 3m cable with a braided jacket, so as far as substitutions go, it's pretty solid.
Overall, I think that the G7 is a great controller, especially for the price. Make sure to check out our full review where we dive deep into the specifics and what makes the G7 worth the money.
Painting a New Controller?
The GameSir G7 is a great controller, but should you ruin customize it with paint like I did?
When I got the G7 in for review my kids were immediately interested, if only because it was videogame related at first. But when they found out that the controller could be painted, they were completely captivated. Enchanted by the prospects of being able to paint something that would normally be taboo, they were incessant on painting the faceplates, but I could not oblige and I promise, my terrible results are truly my own.
But this brings up another point. The G7, with its slightly smaller size and creative potential, really make it great for kids. The opportunity for kids to add to something they use regularly and really make it their own is a valuable experience. It was immediately apparent on my kids' faces how thrilled they were with the idea of being able to paint a controller the way they wanted to. I could see the gears moving, so to speak, as they dreamt up whatever it was they would like to see on a controller.
Because of that alone, I highly recommend the G7 as a gift for children, or even gamers with at least a bit more artistic ability than myself.
My Experience Painting the GameSir G7
I've painted some 3D-printed figures in the past. It's not easy to do, there's definitely a learning curve, and I didn't get very far with it. Part of the issue is that you need quality paints. There's a difference between craft paints and quality paints. The most noticeable part of the difference for any beginner or novice will be in the concentration of the colour, or the pigment load as I've seen it referred to online. This leads to my first mistake. I used subpar paints. Looking back, I suspect there were better than typical craft paints, but certainly not in the same bracket as model paints.
I should note, though, that you don't need to buy expensive paints. However, you should take the necessary steps to compensate for the quality of your paints. That was my second mistake. But I'll get to that later.
Anyway, the two paints I bought were a metallic purple that would match the lighting in my desktop PC and a pearlescent black that would match the case of my desktop PC. I was set on these colours and grabbed what was available at my local art store.
First Attempt
With my first attempt, I realized just how difficult it would be to control the paint. It was globbing on and not spreading evenly. The globbing amplified the result of my unsteady and inexperienced hand. I had painter's tape on hand somewhere, but I couldn't find it and I had resolved to start that night.
The end result was pretty abhorrent. The black went down with decent coverage in some areas but left a very uneven texture. The purple, on the other hand, had very inconsistent coverage. Luckily, after alternating between soaking in hot water and scrubbing, I was able to remove all the paint. Some of the pigment from the black paint remained, but the acrylic medium was all gone and the surface was clean of any pigment debris.
Second Attempt
For my second attempt, I used the same faceplate. As I started making lines across the G7 faceplate in a way that would obscure the remnants of the first attempt I realized that I was still making the same mistake. There was too much paint and it was going to dry with a very lumpy texture.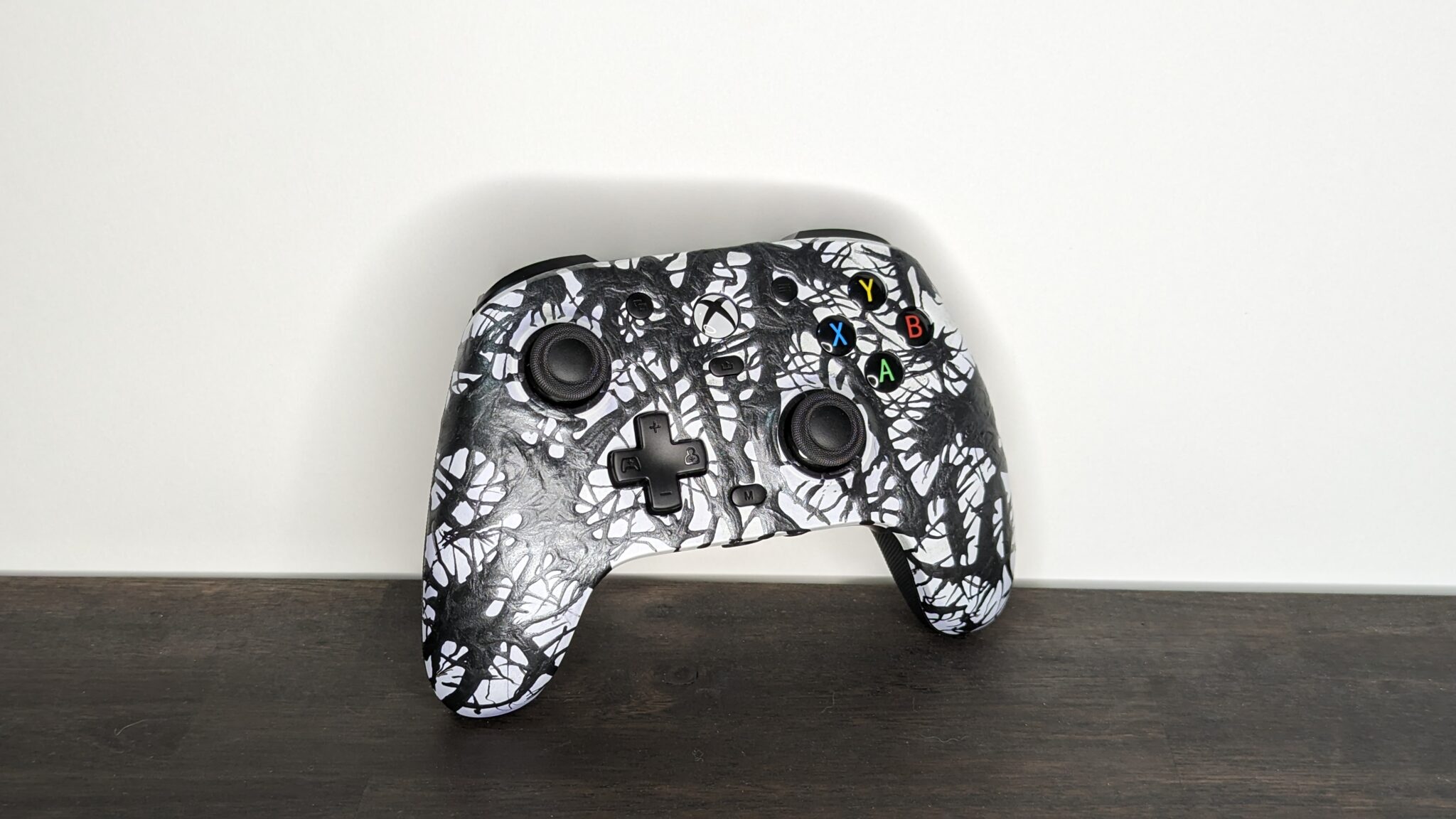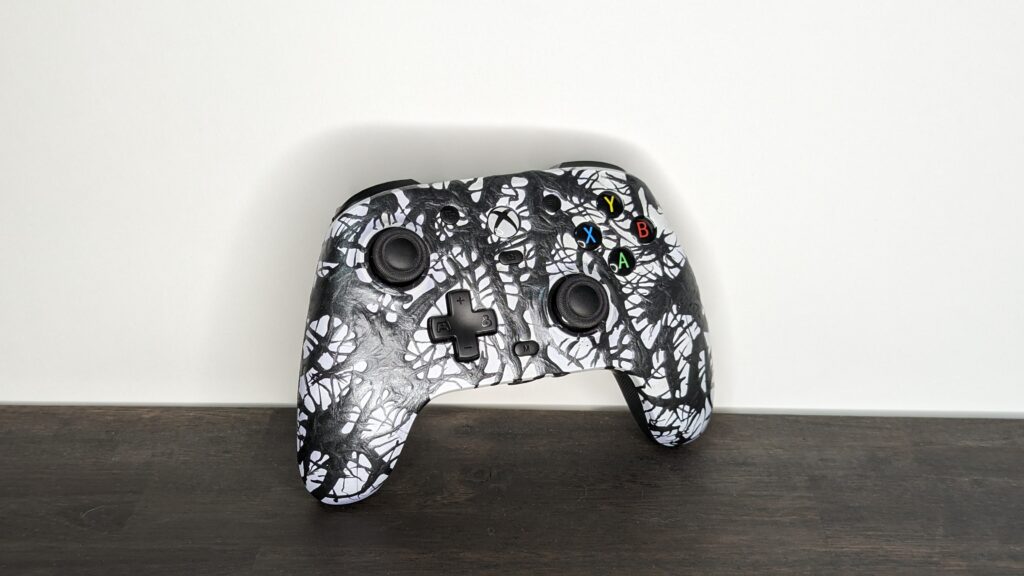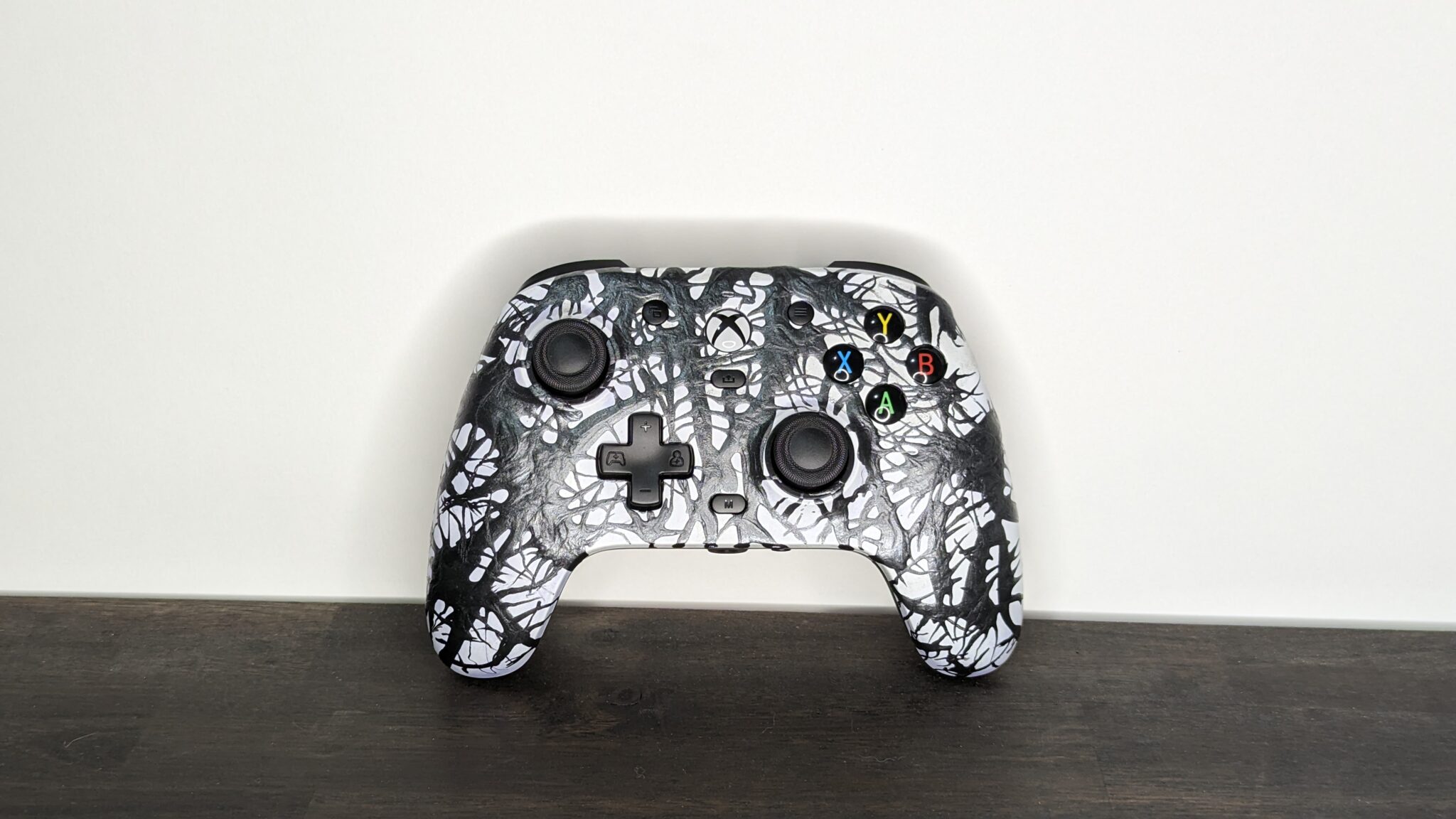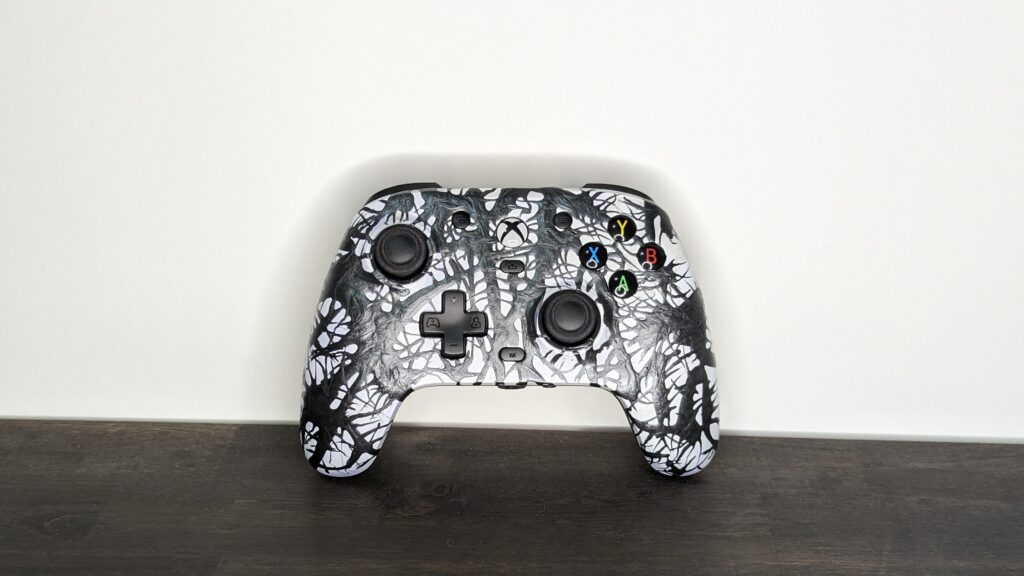 So, I improvised a bit and used a toothpick to drag lines out of the areas with too much paint. Then I added a bit more paint here and there, using the toothpick again to drag more lines out. What started to develop was an aesthetic that somewhat resembled the symbiote from Marvel's Venom. It was still pretty awful, but it was nearly at bad as the first attempt. Still, though, when the paint dried it left a lot of texture. I think I'm going to have a hard time scrubbing this off if I choose to. That said, if the pigment stays on the plastic like it did the first time around, it might actually look good.
Third Attempt
It was at this time that my wife, who is infinitely better at this stuff than I am, stepped in and tried to stop my almost-criminal use of the paint. Her approach to the problem I was experiencing was to put a small amount of paint on the faceplate and use a hairdryer to push it around.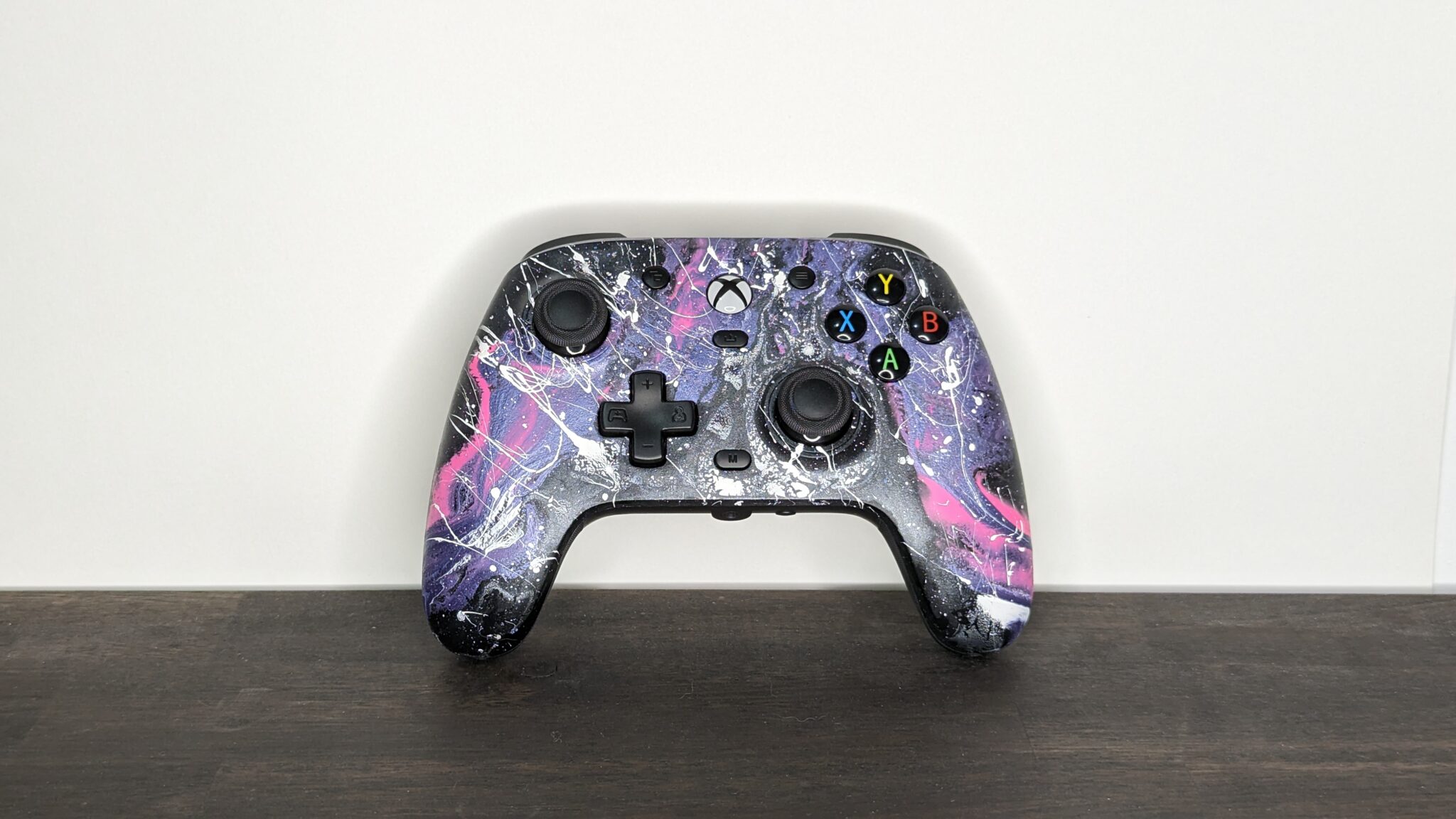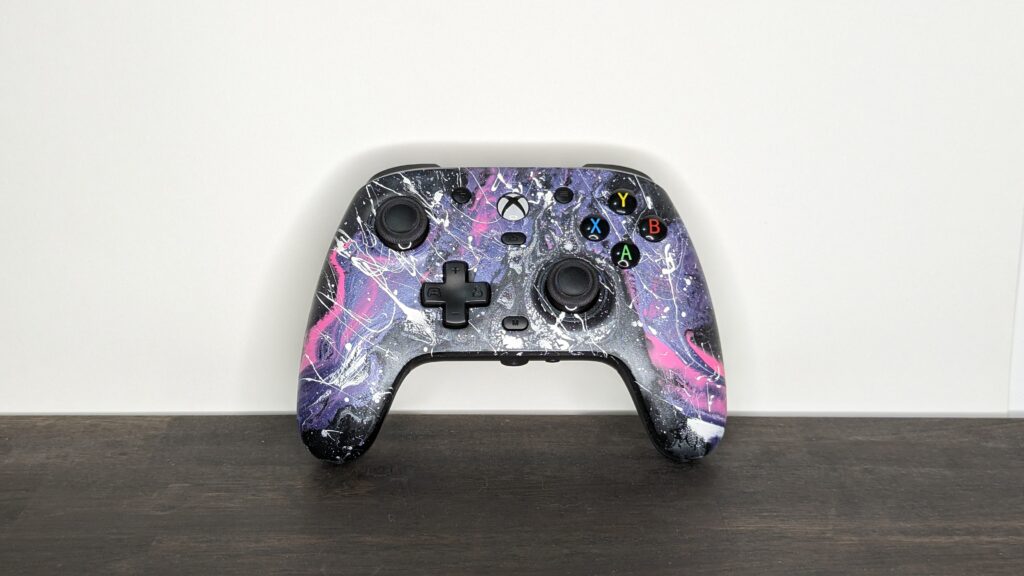 It turned out really well. Her approach removed many of the human factors as well as the nuances of brushwork.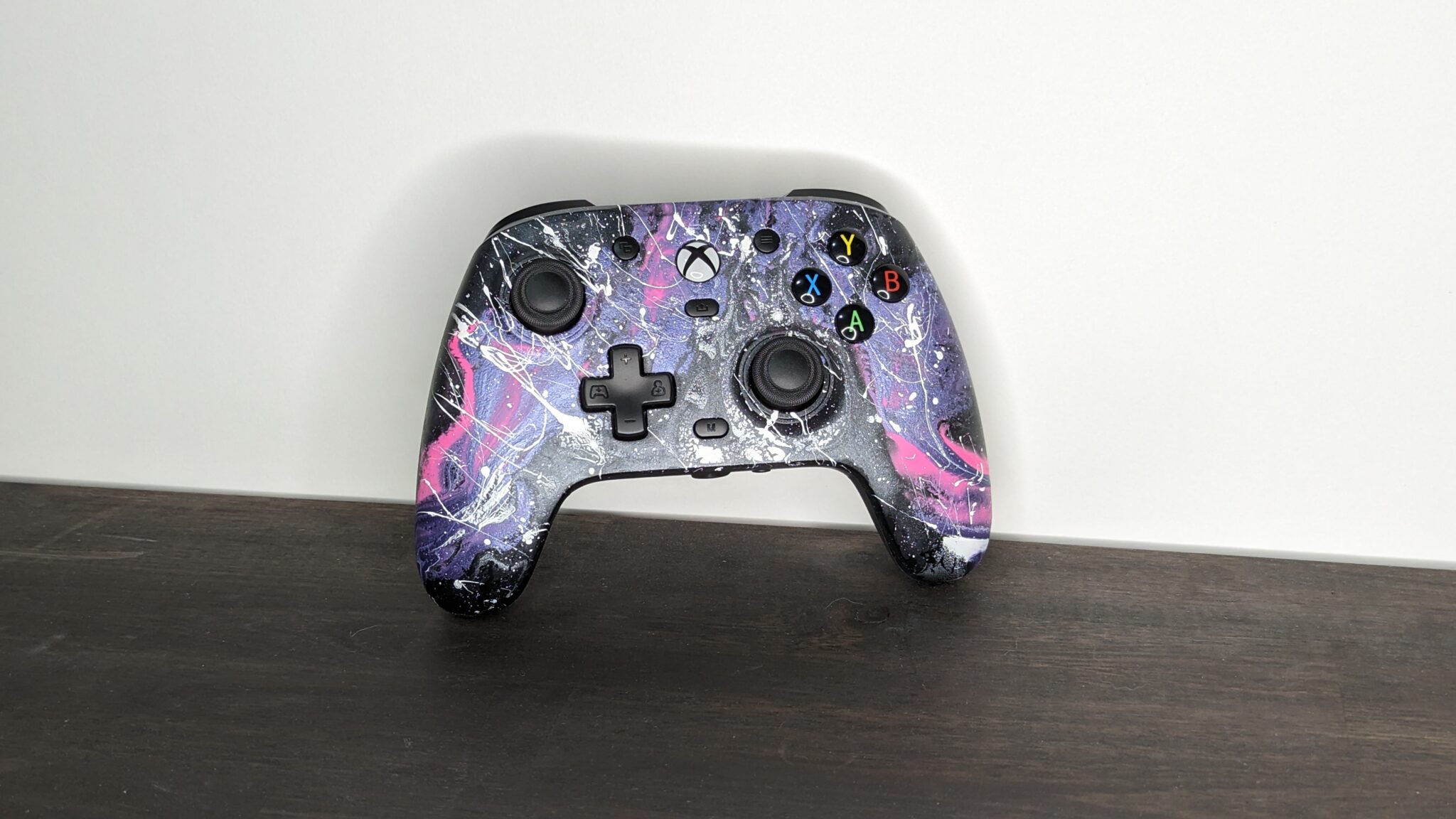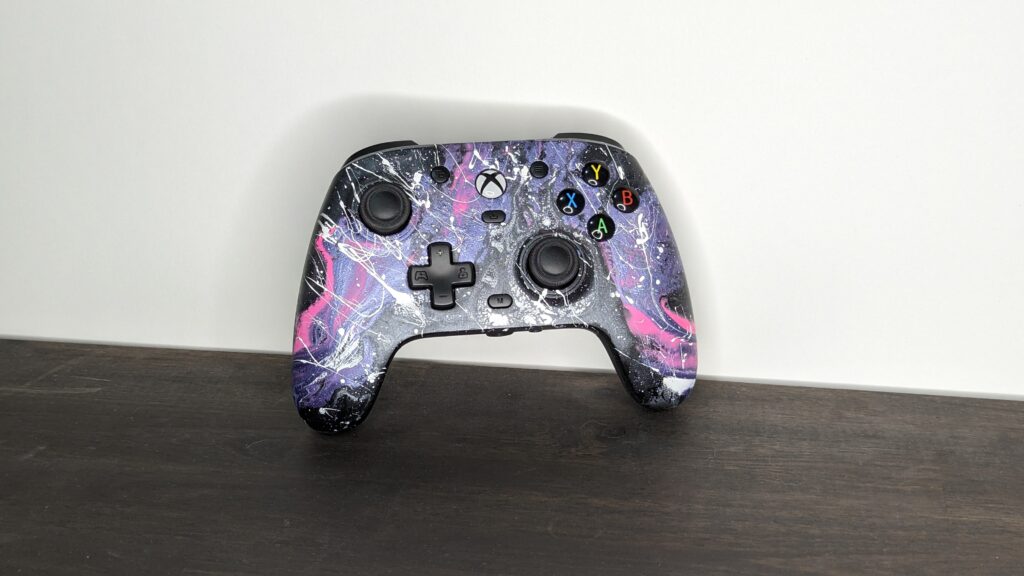 It's clear my wife is in possession of some sort of artistic sensibility or wisdom that I'm just completely devoid of.
A Lesson Re-Learned
I realized shortly after all of this that one of my biggest failings was not compensating for the quality of my paint. Craft paints are often much more viscous to allow for a thicker coat and for mass application. Model paints, however, are much less viscous, which allows for finer details. The trick is to thin or dilute your cheaper paints with water and apply it in as many light coats as needed. This was the approach I took with my ultra-cheap paints that I started using when painting 3D prints after a significant amount of struggle.
Fourth Attempt
Following my realization, I decided to take my wife's lead and factor out my painful ineptitude. I diluted my purple with some water and I used a brush to flick it at the controller. This produced a nice splatter effect that wasn't too heavy. A few spots dried thicker than I liked, but they were easily removed before the acrylic cured.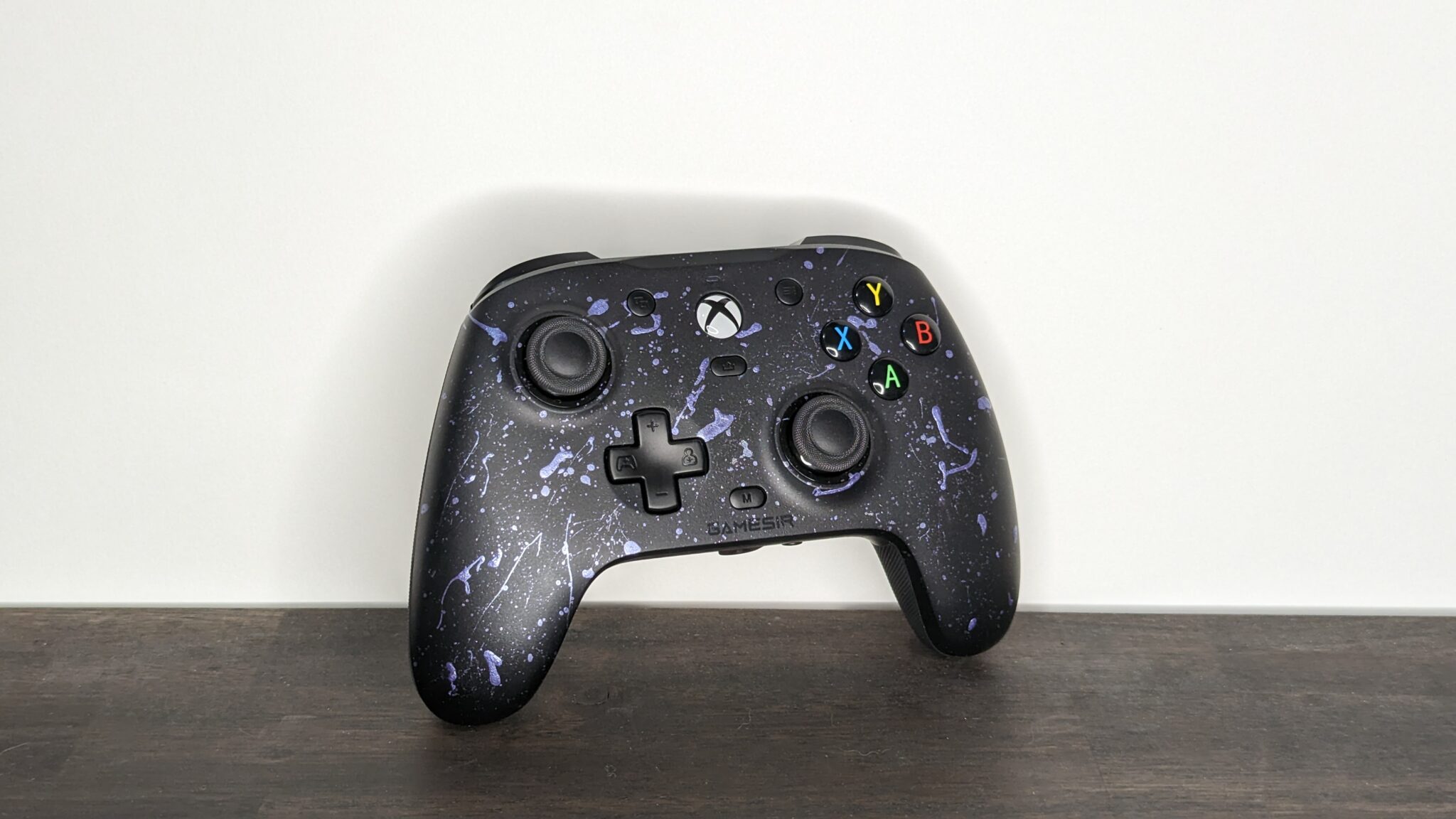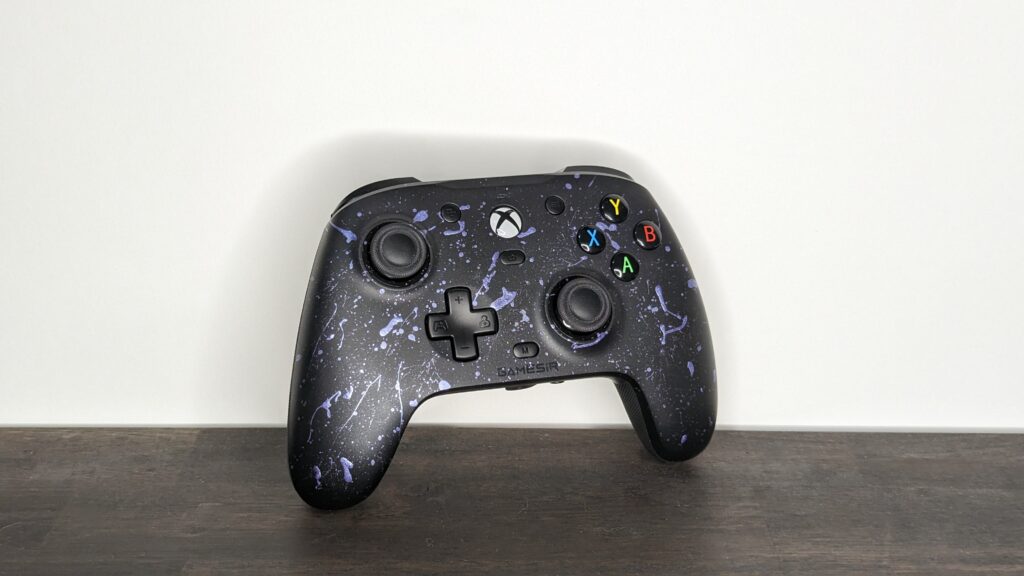 The splatter effect turned out okay. I feel I may have cheated in "painting" the faceplate by barely using any paint. But then again, it does match my desktop much more now.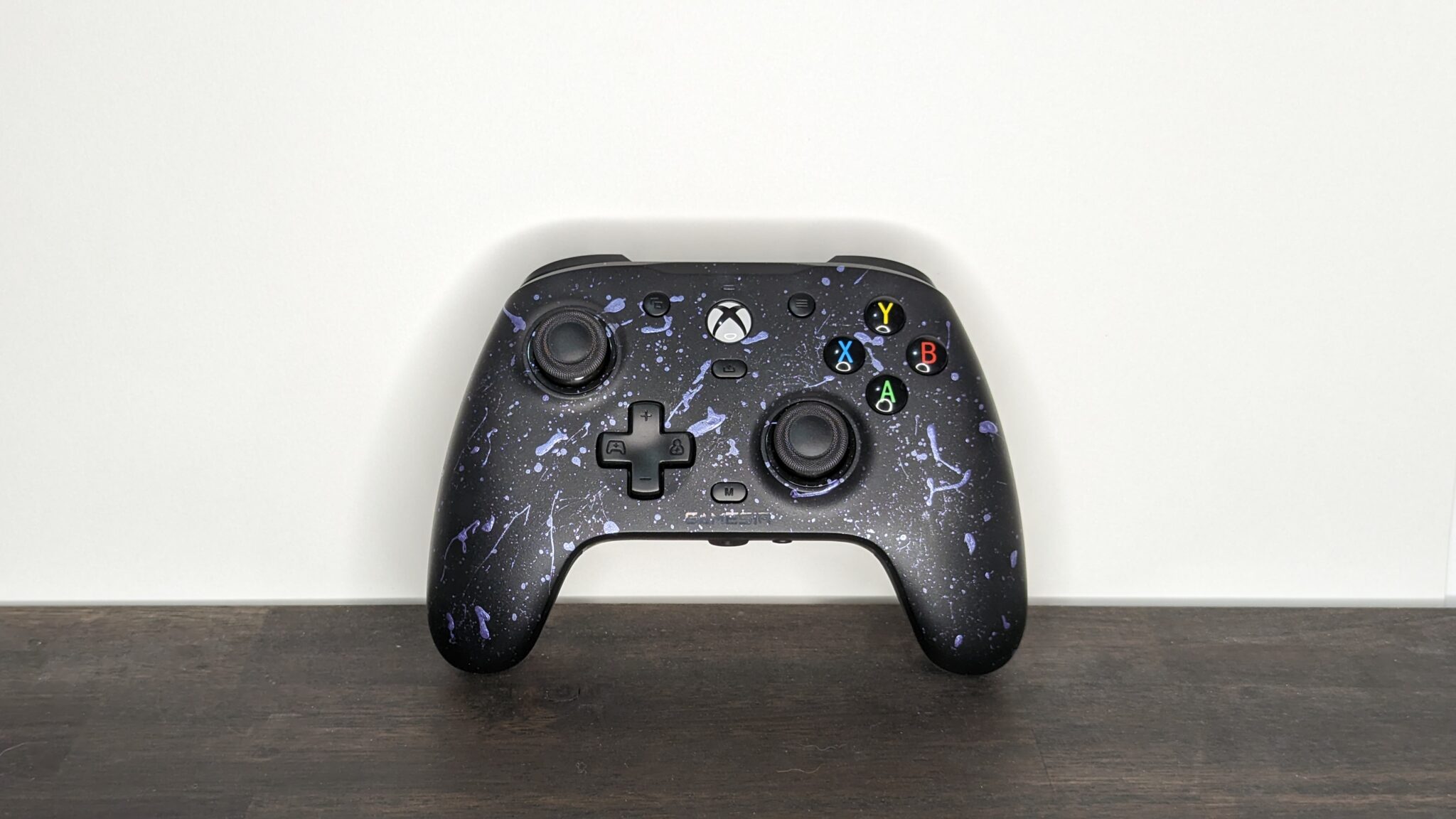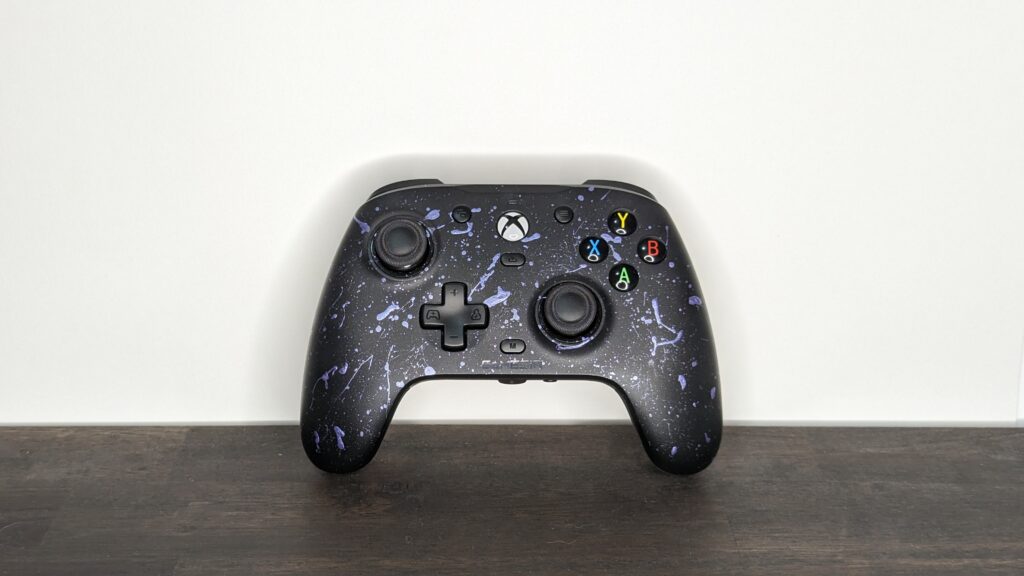 I'm not particularly impressed with my result, but I'm happy enough with it that I don't feel completely defeated.
Tips for a Better Result
I've already covered thinning your paint with water, which can be extremely important for a good result. But in addition to that, I recommend painting a piece of plastic with the paint you intend on using to get a feeling for how it will go on and how it will dry. It's best to find a piece of plastic that resembles the lightly textured surface of the G7's faceplates. Smooth surfaces don't pull the paint off of the brush well and will also result in the surface tension of the water pulling the paint into pools.
Once you have your test material, try several variations of thinned paint and a different number of coats or layers of paint until you achieve the quality you're looking for. Generally speaking, more coats of thinner paint will look better because the pigment and medium will average out over each coat and create a much more consistent result.
Lastly, make sure you seal your paints. Even if your hands don't get sweaty while playing, there is always a small amount of moisture on your skin. This combined with the controller rubbing against your hands will certainly result in the paint either wearing off or flaking off. A sealant will create a barrier between your hands and the paint while also acting like an adhesive, keeping the edges of the paint down. Just be sure to get a sealant that is both plastic-compatible and skin-safe while also noting the sheen of the sealant. Some sealants are very dull and matte while others are very shiny. Getting the right sealant will add the final touch to your controller that makes it look like it came from a factory.
That said, my images don't show the faceplates with the sealant applied. I intend to clean them up (inside those low-friction rings) before I seal the paint. Which brings us to,
A Short Word of Caution
As mentioned (way) above, the G7 has low-friction rings built into the faceplates that prevent wear resulting in grittiness as the thumbsticks move along the perimeter of the throw. Only time will tell how well they'll hold up, but there is a noticeable difference between G7 and my other controllers. The G7 feels much nicer. That, at least, until I put on the painted faceplates onto it. The small drips from the paint bleeding over the edge where I wasn't careful enough create bumps that make it even grittier than either of my other controllers.
So, I recommend either staying clear of these rings or taking some preventative measures to avoid this like using some painter's tape inside the rings. Alternatively, you can try to clean it up afterward, but I suspect that would be much more difficult.
Conclusion
The GameSir G7 is a really novel product because it not only invites customization but enables it with its removable faceplates. You don't have to worry about disassembling the controller to avoid getting pain inside. And you don't have to worry about keeping track of all the parts or making sure that you can, in fact, get the thing back together when you're done. All you need to concern yourself is with making it look the way you want.
So, I think the G7 is an excellent option for anyone looking to customize their controller but is uncomfortable taking theirs apart, or as a gift. Even if you're not into games but are good at painting, you might make be able to personalize a gift for someone. Also, who doesn't want a nice 3m USB-C cable?