Samsung just announced its new range of foldable smartphones, the Galaxy Z Fold 3 and the Galaxy Z Flip 3. The smartphone giant revealed these cutting-edge gadgets at the Galaxy UNPACKED event.
Keeping in mind Samsung's commitment to making foldable phones mainstream soon, these could be viewed as two very crucial products. The main incentive that the company has given the potential customers this time is refined quality. To be precise, the Z Fold 3 and Z Flip 3 offer a sturdier and more streamlined experience than their respective predecessors.
Galaxy Z Fold 3 Features
Talking about the Z Fold 3, the smartphone that unfolds into a tablet, Samsung has improved it in many aspects. It comes with a 6.2-inch cover screen and a 7.6-inch main screen. Both are Dynamic AMOLED 2X displays. Improving on the 60Hz cover screen of Z Fold 2, the Z Fold 3 has adaptive 120Hz refresh rates on both screens.
Moreover, the Z Fold 3 display comes with IPX8 protection which makes it the first foldable phone that can survive water splashes. You also get Corning Gorilla Glass Victus that guards your screen against cracks.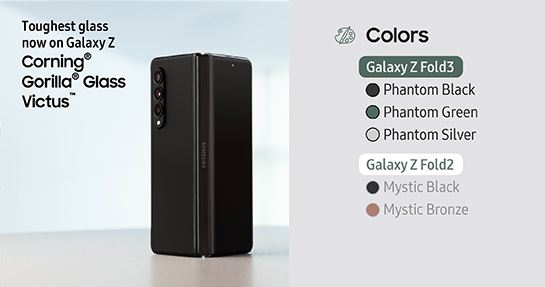 Coming to the performance department, Z Fold 3 comes equipped with a 5nm Octa-core processor from Samsung. This is an energy-efficient upgrade from the 7nm Octa-core processor available in Z Fold 2.
Z Fold 3 sports a triple-camera shooter at the back. It includes a wide-angle lens, a telephoto lens, and an ultra-wide-angle lens, each of 12 MP. For the main screen, this time Samsung has used an under-display 4MP camera. On the other hand, the cover screen sports a 10 MP camera.
The 5G-enabled smartphone arrives with Android 11, 12GB RAM, 256/512GB storage, and a 4,400 mAh dual battery. Besides this, the latest Z Flip also brings support for S Pen Fold Edition, specially designed for this device, and S Pen Pro.
Galaxy Z Flip 3 Features
The Z Flip 3, which is a phone that folds into a pocketable smaller phone, is another exciting gadget launched today. The Z Flip 3 also ranks higher than its predecessor in multiple facets.
When we talk about display, it comes with a 6.7-inch Dynamic AMOLED 2X main screen and a 1.9-inch Super AMOLED cover screen. The main screen has an adaptive 120Hz refresh rate.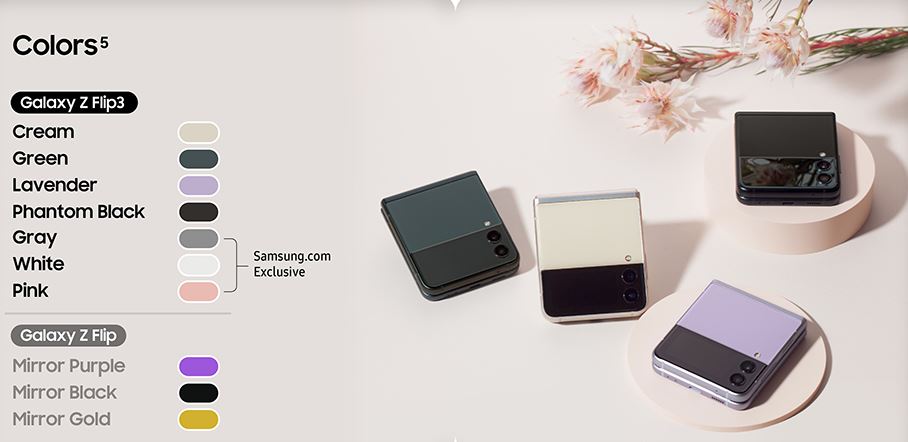 Just like the Z Fold 3, Z Flip 3 also comes with IPX8 water resistance and Corning Gorilla Glass Victus protection.
Moving on, it offers the same 5nm 64-bit Octa-core processor used in Z Fold 3. And, yet again, it is another improvement since Z Flip 2 in terms of power efficiency.
In addition, the foldable smartphone also boasts a 10MP front camera and a 12MP dual-camera setup on the back. The two lenses on the rear camera are ultra-wide and wide-angle.
Finally, Z Flip 3 also supports 5G and packs Android 11 out-of-the-box. The phone offers 8GB RAM, 128GB/256GB storage, and a 3,300 mAh battery.
Samsung Galaxy Z Fold 3 And Z Flip 3 Pricing And Availability
Speaking of price, you'll have to shell out $1,799 for Z Fold 3, whereas Z Flip 3 will cost you $999 — about $800 less.
Both, the Fold and the Flip are up for pre-order now. They'll be available starting August 27. If you pre-order the device, you'll get some benefits like a $200 credit in your Samsung account.
Now coming to variants, Z Fold 3 has a base 256GB model ($1,799) and a 512GB model ($1,899). Similarly, the flip smartphone has a 128GB base variant ($999) and a 256GB variant ($1,049).
After checking the features and prices, which one would you pick? Galaxy Z Fold 3 or Galaxy Z Flip 3? Tell us in the comments.