Epic Games has been hinting about Fortnite for Android release for more than a month. In the past, we saw Fortnite on Nintendo Switch in E3 2018, following which the company wrote in a news post — "Coming to Android this summer."
As a matter of fact, the company did launch the game on smartphones but sadly, only for Apple iOS users. On the positive side, some sources have claimed that Fortnite would initially come as a "30-day exclusive" on the upcoming Samsung Galaxy Note 9. And subsequently, the battle royal game would arrive on the Android platform after a month or so.
Now, Epic games have officially put out a list of Android devices that will support Fotnite mobile version. First spotted by XDA developers, the device list can be pulled from Epic games mobile website by going through the official Fortnite sign up.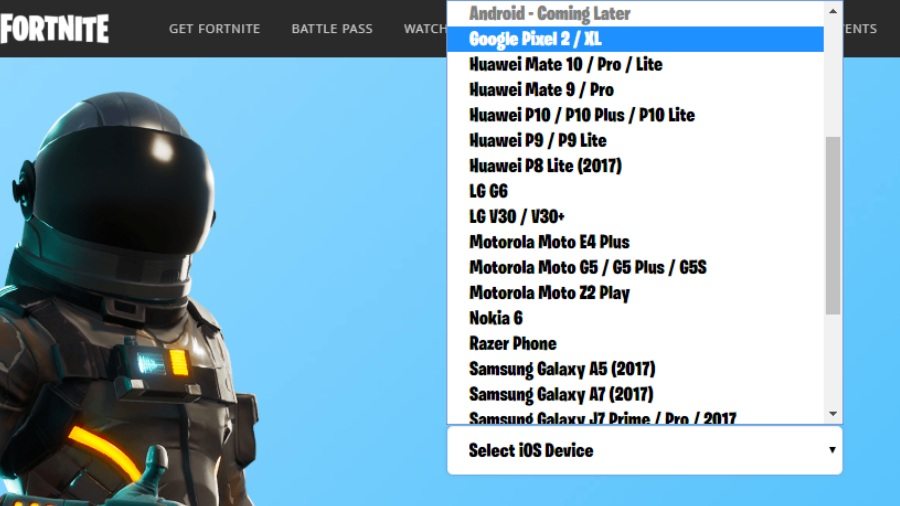 List of Android devices that would support Fortnite for Android:
Google Pixel 2
Google Pixel 2 XL
Huawei Mate 10
Huawei Mate 10 Lite
Huawei Mate 10 Pro
Huawei P10
Huawei P10 Plus
Huawei P10 Lite
Huawei P9
Huawei P9 Lite
Huawei P8 Lite (2017)
LG G6
LG V30
LG V30+
Motorola Moto E4 Plus
Motorola Moto G5
Motorola Moto G5 Plus
Motorola Moto G5s
Motorola Moto Z2 Play
Nokia 6
Razer Phone
Samsung Galaxy A5 (2017)
Samsung Galaxy A7 (2017)
Samsung Galaxy J7 Prime (2017)
Samsung Galaxy J7 Pro (2017)
Samsung Galaxy Note 8
Samsung Galaxy On7 (2016)
Samsung Galaxy S9
Samsung Galaxy S9+
Samsung Galaxy S7
Samsung Galaxy S7 edge
Samsung Galaxy S8
Samsung Galaxy S8+
Sony Xperia XA1
Sony Xperia XA1 Ultra
Sony Xperia XA1 Plus
Sony Xperia XZ
Sony Xperia XZs
Sony Xperia XZ1
Fortnite is continuously optimizing its Android version for every performing devices out there. Even if your device is not mentioned in the list, it is entirely possible that the free-to-play game will ultimately roll out on all the flagship and mid-range phones out there.
Regarding the release date of Fortnite, 9to5Google has estimated that the Fortnite for Android would arrive somewhere around 23rd September.