While the E3 concluded with lots of surprises and surprising gaming news, Nintendo came up with its own Pandora box. In its E3 presentation, Nintendo released Fortnite version for Switch which can be downloaded through Nitendo eShop.
It is now absolutely clear that next stop of Epic Games Fortnite would be Android Devices. According to the Fortnite blog, developers are very rigid on summer release of its Android version. In March, Fortnite revealed its iOS version adding to the list of platforms including Xbox One, PS4, PC, iOS and now Nintendo Switch.
Fortnite has seemingly become popular in the gaming industry in the past few months. Recently hitting a mark of 125 million players worldwide, the free multiplayer game Fortnite has left PUBG (Player's Battle Underground) in dust which unfortunately prompted a feud between both games.
While the PC and other console game version do not offer cross-play due to the Sony's irksome policies, the iOS version do support cross-play through the Party Finder feature that came up with the update of 3.4. It also features finding a similar platform player when searching for opponents.
The Android version of Fortnite, which is en route in a few weeks, we would see a similar approach and mostly Android and iOS users will be matched among themselves.
Launched in 2017 by Epic Games, the rules of battle royal genre game are easy to grasp but make it difficult to survive. In a nutshell, the game starts with hundred users stacked in a Fortnite bus following a jump in the arena with a parachute. Players collect assault rifles and fight amongst each other to churn out the last person standing. Amidst the chaos, an ever-shrinking storm closes in forcing the users to battle for survival.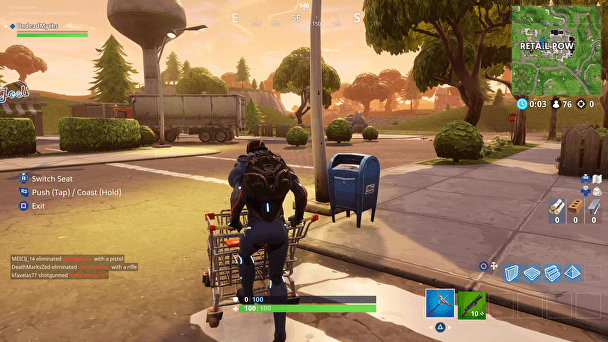 In its recent 4.3 update, mobile players can finally voice chat among themselves. Apparently, the re-occurring updates keep on adding interesting items like the new shopping cart acting as a super fast vehicle.
But as of now, it is unsure whether Android will receive similar kind of gameplay items or not. Anyway, Android users are desperately waiting for the big official date announcement.