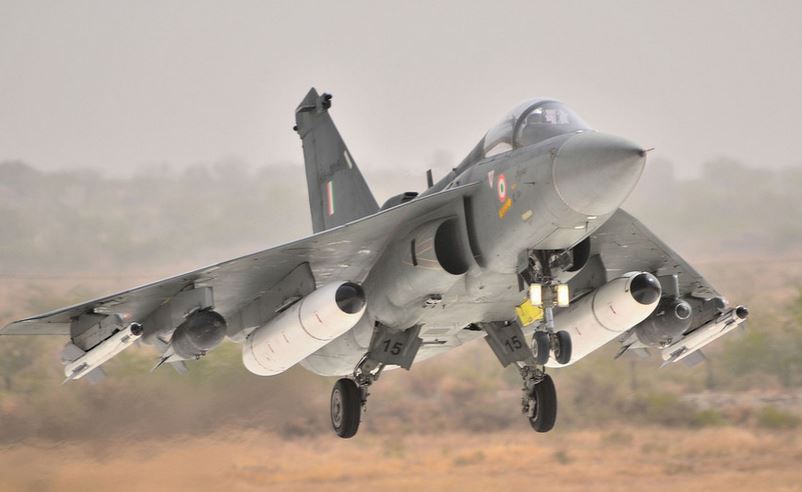 The First indigenously built Tejas Light Combat Aircraft (LCA) was handed over to the Indian Air Force by Defence Minister Manohar Parrikar, thirty-two years after the project was sanctioned.
The ceremony took place in the presence of Air Chief Marshal Anup Raha at the Hindustan Aeronautics Limited (HAL) in Bengaluru.
The handover signals the start of a process of induction of the fighters being built at home under a project which has already cost the exchequer nearly Rs 8,000 crore. The light combat aircraft that has been handed over, has got Initial Operational Clearance-II, which signifies that Tejas is airworthy in different conditions, sources said. The Final Operational Clearance (FOC) is expected by the year-end.This version of the aircraft lacks the latest electronic warfare suite, which was integrated into one of the LCAs two weeks ago, mid-air refuelling and long-range missiles capabilities, among other things that the FOC-configuration aircraft will have.
The Tejas aircraft is a single-seat, single-engine, multi-role light fighter aircraft.Tejas has a pure double delta wing configuration with no tailplanes or canard, and a single dorsal fin. It boasts of technologies such as relaxed static stability, fly-by-wire flight control system, multi-mode radar, integrated digital avionics system, composite material structures, and a flat-rated engine. It is supersonic and highly manoeuvrable, and is the smallest and lightest in its class of contemporary combat aircraft.
The entire project by the DRDO and Hindustan Aeronautics Limited is estimated to cost over Rs 30,000 crore.
HAL chairman R K Tyagi described the handover as one of the major milestones in the history of the Company.He said 60% indigenisation in this LCA project has been achieved so far. Outlining the production plan, he said HAL will produce six aircraft next year (2015-16) and subsequently scale it up to eight and 16 aircraft per year. It is estimated that 20 aircraft will be built by 2017-2018, to make the first squadron of the aircraft.
The LCA programme was initiated in 1983 to replace the ageing MiG-21s in IAF's combat fleet but has missed several deadlines due to various reason
India's light combat aircraft Tejas comparison with other fighters
Specifications of Light Combat Aircraft Tejas:
Crew: 1
Length: 13.20 m (43 ft 4 in)
Wingspan: 8.20 m (26 ft 11 in)
Height: 4.40 m (14 ft 9 in)
Wing area: 38.4 m² (413 ft²)
Empty weight: 6,500 kg
Loaded weight: 9,500 kg
Max. takeoff weight: 13,200 kg
Powerplant: 1 × F404-GE-IN20 turbofan
Dry thrust: 53.9 kN
Thrust with afterburner: 89.8 kN
Internal fuel capacity: 2,458 kg
External fuel capacity: 2 x 1,200-litre drop tank at inboard, 1 x 725-litre drop tank under fuselage
Performance:
Maximum speed: Mach 1.6 (1,350 km/h) calibrated airspeed (CAS) at high altitude, reached in testing of IOC-I, theoretically capable of Mach 1.8
Range: 3,000 km (459 nmi, 528 mi)
Combat radius: 300 km (162 nmi, 186 mi)
Ferry range: 1,700 km(918 mi)
Service ceiling: 15,000 m(49,200 ft)
Wing loading: 247 kg/m² (50.7 lb/ft²)
Thrust/weight: 1.07
g-limits: +8/−3.5 g
---