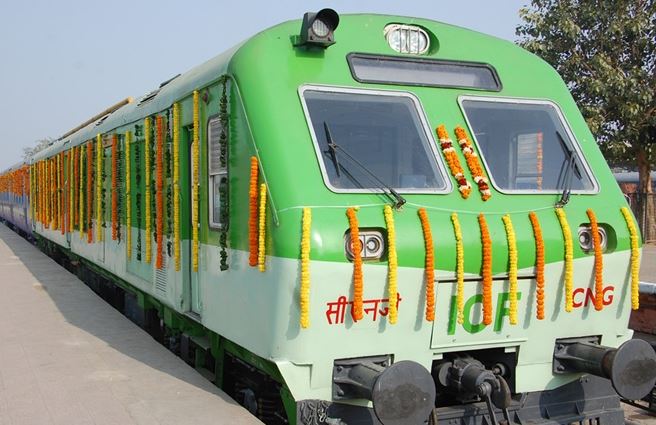 Indian Railways gives an inspiring start to 2015 by introducing first CNG train in India. This project is an achievement towards India's eco-friendly journey. Encouragement and enforcement of use of alternative sources of energy pioneer through such small steps.
Union Railway Minister Suresh Prabhu inaugurated the first CNG train (Compressed Natural Gas) of India on 13th January 2015. The train will run on Rewari-Rohtak section of Northern zone in Haryana. It will cover about 81 kilometers in about 2 hours utilizing 20 percent of CNG.
"We should fulfill people's demand. We should keep people away from hardship. That is why we have flagged of two trains for different destinations," said Prabhu.
The train works on dual-fuel system- CNG and diesel. The CNG Diesel Electric Multiple Unit (DEMU) helps in reducing the use of diesel as well as reduces emission of greenhouse gases. Also, it has reduced functioning cost up to 50 percent than those running on conventional sources i.e. diesel and electricity. 1400 Horsepower engines have been converted to dual-fuel engines- diesel and CNG- by the railways using fumigation technology. The train has been manufactured by Integral Coach Factory at Chennai. It consists of two power cars and six car coaches. CNG kit is provided by the Cummins.
"We have flagged off two trains – one from Rewari to Bikaner and another from Rewari to Rohtak. We will start more such trains," said Virender Singh Verma, an Indian railway official.
This is the first passenger train to be operating on alternate fuel. The Railway Ministry has a plan to start more such CNG trains to minimize diesel consumption. This will certainly give a way to advancement of environmentally cautious and cheaper source of energy.
---
Comment down your views and suggestions about this effort of Indian Government.
---