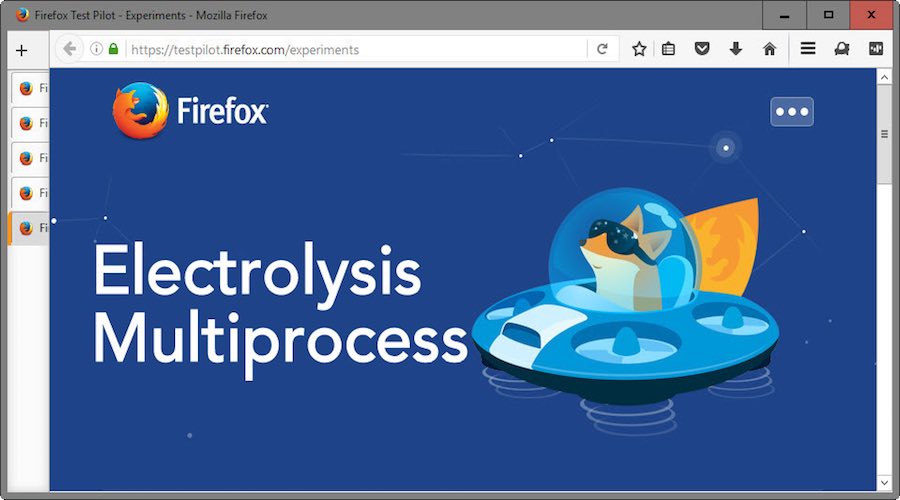 Short Bytes: Mozilla has completed the first phase of rolling out Electrolysis multi-process feature in its Firefox web browser. According to the results of initial tests, this open source web browser has experienced 400-700% improvements in responsiveness. In the upcoming weeks, Mozilla plans to roll out the feature to a broader user-base. 
L
ast month,
Firefox brought one of its biggest changes
ever in the form of multiprocess. After spending many years in development, Mozilla started rolling out the updated version to the 1 percent of the users.
Mozilla has now completed the initial tests and the initial results are pretty impressive, John Mannes of TechCrunch reported. Mozilla developers have reported "a 400 percent improvement in responsiveness and a 700 percent improvement in responsiveness for loading large web pages."
It's expected that after a wider roll out of the new multiprocess features, the Firefox users will experience a smoother experience with lesser lags, freezes, and crashes.
According to Asa Dotzler, Mozilla's product manager for Firefox's roadmap and community —
"This is going to be a major improvement to the smoothness of the browser interface, especially when heavy web pages are loading. People really appreciate the snappiness of Chrome, Edge and Opera. Firefox is going to gain a bunch of that snappiness with Electrolysis."
Over the course of next one week, multi-process will be released to 10 percent of total Firefox users. Later, it'll be pushed to 100 percent of "initial cohort" users.
So, what changes one can expect in the upcoming releases of Firefox? Here's something about the same —
Firefox 49: Enabling set of add-ons
Firefox 50 or 51: Sandboxing and more add-ons
Firefox 52 or 53: Multiple content processes
When Mozilla announced that Firefox is going to enable multiprocess feature, people feared that it'll make the browser more RAM-intensive. However, the development team has developed a method named MemShrink to reduce memory. They are also working to fix the number of browser processes in the upcoming releases.
Did you find this article interesting? Don't forget to drop your feedback in the comments section below.
— Via TechCrunch
Also Read: How To Make Mozilla Firefox Faster For Web Browsing