With the Firefox 91 update, Mozilla has added Enhanced Cookie Clearing feature, which lets you completely wipe out a site's data from your device. This means you can delete the cookies and other data that a website stores on your browser when you visit it. The new Firefox privacy feature makes it easier to browse the web without being tracked.
This feature works when you have the FIrefox Strict Tracking Protection enabled on your browser. You can then delete the entire data, including the history of the website you visit. There's also a separate option that leaves the cookies and caches, but deletes the history of a particular site.
Firefox 91 Cookie Jar: How To Use It?
If you're living under a rock, cookies are the latest target of all major privacy-focused browsers. By clearing cookies, you can keep your privacy online and avoid cross-website tracking. With the Firefox 91 enhanced cookie clearing, you can do it easily on Mozilla Firefox.
According to the Mozilla blog, embedded third-party cookies are left on your system even after you clear the cookies for a website. With the Firefox 91 update, Mozilla lets you empty the entire cookie jar, removing all embedded third-party cookies and preventing cross-platform tracking.
You can enable enhanced cookie clearing by enabling the Strict Tracking Protection mode. If you're a new user, the feature is enabled by default, and all you have to do is delete the site settings.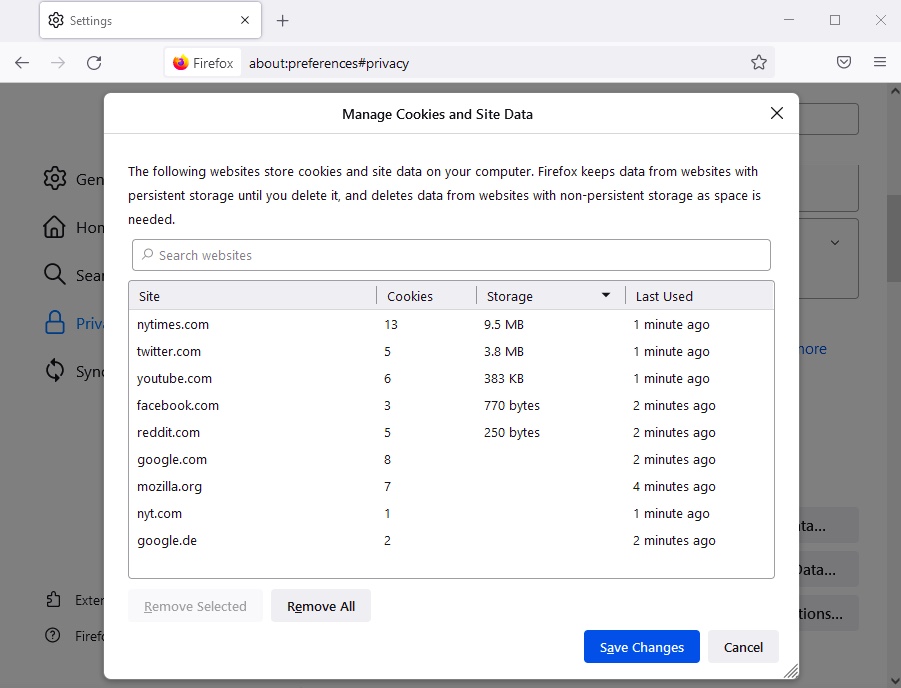 To check the cookie jar on Firefox 91, open the browser and go to Settings > Privacy and Security > Cookies and Site Data > Manage Data. Here, you'll now see cookie jars for each website you've visited, and you can empty the ones you want to. By doing this, you'll be removing the embedded third-party cookies too, making sure you're not being tracked when you go from one website to another.
How The Cookie Jar Makes A Difference
With third-party cookies and cross-platform tracking under fire, browsers are looking for new privacy measures. While Apple has introduced its new set of privacy features, Google has introduced Google FLoC. On Firefox, it is now easier to clear cookies as well.
Firefox 91 now gives you the convenience to delete cookies as you please. The browser already offers enough privacy features by default, and this one builds on that. However, Mozilla's own data shows Firefox has lost over 30 million users in the past 2 years.