It has been reported by Bleeping Computer, a security blog, that Firefox 63 will be launched with an improved tracking protection system to ward off the threats and security concerns posed by in-browser miners.
With the surge in incidents involving mining malware trying to use your CPU power to perform some CPU-intensive calculations for their own benefit, many browsers have raised their guards by providing additional security features. (You can read more about blocking cryptocurrency mining in your browser in our earlier published article.)
Mozilla is set to follow the footsteps of Opera, which already has an in-built tracking system to block cryptojacking. The new security feature will be introduced in Mozilla Firefox 63 which is bound to release some time in mid-October.
The existing version of Firefox has an inbuilt tracking protection system which works in Private browsing mode, but it is not activated in default settings. For activating this feature, click on Settings, go to Privacy section and turn on tracking protection.
Since the option for activating tracking protection has to be explicitly turned on, therefore, it is not very popular amongst users.
Firefox 63 is touted to bring this feature to the surface so that users can easily activate Tracking Protection by clicking on the drop-down menu present on the top right side of the screen.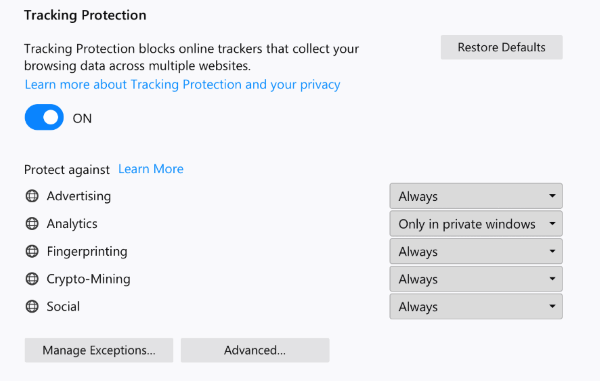 The improved feature will block fingerprinting scripts and in-browser miners apart from blocking advertising, analytics and social sharing scripts.
Did you find this upcoming feature interesting? Share your views and keep reading Fossbytes.