Short Bytes: As per a test conducted by Mozilla's Developer Dietrich Ayala, Firefox latest editions can process multiple tabs of as many as 1691. The test showed that new versions of Firefox, like Version 55 and 56, have shown improvements in speed and memory usage. Thus being an aid to the users who work on multiple tabs simultaneously.
B
ack in the month of June, Nick Nguyen, VP of Firefox division announced the release of Firefox 54. It was claimed to be the best Firefox ever because of the feature of 'multi-processing' in the web browser. This multi-process feature was named
Electrolysis
or E10S. Firefox E10S has helped increase work efficiency by handling up to four processes.
According to a test conducted by Mozilla's Developer Dietrich Ayala, Firefox 55 and 56 can process more than 1500 tabs. Users who work on multiple tabs simultaneously, should better consider working on Firefox builds.
Ayala opened exactly 1691 tabs for the testing to analyze the speed and memory of different Firefox versions from Firefox 20 to 56. In the testing, while it took 8 minutes to open the tabs in Firefox 51, it took just 15 seconds to open all those tabs in version 55.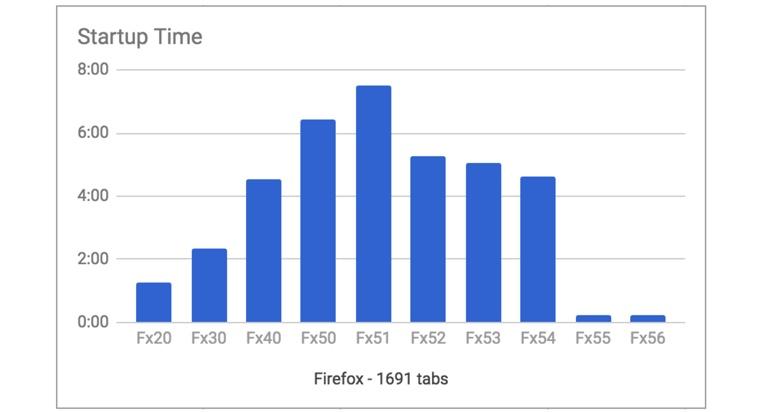 Not just an improvement in speed of the newer versions, but an impressive change in memory usage was seen as well. As noted, memory usage plunged from 2 gigabytes to half a gigabyte. "This is without actual web pages loaded, but look at this, haters: I've now got 1.5 gigs of memory to load web pages into that I didn't have before," wrote Ayala.
Multiple tabs running in our browser means a lot of memory will be consumed, that is why the browser's needs to be optimized. And here is the optimized Firefox.
Ayala included these speed and memory usage improvement in a Mozilla project called 'Quantum Flow.'
Though nobody will ever open so many tabs, Firefox just assures its users that they won't find trouble working with the multiple-processes if needed.
You can read more about the test here.
Got anything to add? Share your views.