Short Bytes: The latest version of the popular web browser Firefox has been announced by Mozilla. Firefox 50 comes with many security fixes along with enhanced video playback, faster startup, improved WebGL availability, new language support, download protection, and new keyboard shortcuts.
M
ozilla has updated its web browser to
Firefox 50
. The latest update comes with many security fixes along with rendering fixes for round-cornered dashed and dotted borders. For operating systems like Linux, Windows 8 and older–lacking native emojis–Firefox 50 brings a built-in emoji set. According to tests, Firefox 50 also brings massive startup time improvements.
Firefox 50 also marks an end to the existence of libavcodec versions lower than 54.35.1. libavcodec is a popular open source codec library used to encode and decode audio and video data. It finds its use in various multimedia players, video editors, applications, frameworks, etc.
What's new in Firefox 50?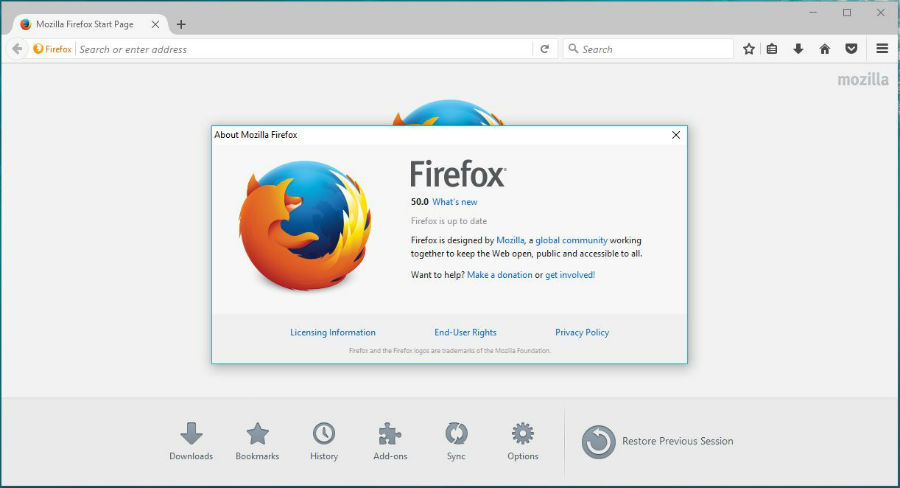 Download protection
Firefox 50 adds download protection for more number of executable file types on Windows, Mac, and Linux. This will enhance the safety of machine while downloading software.
New keyboard shortcuts
You can now enable CTRL+TAB shortcut to go through open tabs in recently used order. Reader Mode can now be accessed directly using Ctrl+Alt+R (For Mac: Command+Alt+R).
New locale support
Support for Guarani language has been added in Firefox 50. Guarani–a division of the Tupi-Guarani language family–is mainly spoken by the American Indian people living in Paraguay and nearby places.
Improved Find feature
You can now search for 'whole words' using Find in page feature in Firefox 50.
Enhanced video playback
Video playback is now possible for websites which don't have plugins with WebM EME Support for Widevine. Widevine, a Google company, provides DRM solutions to enable content protection for videos delivered through the internet.
WebGL
Firefox 50 also increases the availability of WebGL for 98% of Windows 7 and above users. WebGL is used to render 3D computer graphics.
Performance
It also adds improved performance for SDK extensions or the extensions which use the SDK module loader.
Firefox for Android
Firefox 50 for Android comes with HLS (HTTP Live Streaming) video support via the player overlay. It also offers simplified UI by clubbing the Recent Tabs and History panels.
The latest Firefox 50 update is available for Windows, Mac, Linux, and Android. You can find the release notes and download links on this page.
If you have something to add, tell us in the comments below.
Also Read: This USB Stick Can Perform HIV Test With 95% Accuracy In 20 Minutes