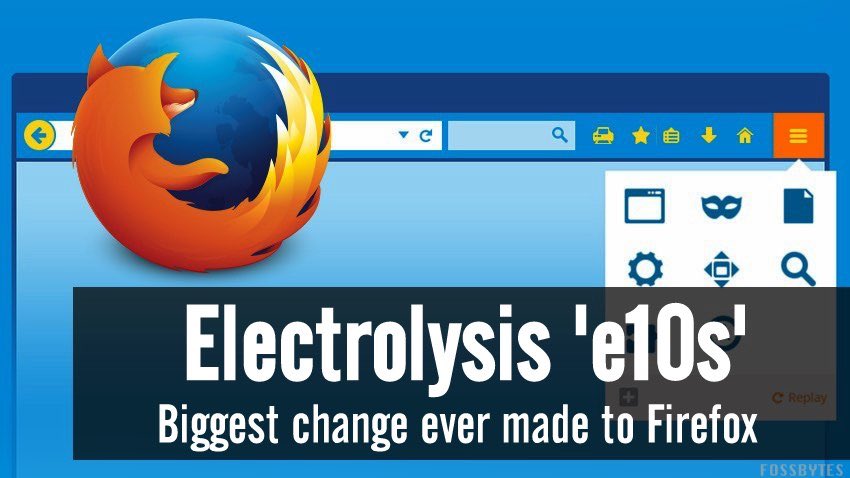 Short Bytes: Mozilla is finally rolling out the much-anticipated multi-process feature in its Firefox web browser. Named Electrolysis, this project is being called the biggest change ever made to Firefox. To give you the power-user ability and avoid crashing, Electrolysis will split the Firefox UI and content rendering processes. 
Mozilla started work on a multi-process version of Firefox long back in 2009. Back then, Mozilla shared the details of a nascent project named Electrolysis "e10s". This feature has been delayed several times. Now, it's making the first appearance in Firefox 48 Beta.
Mozilla calls Electrolysis its biggest project ever. This is understandable, given the fact that multi-process browsers are all the rage today and this war is being won by Chrome.
Electrolysis e10s has been in works since 2009
From the past few years, since Chrome appeared on the scene, Mozilla has been continuously losing developers and users. This change is aimed to correct things by using e10s to win back users.
This feature will be handy for the power users who keep countless browser tabs open or run hefty web apps.
The Mozilla Foundation has already been using Electrolysis will some beta testers since last December. With Firefox 48, this feature is being rolled out to all.
Electrolysis will separate UI and rendering processes
In the initial phase, Electrolysis will split the operations used to render web pages and browser's GUI processes into two different parts. Firefox aims to avoid complete browser crashes with this trick as the browser UI will continue to work even if the rendering functions are crashed.
In the upcoming Firefox versions, Electrolysis will run each extension a separate process. This will help users spot the RAM-hogging extension.
Staged rollout of e10s functionality
Even though Firefox Electrolysis has passed all the beta tests, the developers are planning a staged rollout.
By rolling out Electrolysis to 1% Firefox users, a comparison will be done with the beta testers who are already running e10s. If everything would seem safe and sound, the rest of the Firefox users will get updated to e10s.
While you can download Firefox 48 Beta with Electrolysis enabled now, the final stable build of Firefox will arrive in about six weeks from today i.e. first week of August.
Did you find this article helpful? Don't forget to drop your feedback in the comments section below.