Short Bytes: An app named Shryne helps you to forget your ex by making an archive of your memories and locking down your chat history until you're ready to be reminded.
H
eartbroken? A new iOS app lets you deal with your heartbreaks by creating an archive of memories of every interaction you had with your ex into a single feed, with an option of freezing the scrapbook until you are mentally ready to see them. The app creates an archive of all the social media interactions with your ex, including texts, emails, Google Hangout history, Facebook photos and Twitter messages.
Shryne, as it is called, defines the feature as 'making break-ups a little easier' by locking down your chat history until you're ready to be reminded. It can also be used to archive the memories of your loved ones including friends and family members if you want all your memories to be stored at one place.
Shryne, which was created by Irish developers based in Dublin, takes a different approach to other apps that help you get over a relationship.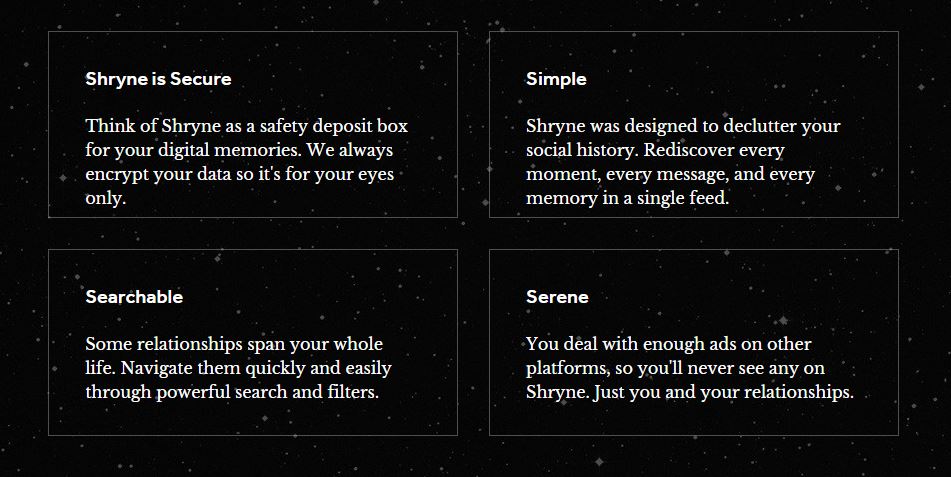 Although this app claims to help you overcome your break ups, it has come under a lot of criticism, on the grounds that it could make an individual obsess over his ex, rather than help moving on.
It would be interesting to see if it's just another app in the flood of apps, or it can actually help an individual to encounter his/her past.
Via: Shryne
What are your views about Shryne app? Tell us in comments below.
Check out our homegrown product viralnews.fossbytes.com for hottest tech news on the web. For more updates, subscribe to our newsletter. [newsletter_signup_form id=1]