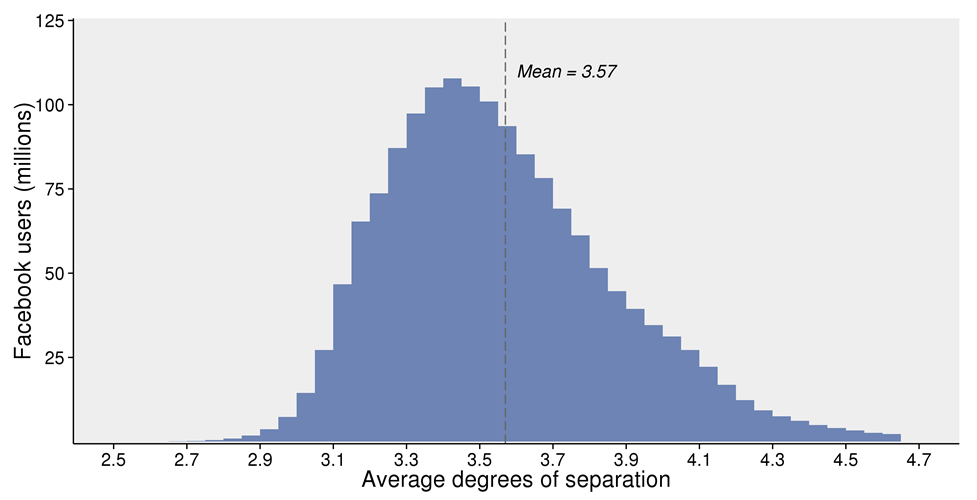 Short Bytes: Facebook has calculated the degrees of separation between you and every other person on this largest social media website. Facebook currently has a total of 1.59 billion users. The recent degree of separation calculated between every one of Facebook coming out to be less than six.
A
s per Facebook's recent blog post, the average degrees of separation between everyone on Facebook through friend connections comes to 3.57. This degree of separation is lesser than the degree of separation which author Frigyes Karinthy proposed in his short story "Chains."
Six degrees of separation is the theory that everyone and everything is six or fewer steps away, by way of introduction, from any other person in the world, so that a chain of "a friend of a friend" statements can be made to connect any two people in a maximum of six steps.
"Degrees of separation" is a concept that refers to how many people it takes to connect you and another person. For example, my brother is one degree of separation away from me, he has a friend named Shashank who is the second degree, and if Shashank is friend with Delhi CM then Delhi CM is three degrees of separation away from me.
According to the blog post on Facebook, Facebook CEO Mark Zuckerberg has an average 3.17 degrees of separation from all Facebook users. If you also want to check how close you are to others, you should visit the Facebook blog post. However, you will need to be already logged into your facebook account. For example, I'm having a 3.32 degrees of separation to everyone on Facebook.
The company didn't calculate the exact paths between users; instead, it used a statistical algorithm to estimate and approximate the number of connections separating two people.
Also read: How To Find Out Who Has Ignored Your Facebook Friend Request