Just like playing a music file or taking screenshots, recording desktop screen is a basic task for many of us. Without a doubt, it's the perfect way to illustrate anything on a computer or smartphone. There are tons of popular YouTube channels who are able to earn their livelihood by making screen recorded tutorials.
This brings us to the quest of finding a quality screen recorder software that can make this job simple. Our operating systems do come with tools to record screen but they don't have any extra feature that can make your video stand out. Along the similar lines, here, I'm going to tell you about  Wondershare Filmora Scrn screen recorder, which is created for recording games or anything else of your choice.
Filmore Scrn comes with lots of features and in the section ahead, I'll tell you about them:
Features of Filmora Scrn:
Record from 2 places: A key feature of Filmora Scrn is its ability to record simultaneously from your screen as well as webcam. You might have come across various YouTube picture-in-picture videos–you can create such videos easily with Filmora Scrn. This way, you can save your time and create engaging videos.
Record in 15-120 FPS: Unlike many other screen recorders, this tool believes in giving you the complete control of settings. If you wish, you can go for a very low 15 FPS, or you can turn up the things to 120 fps. This will turn out to be pretty useful if you're recording a gaming session with tons of action.
Powerful video editor: After using this screen recorder tool, you don't need to open some other video editing software and import the raw clips for performing the editing job. Filmora Scrn itself comes equipped with a variety of professional tools for making your work less cumbersome and more streamlined.
Effect tools: Filmora Scrn also lets you take advantage of its changeable cursors to make your recorded videos more appealing. With annotations, you can connect with your views more effectively and convey your message with ease.
Support for tons of formats: While editing your videos, it goes without saying that you'll need to import many pictures and videos for your final product. It supports importing over 50 file formats, including images, videos, music and other media files. After completing the task, you can export your work to multiple formats as per your needs.
Having told you all the major highlights of Filmora Scrn, let's tell you how to record screen using this recorder software:
How to use Filmora Scrn?
Filmora Scrn comes with very simple tool when it comes to dealing with different controls to get your work done. For working with this tool, you need to visit their website and download the setup for your preferred operating system. After download, simply locate the setup file in your computer and install it.
Now open Filmora Scrn application, and click on the Get Started button. If you proceed with the Quick Capture option, you'll be recording the screen with default parameters. However, the basic options to select the size of the captured area are given.
Here, we'll proceed with the Get Started option to look at the different settings. After clicking on that option, you'll be taken to a new window with different tabs on the left; Screen will be selected by default.
Here, you can change the Screen Capture size in the right side, which is set to Full Screen by default. Using the drop down menu, you can set a custom size later. You'll also see the Frame Rate option, which is set at 25 fps by default. You can set it anywhere from 25 fps to 120 fps.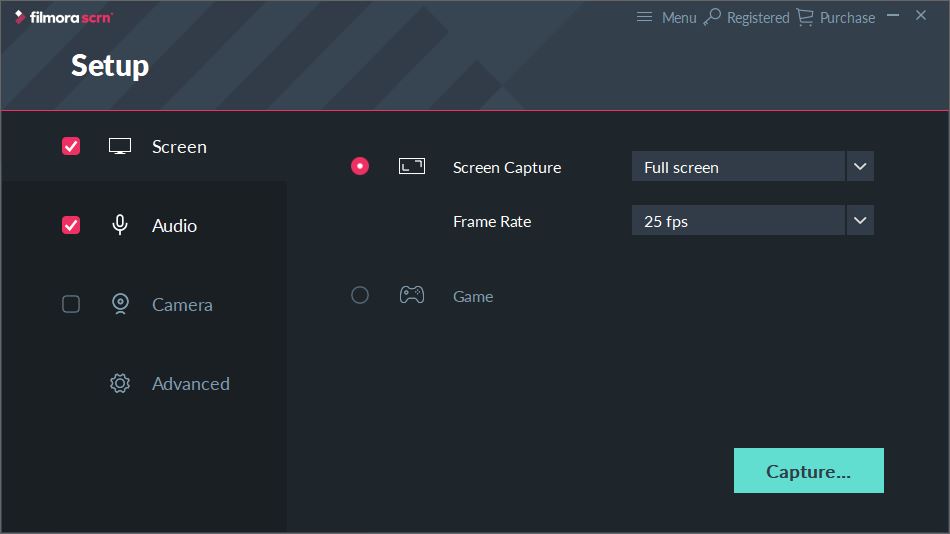 In the right pane, below Screen, you'll see option Audio. If you choose to untick the Screen option, Filmora Scrn will work as an audio recorder. Under the Audio option, you can select if you wish to record Computer Audio or Microphone audio.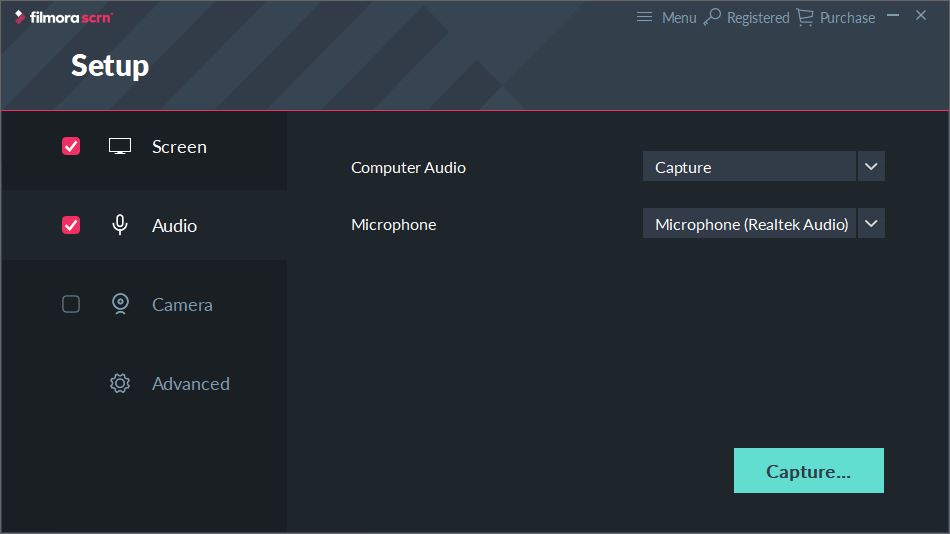 Below Audio, there's Camera option that lets you perform the Picture-in-Picture recording using your webcam. You can choose the Camera and Resolution, and you're good to go.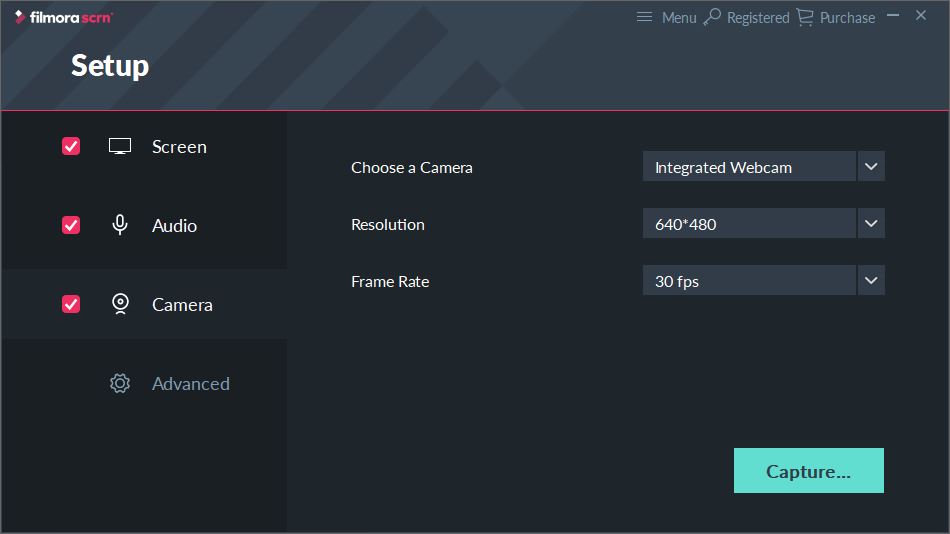 After customizing all the options, you can press the Capture button to start the screen recording. Using your mouse, you can easily set the size of the area to be captured.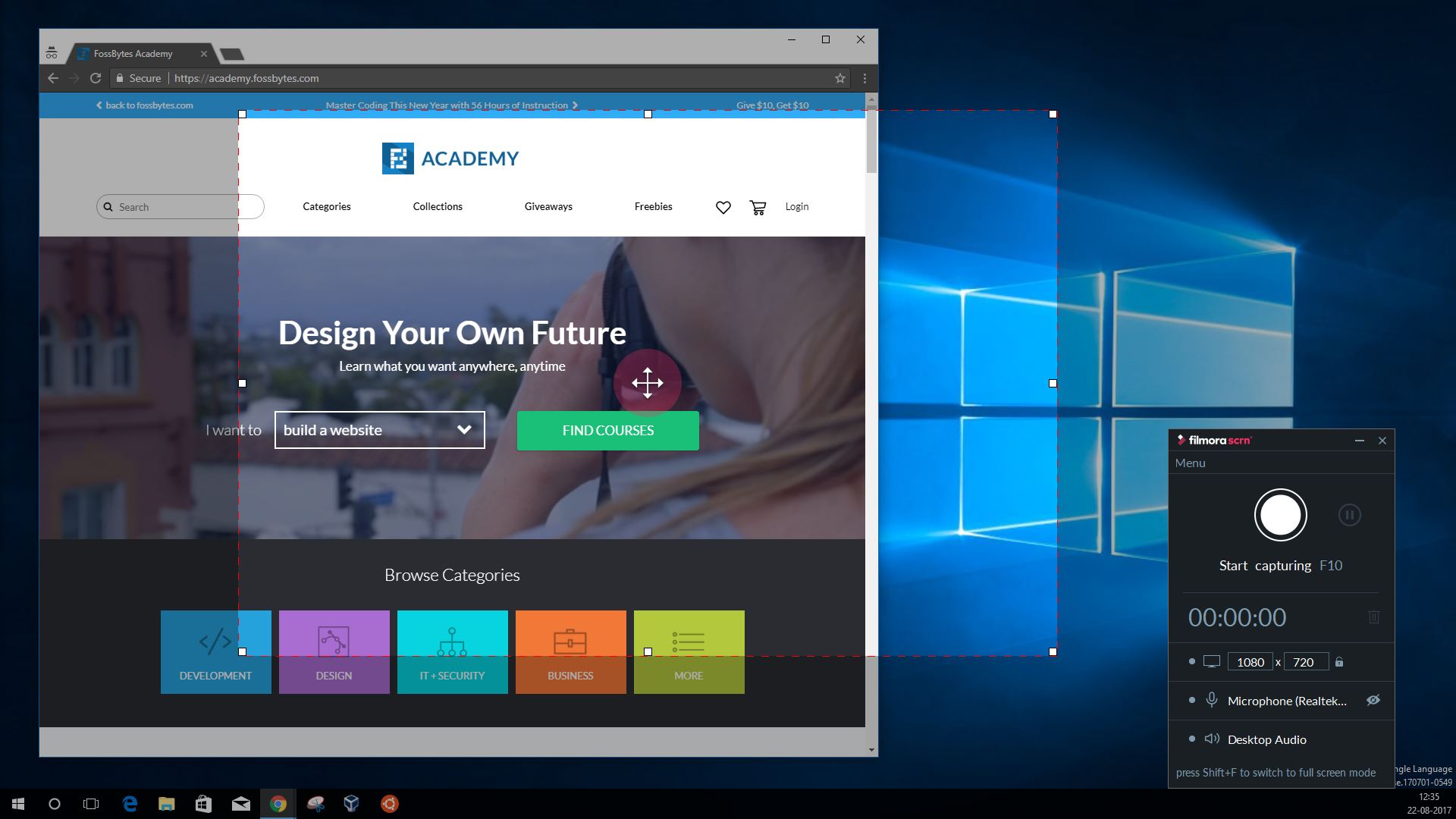 To record screen, you simply need to click on big, round Start Capturing button. Alternatively, you can also press F10 on your keyboard. For stopping the recording, press F9 or Pause Capturing button.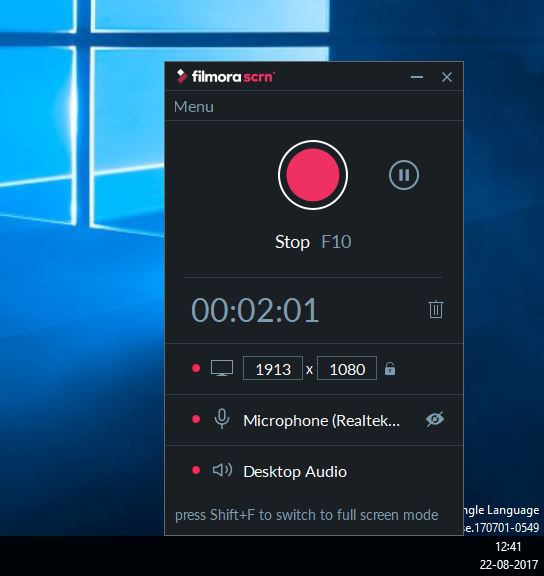 After the recording is done, a new window is presented before you. Using the drop-down menu, you can either export clips to the editor or simply save to your computer.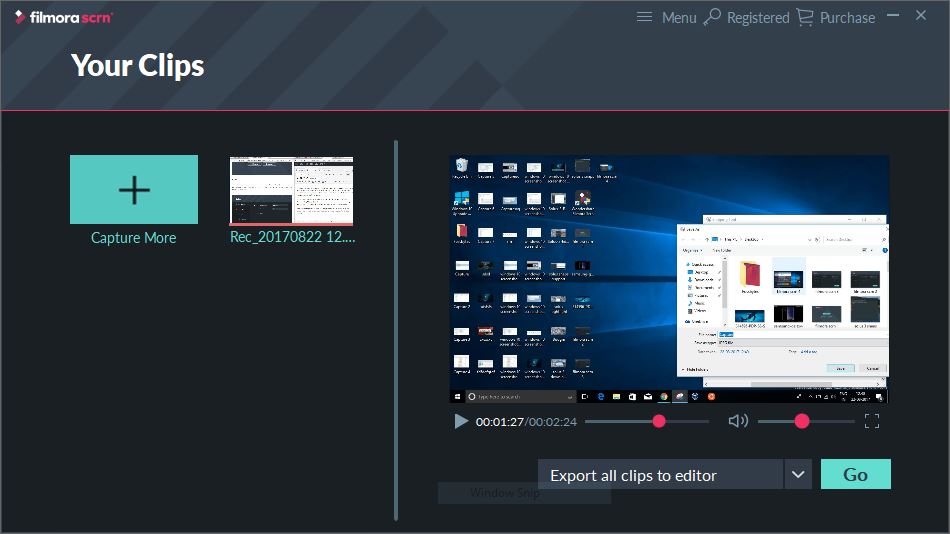 Editing in Filmora Scrn
Here, I've chosen the Export to editor option. The basic look of the editor is just like any other basic video editor. You can add more media to the library via the options given on the top left. At the bottom, there's video track where you can drag and drop media or add annotations.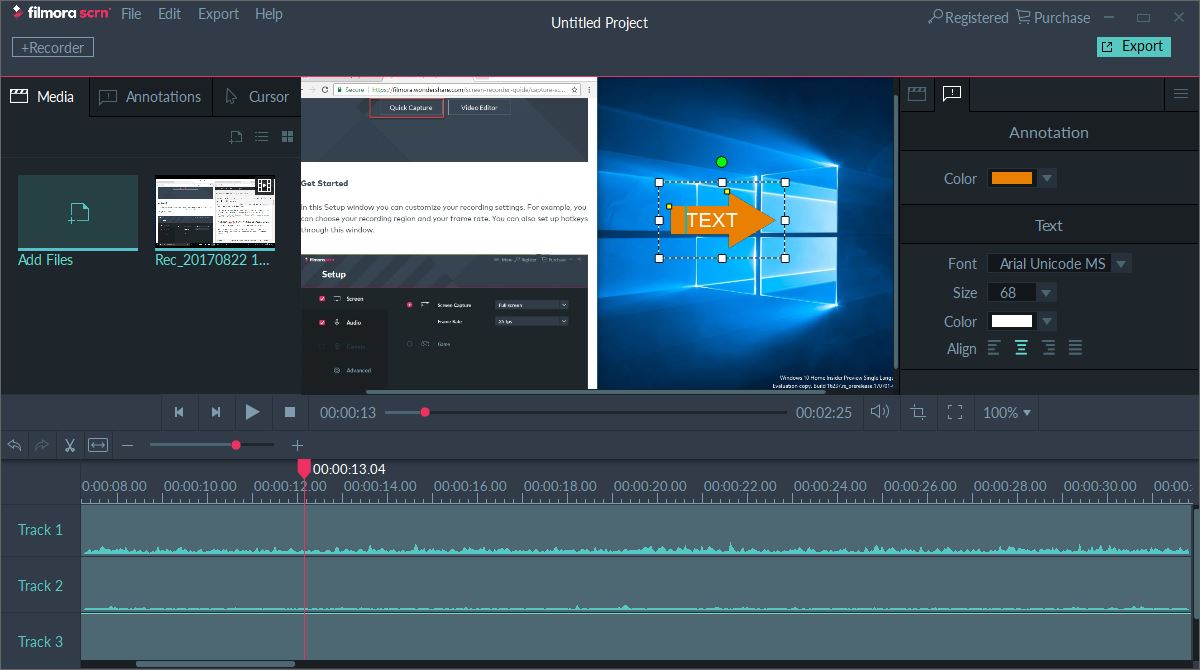 After you're done with the editing part, simply press the Export button at the top right corner. It'll show different options like encoding, frame rate, resolution, bitrate, etc. Choose the relevant settings and finish the task.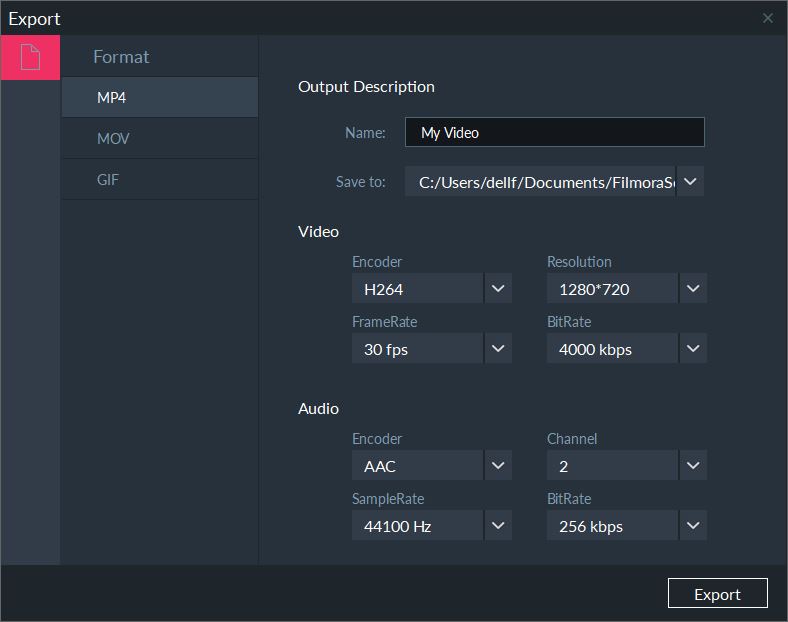 Get Filmora Scrn
Overall, Wondershare Filmora Scrn is a no nonsense screen recorder that's available for Windows and Mac platforms. You can visit this link for downloading the free trial version or pay $29.99 for a lifetime license.
This article is brought to you by Wondershare