It's that time of the year again when football fans brace themselves for a new season as well as a new FIFA game with updated squads and players. As we approach FIFA 22's release date, EA Sports has started revealing fresh player ratings for top footballers, including Cristiano Ronaldo, Lionel Messi, and Kylian Mbappe.
The player rating reflects various sub-stats such as pace, shooting ability, and physicality, influencing a player's in-game performance. EA Sports has a dedicated team called "The Ratings Collective," which works diligently to ensure these ratings are as accurate to the real world as possible.
Aside from this, gameplay is another facet of where EA Sports wants to replicate reality this year. The developer has announced that FIFA 22 will use a new technology called "HyperMotion," which combines motion capture data and machine learning to create realistic animations. However, surprisingly, this feature is available for everyone except PC gamers.
Importantly, the major game modes, Ultimate Team, Career Mode, Volta Football, and Pro Clubs, have also received some upgrades. These upgrades range from new tactics to in-depth customization. Moreover, this FIFA title is special for Indian gamers as the Hero Indian Super League is making its debut in the series this year.
FIFA 22 comes out later this month, on September 27, for PS4, PS5, Xbox One, Xbox Series X/S, PC, and Stadia. There are two different editions of the game — Ultimate Edition and Standard Edition — that come with varying bonus pre-order content. Also, the Ultimate Edition lets you play the game as early as September 27, whereas the Standard Edition gives you access to the game from October 1 onwards.
Here are the top player ratings revealed so far by EA Sports and their respective football clubs –
FIFA 22 Player Ratings Summary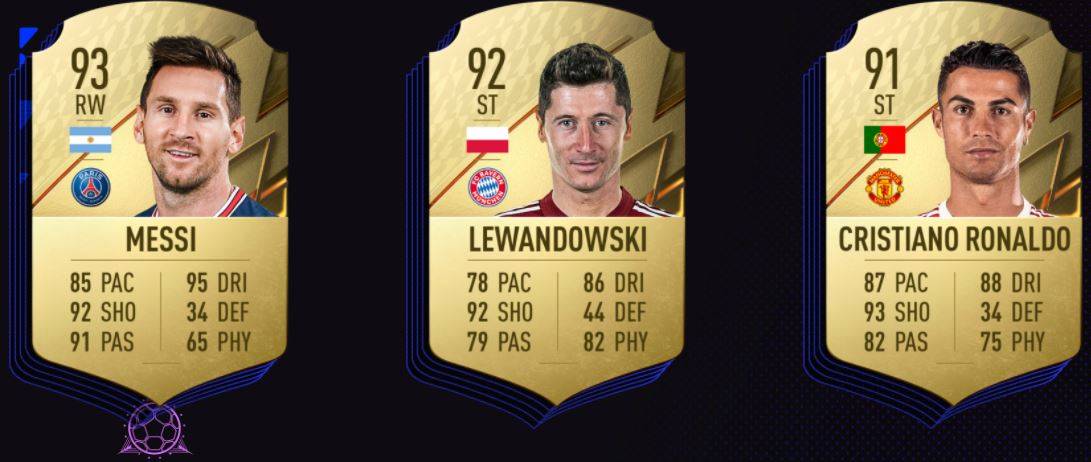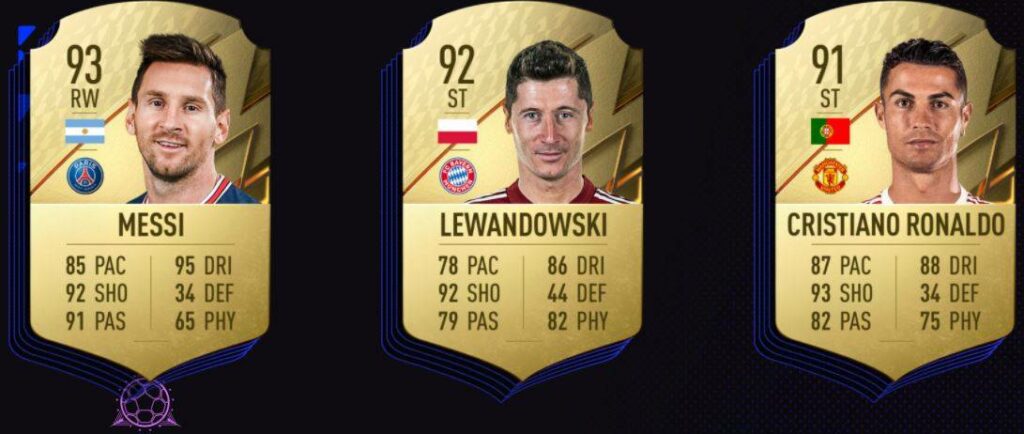 FIFA 22 highest-rated player: Lionel Messi (93)
Premier League highest-rated player: Cristiano Ronaldo (91)
LaLiga Highest-rated player: Jan Oblak (91)
Serie A highest-rated player: Ciro Immobile (87), Paulo Dybala (87), Wojciech Szczęsny (87)
Bundesliga highest-rated player: Robert Lewandowski (92)
Ligue 1 highest-rated player: Lionel Messi (93)
Biggest upgrade since FIFA 21: Rúben Dias (87)
Biggest downgrade since FIFA 21: Eden Hazard (85)
Highest-rated forward: Lionel Messi (93)
Highest-rated midfielder: Kevin De Bruyne (91)
Highest-rated defender: Virgil van Dijk (89)
Highest-rated goalkeeper: Jan Oblak (91)
List of Top 50 Players in FIFA 22
#
Name
Club/Nation
Pos.
Rating
Change
1
Lionel Messi
PSG/Argentina
RW
93
0
2
Robert Lewandowski
Bayern Munich/Poland
ST
92
+1
3
Cristiano Ronaldo
Manchester United/Portugal
ST
91
-1
4
Kevin De Bruyne
Manchester City/Belgium
CM
91
0
5
Kylian Mbappe
PSG/France
ST
91
+1
6
Neymar Jr
PSG/Brazil
LW
91
0
7
Jan Oblak
Atlético Madrid/Slovenia
GK
91
0
8
Harry Kane
Tottenham Hotspur/England
ST
90
+2
9
N'Golo Kanté
Chelsea/France
CDM
90
+2
10
Manuel Neuer
Bayern Munich/Germany
GK
90
+1
11
Marc-André ter Stegen
FC Barcelona/Germany
GK
90
0
12
Mohamed Salah
Liverpool/Egypt
RW
89
-1
13
Gianluigi Donnarumma
PSG/Italy
GK
89
+4
14
Karim Benzema
Real Madrid/France
CF
89
0
15
Virgil van Dijk
Liverpool/Netherlands
CB
89
-1
16
Joshua Kimmich
Bayern Munich/Germany
CDM
89
+1
17
Heung Min Son
Tottenham Hotspur/South Korea
LM
89
+2
18
Alisson Becker
Liverpool/Brazil
GK
89
-1
19
Thibaut Courtois
Real Madrid/Belgium
GK
89
0
20
Casemiro
Real Madrid/Brazil
CDM
89
0
21
Ederson Moraes
Manchester City/Brazil
GK
89
+1
22
Sadio Mané
Liverpool/Senegal
LW
89
-1
23
Bruno Fernandes
Manchester United/Portugal
CAM
88
+1
24
Romelu Lukaku
Chelsea/Belgium
ST
88
+3
25
Raheem Sterling
Manchester City/England
LW
88
0
26
Toni Kroos
Real Madrid/Germany
CM
88
0
27
Sergio Ramos
PSG/Spain
CB
88
-1
28
Keylor Navas
PSG/Costa Rica
GK
88
+1
29
Erling Haaland
Borussia Dortmund/Norway
ST
88
+4
30
Luis Suárez
Atlético Madrid/Uruguay
ST
88
+1
31
Rúben Dias
Manchester City/Portugal
CB
87
+6
32
Andrew Robertson
Liverpool/Scotland
LB
87
0
33
Jadon Sancho
Manchester United/England
RM
87
0
34
Trent Alexander-Arnold
Liverpool/England
RB
87
0
35
Hugo Lloris
Tottenham Hotspur/France
GK
87
0
36
Luka Modrić
Real Madrid/Croatia
CM
87
0
37
Marco Verratti
PSG/Italy
CM
87
+1
38
Ángel di María
PSG/Argentina
RW
87
0
39
Marquinhos
PSG/Brazil
CB
87
+2
40
Sergio Agüero
FC Barcelona/Argentina
ST
87
-2
41
Frenkie de Jong
FC Barcelona/Netherlands
CM
87
+2
42
Leon Goretzka
Bayern Munich/Germany
CM
87
+2
43
Thomas Müller
Bayern Munich/Germany
CAM
87
+1
44
Paul Pogba
Manchester United/France
CM
87
+1
45
Ciro Immobile
Latium/Italy
ST
87
0
46
Paulo Dybala
Piemonte Calcio/Argentina
CF
87
-1
47
Wojciech
Szczęsny
Piemonte Calcio/Poland
GK
87
0
48
João Cancelo
Manchester City/Portugal
RB
86
+3
49
Sergio Busquets
FC Barcelona/Spain
CDM
86
-1
50
Lorenzo Insigne
Napoli/Italy
LW
86
+1
Other confirmed players tied at '86' rating:
Mats Hummels (CB, Borussia Dortmund/Germany)
Marcos Llorente (CM, Borussia Dortmund/Germany)
Raphaël Varane (CB, Manchester United/France)
Gerard Moreno (ST, Villarreal CF/Spain)
Dani Parejo (CM, Villarreal CF/Spain)
Jordi Alba (LB, FC Barcelona/Spain)
Koen Casteels (GK, VfL Wolfsburg/Belgium)
Kingsley Coman (LM, Bayern Munich/France)
Giorgio Chiellini (CB, Piemonte Calcio/Italy)
Kalidou Koulibaly (CB, Ghana)
Aymeric Laporte (CB, Manchester City/France)
Rodri (CDM, Manchester City/Spain)
Milan Škriniar (CB, Inter Milan/Slovakia)
Samir Handanović (GK, Inter Milan/Slovenia)
Fabinho (CDM, Liverpool/Brazil)
Riyad Mahrez (RW, Manchester City/Algeria)
Bernardo Silva (CAM, Manchester City/Portugal)
Thiago Alcantara (CM, Liverpool/Spain)
Jamie Vardy (ST, Leicester City/England)
Honorable Mentions
85-rated
Eden Hazard (LW, Real Madrid/Belgium)
Dani Carvajal (RB, Real Madrid/Spain)
Antoine Griezmann (ST, Atlético Madrid/France)
Koke (CM, Atlético Madrid/Spain)
Jorginho (CM, Chelsea/Italy)
Thiago Silva (CB, Chelsea/Brazil)
İlkay Gündoğan (CM, Manchester City/Germany)
Kyle Walker (RB, Manchester City/England)
Lautaro Martínez (ST, Inter Milan/Argentina)
Stefan de Vrij (CB, Inter Milan/Netherlands)
Marco Reus (CAM, Borussia Dortmund/Germany)
Achraf Hakimi (RB, PSG/Morocco)
Memphis Depay (CF, FC Barcelona/Netherlands)
David Silva (CAM, Real Sociedad/Spain)
Mikel Oyarzabal (LW, Real Sociedad/Spain)
Alejandro Gómez (CAM, Sevilla/Argentina)
Serge Gnabry (RM, Bayern Munich/Germany)
Péter Gulácsi (GK, RB Leipzig/Hungary)
Yann Sommer (GK, Borussia M'gladbach/Switzerland)
Leonardo Bonucci (CB, Piemonte Calcio/Italy)
Wilfred Ndidi (CDM, Leicester City/Nigeria)
Kasper Schmeichel (GK, Leicester City/Denmark)
Sergej Milinković-Savić (CM, Latium/Serbia)
Marcus Rashford (LM, Manchester United/England)
Matthijs de Ligt (CB, Piemonte Calcio/Netherlands)
Edinson Cavani (ST, Manchester United/Uruguay)
Pierre-Emerick Aubameyang (ST, Arsenal/Gabon)
Roberto Firmino (CF, Liverpool/Brazil)
Finally, there you go! These are the ratings. Do you think the players have received deserved upgrades/downgrades? Share your opinion in the comments.