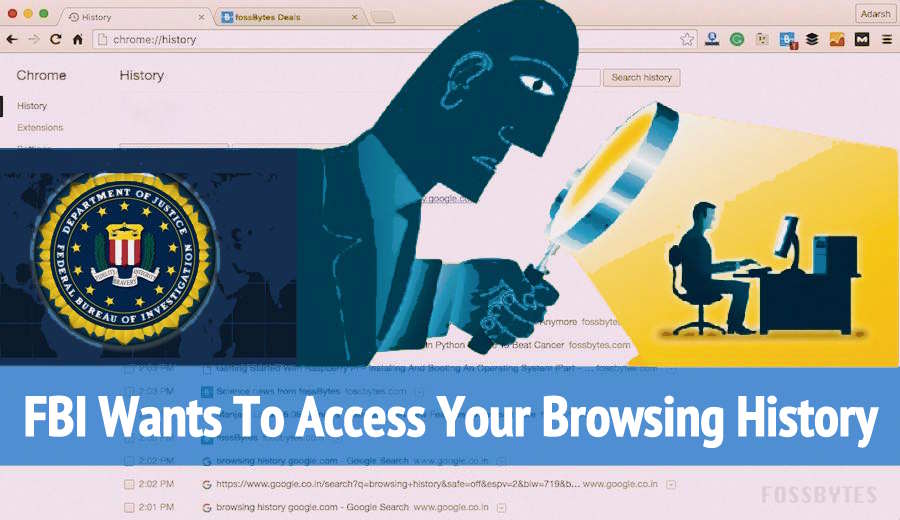 Short Bytes: The FBI is expecting a new change in the law that would grant it powers to get a complete picture of a person's online life. The new change will allow the FBI to access a person's browsing history and other "electronic communications" data without a warrant in any spy cases or terrorism.
T
he FBI is continuously working to expand its surveillance web and trying to make sure that its spying isn't hindered by the privacy safeguards set by the American constitution.
A similar amendment is now in process that will give the Obama administration an explicit power to access your web browser history and other personal data like email metadata. FBI is looking to gain such access to your data without any warrant in spy cases or terrorism.
It looks like the FBI chief James Comey is frustrated by the restrictions like Fourth Amendment protections. He even says that there's a 'typo in the law', which is holding the FBI back. However, he might be enjoying the recent assists being made in the field of warrantless searches.
At the federal agency's request, some eager lawmakers are pushing forward a legislation that would entitle the FBI with powers to gain "electronic communication records" without a usual warrant. The agency will just need a subpoena called national security letter, which is issued by a special agent without court's approval.
IP address, email text, Google search queries — FBI wants everything!
Comey has labeled this change as the FBI's top priority in 2016. If you are wondering about what data the FBI want to access, you'll be surprised to know that it includes your IP address and how much time you spend on a website. The other data includes browsing history, location information, email metadata etc.
The FBI made a similar attempt about six years ago but failed to pass the legislation due to numerous concerns raised by privacy groups and tech industry.
Similar concerns are being again raised by the civil rights group and tech giants like Google, Facebook, Yahoo and others. They have penned a letter to senators, calling the provisions an ultimate snooping inside a person's life.
"The new categories of information that could be collected using an NSL and thus without any oversight from a judge would paint an incredibly intimate picture of an individual's life," the letter states.
What do you think about this proposed change in the law? Don't forget to drop your views in the comments section below.