Far Cry 6 is all the hype right now; the latest title in Ubisoft's Far Cry series will launch sometime later in 2021. While fans are eagerly waiting for Far Cry 6, Ubisoft has just dropped gameplay footage of the game. The official gameplay reveal of Far Cry 6 gathered around 34000 watchers on YouTube.
The official gameplay reveal of Far Cry 6 from Ubisoft didn't really feature actual gameplay for some reason. However, it introduced fans of Far Cry 6 to what to expect when the game is released. Furthermore, it has been made official that Far Cry 6 will be available on October 7, 2021.
Interestingly, the gameplay footage of Far Cry 6 was leaked online yesterday ahead of its big official reveal.
The Story of Far Cry 6
In the heart of the Caribbean, there is a country, Yara. Initially, Yara was a popular vacation destination. On the other hand, the country is now a totalitarian society with Anton Castillo as its dictator. A young military dropout Dani Rojas and an orphan who wishes to leave her homeland with an oppressive regime, and wants to go live somewhere else. Dani Rojas is the protagonist of Far Cry 6, and players play the game from her perspective.
Now back to the story: while Dani wants to leave Yara, upon seeing the cruel and oppressive regime and the dictator kill his friends, she ends up leading a guerrilla army to liberate her homeland, a pretty touching and cliche story.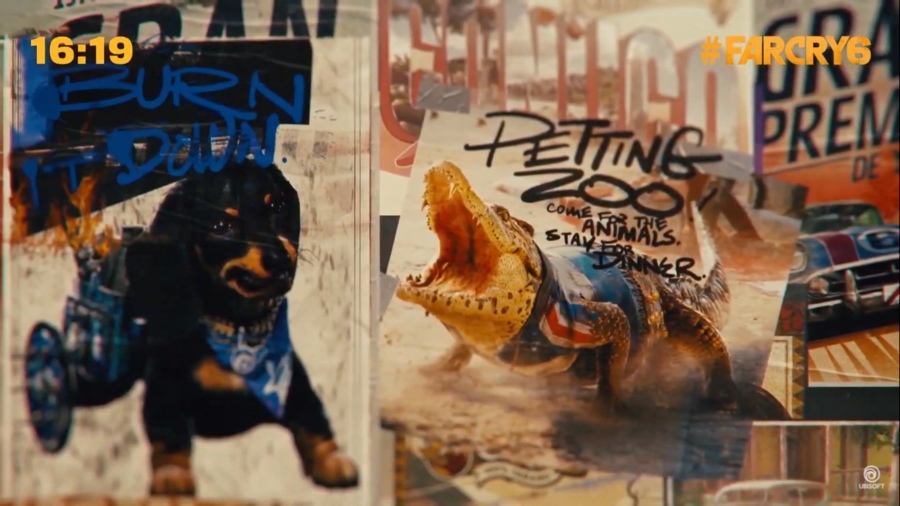 Weapons in Far Cry 6
Furthermore, the official reveal of Far Cry 6 introduces some interesting and weird weapons to the players. The developers reveal how they've taken a different approach towards designing weapons for the game. Considering the game's story and a guerrilla fighter with near-zero resources, Dani has to defend her homeland with whatever she can get her hands on; this is where things get weird.
A sardine gun, which shoots fish, yes you heard that right. Apparently, Ubisoft is not stopping there, and they've also put another gun which shoots CDs of the popular songs from the 90s, Macarena by Los Del Río. In addition, the reveal also shows a gun made from an old motorcycle engine. If that's not enough, the game will also feature customizable vehicles.
When it comes to companions, our protagonist has got two, a dog with a wheelchair and an alligator. While we still don't know anything about the game's mechanics and how the fighting sequences will look, it's still too early to comment anything on it.
Make sure to follow this article as we'll add if any new updates about the game surface.