Short Bytes: Facebook's leaked training documents have highlighted a faulty formula used by the company for censoring hate speech. Facebook bans attacks on certain protected classes but shows leniency on the subsets of these protected categories. As a result, an attack against protected class "white men" is banned, but posts against a subset "female driver" are allowed.
I
f you're asked a question that goes like "Which of the below subsets do we protect?" and you're given three options — Female drivers, Black Children, and White Men, which option do you choose? Almost all of you would argue that every human being needs protection and there must be an "All of the above" option. That makes perfect sense. But not in Facebook's walled garden.
A recent leak of Facebook's internal documents, courtesy ProPublica, has shed a light on Facebook's internal guidelines that the social network uses to distinguish between legitimate political expression and hate speech. As ProPublica points out, the reasoning given behind these decisions is inconsistent.
The leaked Facebook slides tell more about the company's hate speech policy in the form of a quiz. The guidelines mention that the attack on protected classes, including people of a given race, gender, or sexual preference, should be protected. But, as "children" as not in protected class, they shouldn't be protected. Notably, men and white people are in protected classes.
In the same manner, you can post that all "radical" Muslims should die but you'll be banned for posting that all white people are racists. This happened in the past. When Boston poet and Black Lives Matter activist Didi Delgado wrote "All white people are racist. Start from this reference point, or you've already failed," his Facebook account was disabled for 7 days.
On the other hand, when U.S. Congressman wrote a Facebook post and called for the slaughter of "radicalized" Muslims, he was spared by Facebook. He wrote: "Hunt them, identify them, and kill them," declared U.S. Rep. Clay Higgins, a Louisiana Republican. "Kill them all. For the sake of all that is good and righteous. Kill them all."
It's also highlighted that while Facebook played a big role in 2010-2011's Arab Sping, in some instances company's policies favor governments and elites. Wondering why? Because it helps Facebook avoid bans in certain companies, which, overall, helps the company's financial interests.
Facebook's few rules are shown in the GIF below: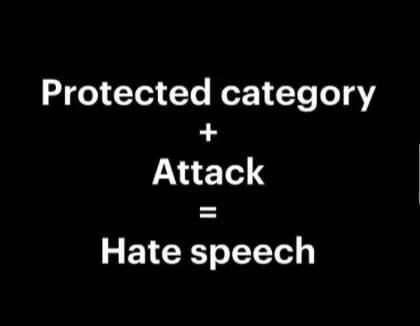 So, why is Facebook doing this?
The culprit is company's formula that has protected classes like race and non-protected classes like age. When a post talks about all member of a protected class, e.g., women, it's banned. On the other hand, if it talks about an unprotected category within protected category, e.g., women driver, it's spared.
Similarly, Black Children is a subset of a protected class. On the other hand white men isn't a subset.
You can read the complete findings in this detailed write-up by ProPublica. Also, don't forget to share your views and become a part of the discussion.