B
ack in May, we heard about Facebook building a
new streaming platform
to throw originals shows in front of the users of the blue network. Facebook also added a new Video tab in its Android and iOS apps.
Now, building on the plans for their very own streaming service, Facebook has introduced 'Watch' which allows people to see episodes of live or recorded shows.
In the form of a dedicated tab, people would be able to use Watch on their desktop, and Facebook's apps for Android, iOS, and TV.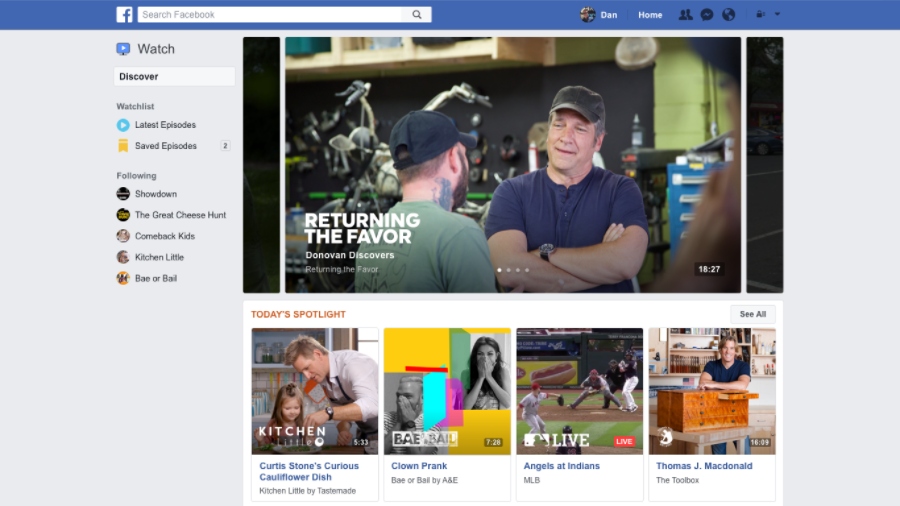 The content offered through Watch would range from regular themed shows to live events and sports broadcasts. Facebook says this would allow creators and publishers to build a strong fan following and earn money from their work.
With its people-powered platform, the company would be standing against the decade old video platform, YouTube.
The first lot of shows would include Nas Daily making videos with his fans, Tastemade's Kitchen Little, one live broadcast per week of Major Basketball League, etc.
https://www.facebook.com/facebook/videos/10156285678786729/
You can keep track of your favorite shows through a tab called Watchlist which would display new episodes as soon as they arrive. Furthermore, there would be specialized sections like " What's Making People Laugh" featuring videos which more 'Haha' reactions, "What Friends Are Watching," and a "Most Talked About" section for trading stuff.
Facebook is also paying some creators to craft original shows for the Watch tab. But the funding is in the initial phase after which the company would take a 45% cut from content creators on ad revenue, the primary source of their income.
For now, Watch is launching for a limited audience in the US and more regions will follow soon. Facebook will also limit the number of content creators during the initial rollout.
If you have something to add? Drop tell us in the comments.