Facebook has finally disclosed the internal mails which it fought to keep secret for a long time. The emails reveal that the social media giant knew about the infamous Cambridge Analytica scandal two years before the data breach became viral.
It was revealed in March this year that a Facebook employee knew about the wrongdoings of the UK-based Cambridge Analytica and even warned Facebook about the data policies of the firm.
The email with the subject line as "clarify policies around platform scraping for politics" describes Cambridge Analytica as "the largest and most aggressive on the conservative side." The mail was drafted on September 22, 2015 — 2 years before the scandal became a sensation.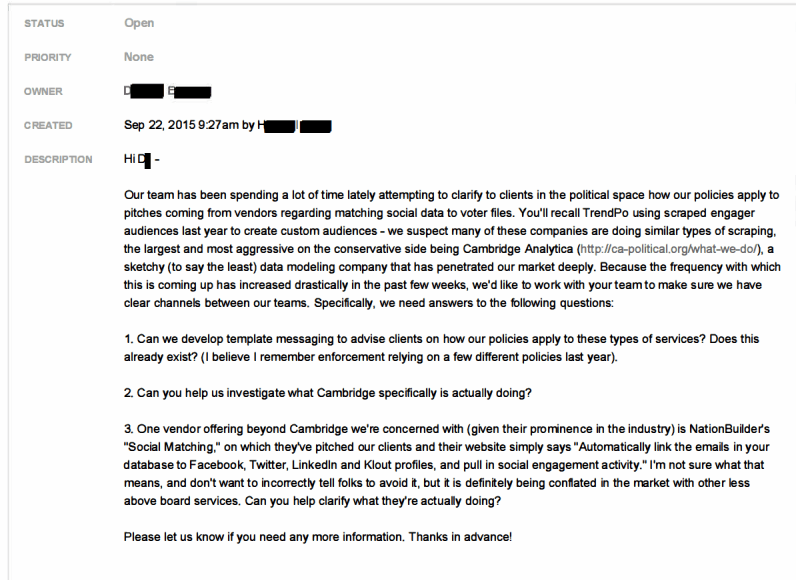 In the employee's words, the "sketchy" data collection policies of Cambridge Analytica has penetrated Facebook's market and the firm is reportedly deploying a data scraper to pull out data from the social media company.
The published emails also reveal that Facebook became aware of the fact that the data obtained by the 'This Is Your Digital Life' quiz was sold to Cambridge Analytica in December 2015.
Last month, the FTC levied a massive fine of $5 billion on Facebook for compromising the data of millions of users. It is one of the largest fines ever imposed on a company in the case of consumer privacy.