In a message posted on the Facebook, the social networking platform has announced that they are shutting down Friend List Feeds today.
This feature allowed users to see posts from a specific friend list such as family, work colleague, industry peers, etc. Many people used the feature as it made it easy for them to see the relevant posts in the feed.  To use the feature, you would need to create a friend list.
Facebook has only removed the feature that allowed you to filter your feed and see posts from a particular friend list; you can still make friend lists.
In the message, Facebook said, "We'll be making these friend list feeds unavailable on August 9, 2018, to focus on improving your main news feed experience. But don't worry – you can still continue to create, edit and share to your friend lists."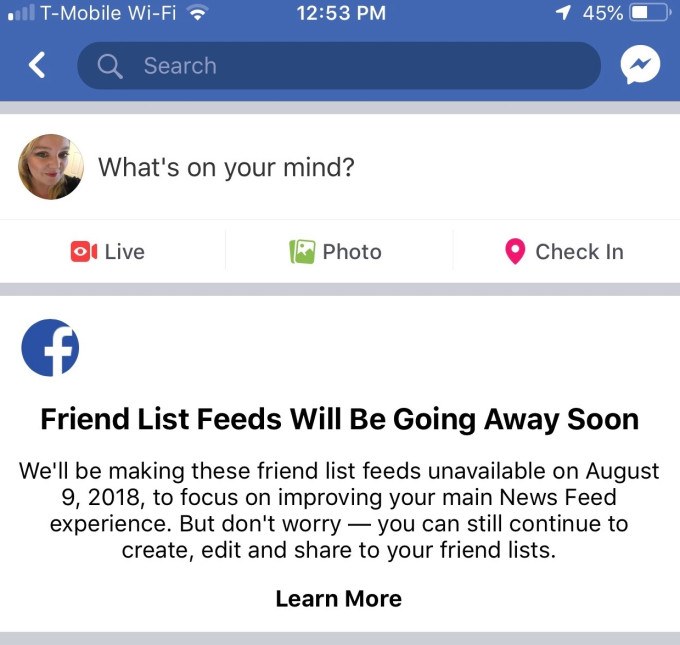 This feature was introduced long ago and has seen improvements from majorly because not many people used it or were aware of it. Facebook launched "smart lists" to make the feature popular amongst users.
It auto-grouped your friends into different lists on the basis of the common factors between your data. For example, the people who are working in the same workplace as yours were added to Colleagues list, those who are living within the area of 50 miles of you, were a part of the Neighbor list–and so on.
Now that friend list feeds feature is going to shut down, you can customize your news feed by going to the News Feed Preferences section to see posts from your favorite people and pages on the top.