A Wall Street Journal report claimed that leaked research from Facebook shows that Instagram is 'toxic' for teen girls. Following this report, Facebook's Global Head of Safety Antigone Davis is now set to appear before a Senate Commerce subcommittee. Ahead of Davis' appearance, Facebook Newsroom published a self-fashioned fact-check of the WSJ report.
Facebook's response has been published by Pratiti Raychoudhury, Vice President and Head of Research. The article says it is 'simply not accurate' that the research shows Instagram as toxic for teenagers.
The article also said that the research was "designed to inform internal conversations about teens' most negative perceptions of Instagram." It also adds that the study was based on 'only 40 teens,' making it unreliable to conclude the WSJ report.
Social Media Rope Walk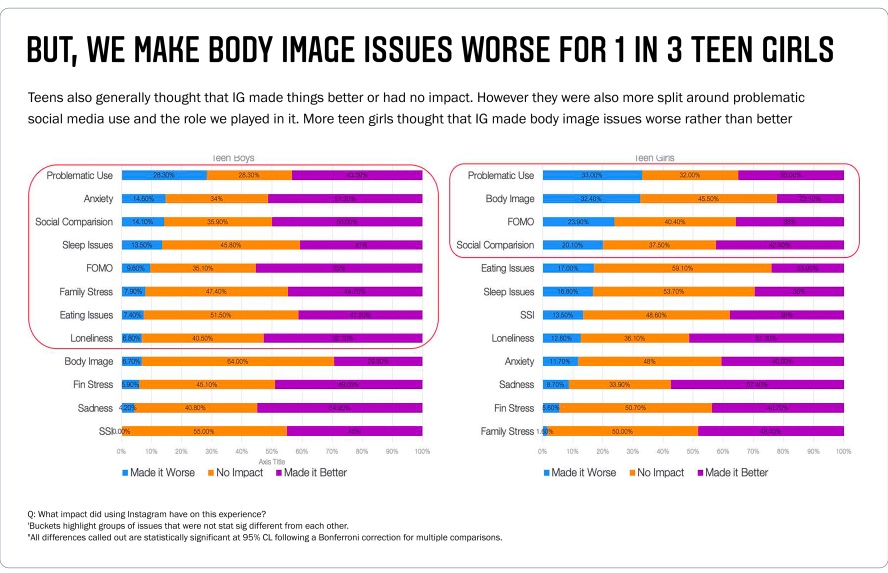 Social media is generally a mixed bag of reactions about everything. Call it the effects of a massive user base or the user's desire to use more of it, but it remains all the same. Harvard and Pew's reports call social media "predominantly positive," while other studies have found that increasing usage may lead to increased mental health issues in teens.
Facebook's response to the WSJ report shows its internal slide with more mixed data. However, the same data used by the Wall Street Journal to show Instagram is toxic for teen girls also indicates that the app is helping teen girls cope with anxiety, loneliness, sadness, and family stress.
Both WSJ and Instagram are interpreting data that is still not public. So without seeing the full report, no conclusions can be made on the same. As of now, the Journal's report has concluded, and Facebook actively denies it.
In the past, too, Facebook has been accused of actively not acting on its research. Leaked documents also reveal that Facebook has a different set of rules for elite users. The platform's recent decision to release Instagram for kids has also put it in a tight spot. The Guardian did a good piece explaining Instagram to kids.
Everything considered, better data with a more significant sample would be needed to conclude whether Instagram is toxic for teenagers. Facebook is also avoiding key issues like Instagram addiction in teenagers, privacy concerns around its social media platforms, and the company's stance on partial treatment for VIP users. We can expect more clarity on the issue after the Senate Commerce subcommittee on Thursday.
Update: Instagram For Kids On Hold
Instagram is pausing the development on Instagram for Kids. The company says it is doing so to work with policymakers and parents to 'demonstrate the value and need' of Instagram for kids. This update comes right before the Senate Commerce subcommittee hearing on Instagram causing body image issues in teen girls.
Adam Mosseri, head of Instagram announced the development saying that this isn't the first time an app has made a separate version for kids. He highlights that YouTube and TikTok have dedicated apps for under-13 users. Mosseri also says Instagram will use this time for building parental supervision tools for teens.