Short Bytes: In its 2016 open source review, Facebook has revealed that it open sourced 77 new projects and its contributors made 60,000 commits. While most commits were made in Nuclide, React Native, HHVM, Buck, and Presto, the most notable newcomers were create-react-app, draft.js, f8 app, fast text, and fbctf.
F
acebook is known to make great contributions to the open source community by releasing the code of its internal projects. In the past, we have told you about some
top Facebook open source projects
. It's a list tha
t's increasing with time.
According to Facebook's 2016 open source overview, this year, the company launched 77 new open source projects that span across various areas. This addition makes Facebook's open source portfolio even bigger with about 400 projects.
This year, Facebook's contributors made 60,000 commits. The overall count of the followers of Facebook's open source project has crossed 500,000 mark.
The most commits were made in Nuclide, React Native, HHVM, Buck, and Presto. Also, Facebook's flagship projects, React and React Native, surpassed 50,000 and 40,000 followers, respectively.
The notable newcomers were create-react-app, draft.js, f8 app, fast text, and fbctf. Facebook's biggest launch of the year was Yarn, a new JavaScript package manager.
The company also told that some notable companies have started using these open source projects. The names of companies and projects (and other interesting details) can be found in the infographic shared below:
Facebook open source overview — 2016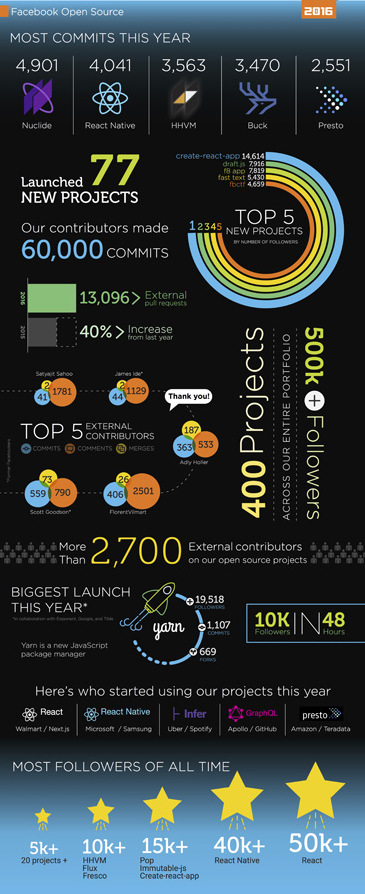 Did you find this development interesting? Should Mark Zuckerberg open source his Jarvis AI in 2017? Don't forget to drop your views and feedback in the comments section below.
Don't Miss: