In 2019, Facebook's co-founder and CEO, Mark Zuckerberg, revealed his plans to unify all the three messaging services — namely WhatsApp, Instagram, and Facebook Messenger — owned by the social media giant. Now, the company has finally merged Facebook Messenger with Instagram Direct Chats.
Several Instagram users in the US are receiving a new update pop-up on the app that says, "There's a New Way to Message on Instagram." It includes a list of features, including a "new colorful look for your chats," new emoji reactions, and a swipe-to-reply feature. There is also a feature that lets users to "Chat with friends who use Facebook."
Instagram users will soon get to see a new 'Update' button at the bottom to use the new feature. In the latest version, Instagram's DM icon will get replaced with the Messenger logo, and the chat UI will be refreshed. Those who have already received the feature say that it isn't functional yet as it doesn't allow Instagram users to message people on Facebook from within the app.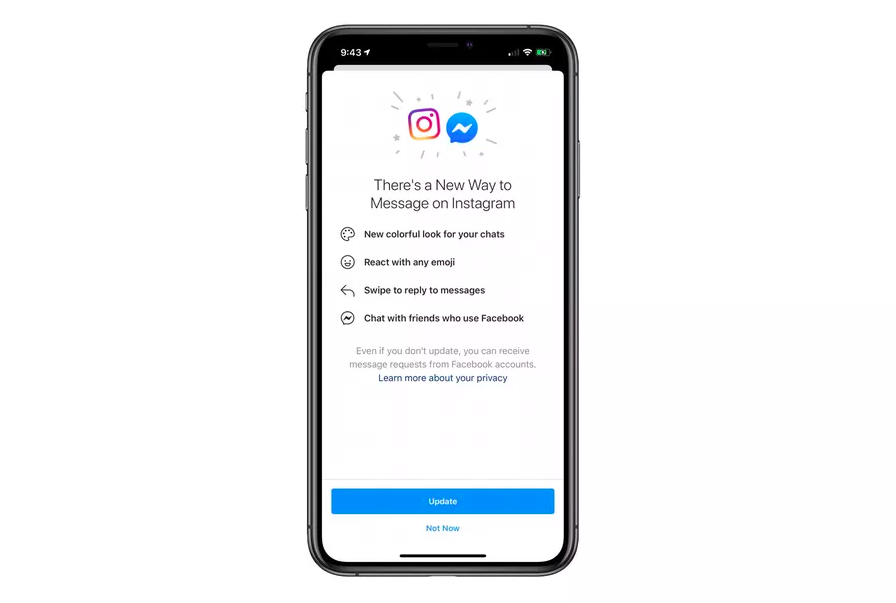 As of now, we don't know when Facebook will allow Instagram users to text people on Facebook. But hopefully, the company will enable it soon via a server-side update.
Last year when Zuckerberg announced plans to merge all the messaging apps, he also revealed plans for end-to-end encryption on all the apps. However, Facebook hasn't revealed any information regarding that yet.