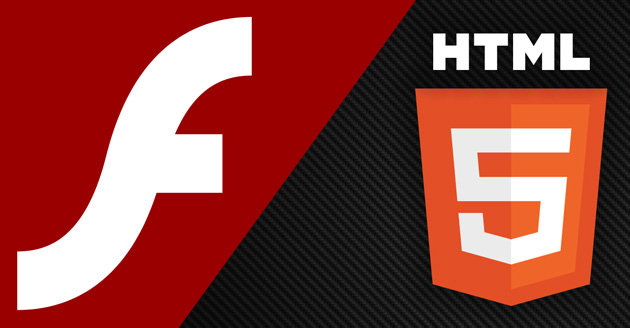 Short Bytes: Facebook has announced its plans to adopt HTML5 for all Facebook web video surfaces like News Feed, Pages, and embedded videos. Finally, after 20-years of its journey, Adobe Flash is being asked to leave the internet's digital space and give some room to HTML5.
I
t is hard to believe, but the
20-year-old Adobe flash
can find no space in the playground captured by the new kid
HTML5
 – all a consequence of Flash's prolonged list of bugs and vulnerabilities which are well criticized by the experts. Adobe Flash's incompetence to perpetuate stride with the fast-paced internet world has contributed towards its foreseeable extinction.
One of the names in the detractors list is Facebook, well it should be, after Facebook's Chief Security Officer Alex Stamos publically asked Adobe to declare an end-of-life date for the Flash. "It is time for Adobe to announce the end-of-life date for Flash and to ask the browsers to set killbits on the same day", he tweeted. "Even if 18 months from now, one set date is the only way to disentangle the dependencies and upgrade the whole ecosystem at once."
Facebook announced their plans that they'll be using the much-advocated HTML5 for loading all the videos, whether in the News Feed or on individual Pages. However, they do want Adobe to oblige them to develop safe and secure games, "We are continuing to work together with Adobe to deliver a reliable and secure Flash experience for games on our platform, but have shipped the change for video to all browsers by default", said Daniel Baulig, Facebook's front-end engineer, in his blog post.
In the post, Daniel explained why Facebook is all the way ditching Adobe Flash and adopting HTML5. It is all because of Facebook's "large size" and "complex needs", which are well preserved by the development velocity and a whole lot of accessibility features provided by HTML5. Obviously, Adobe Flash is way behind HTML5 on that note.
Daniel applauded the home-baked web tools that exist at Facebook's disposal, jest and WebDriver. Also, the ease of testing that'll be facilitated after the implementation of HTML5.
He also praised HTML5's open source nature, will eliminate the need of recompiling the code, "Not having to recompile the code and being able to apply changes directly in the browser allow us to move fast", he said. Facebook did face some challenges during HTML5's implementation, but they were intelligent enough to overcome them.
HTML5's biggest precedence over Adobe Flash is the in-built support for the former rendered by all the web browsers. Content designed using HTML5 can be viewed on almost any internet-connected device without installing some software or browser extension.
Also Read: Here's How Adobe is Contributing to Microsoft's Spartan Browser
Write your views about this change in the comments section below.