The story is hard to believe for some, but in all reality, the inevitable has come to pass. Facebook Gaming views have reportedly taken on YouTube gaming in terms of the total number of hours watched on Facebook Gaming.
According to Streamlabs, people have started spending more time on Facebook Gaming, with the platform gathering more views than YouTube Gaming. Streamlabs published its 2021 Q3 Live Streaming Industry Report on Wednesday 27th October 2021; the report read, "For the first time, Facebook Gaming overtakes YouTube Gaming in hours watched."
Live Streaming Industry Report of Q3 2021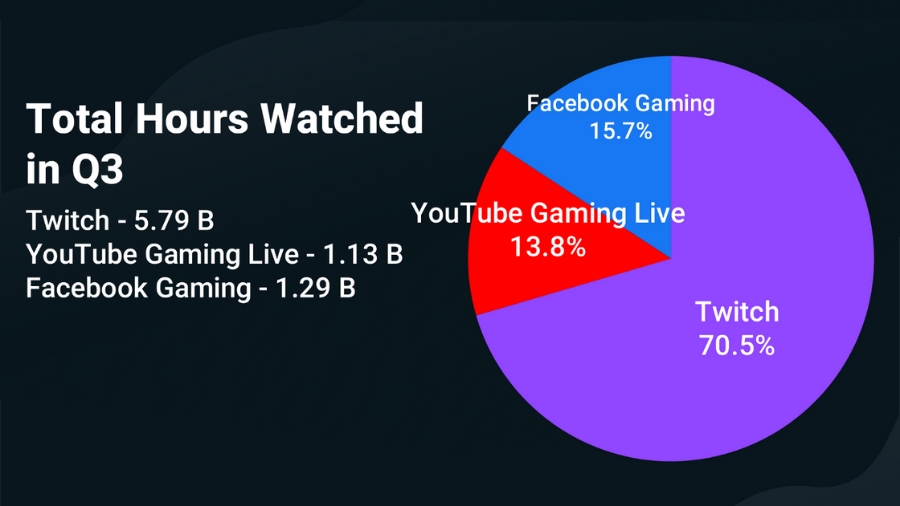 Stremlabs report also mentioned that as compared to Twitch and YouTube Gaming, Facebook Gaming is the only platform to have experienced increased growth in terms of the number of hours watched in Q3 of 2021. In addition, YouTube Gaming is also reported to improve streaming functionality and to place big bets on further streamer acquisition.
The Q3 report on the Live Streaming Industry Report also said that viewers watched 1.29 billion hours of content on Facebook Streaming from August to September. The figure represents a 9.2 percent increase in numbers from Q2 of this year. In all comparisons, the number of people increased from 1.294 hours in Q2 of 2021 to 1.13 billion in Q3 of 2021 who watched Facebook Gaming.
The figure might not seem much on paper; however, considering the change came in a period of just 3 months make it a staggering feat for Facebook Gaming. Meanwhile, the current report by Streamlabs shows the potential Facebook Gaming holds as a streaming platform.
While it's astonishing seeing Facebook Gaming grow with competition like Twitch and YouTube Gaming, at the same time, Youtube Gaming has seen a constant decline ever since the peak of the platform last year. In the meantime, Twitch remains struggling with its own set of problems, contributing to Twitch's total watch hours decline as compared to the previous reports, which stood at 6.51 billion hours in Q2.
All things considered, Twitch maintained its top spot in total hours watched, with 5.79 billion hours watched in Q3 of 2021. Meanwhile, it's still too soon to say if Facebook Gaming will maintain this progress and come out to top YouTube Gaming in the last quarter of 2021. However, Streamlabs predicts the company is on the right path for now.