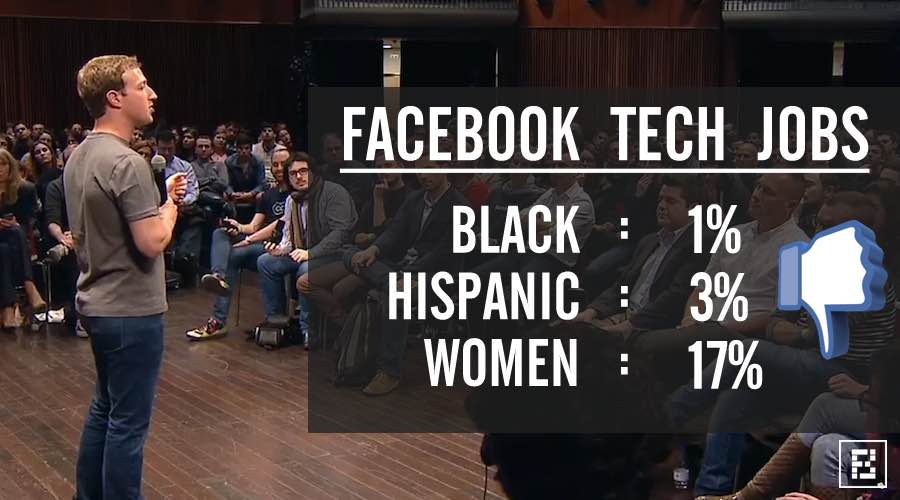 Short Bytes: Facebook has recently released its diversity report that tells us about the number of Facebook employees from various cultural backgrounds. This report once again highlights the poor representation of the black and Hispanic population. In its statement, Facebook says that a lot needs to be done and it's facing difficulty in finding enough qualified minorities. 
T
echnology leaders are often bashed for their dismal numbers when it comes to the diversity in their workforce. Adding to this failure, the latest
diversity report
released by the world's largest social network shows that it has failed to increase the participation of the minorities.
A few months back, we told you about how the lack of human resource is threatening the cybersecurity realm and Intel's diversity initiative. Let's see what Facebook has done to homogenize the ethnicity and gender ratio of its workforce.
The report shows that over the course of past one year, the percentage of black and Hispanic employees has remained the same with 2% and 4% representation, respectively.
However, the data shows that as compared to last year's 55%, the share of white employees in the U.S. has fallen to 52%. Interestingly, Facebook's Asian population has grown from 36% to 38%.
The 2016 diversity report, for the first time, disclosed the sexual orientation and gender identity as a result of a voluntary survey. According to 2016 data, out of the 61% people who responded, 7% people identified themselves as lesbian, gay, bisexual, transgender, queer, or asexual (LGBTQA).
Also Read: Female Coders Face Rejection When They Reveal Their Gender, Shows Study
Another interesting point outlined by the report is that Facebook now employs fewer men compared to last year. Now, Facebook consists of 67% males as compared to 2015's 68% share.
Talking about the low representation of the black and Hispanic population, Facebook accepts that it has a long way to go. However, the company fails to make an impactful statement by calling it a problem that's unfixable by Facebook.
Here's what Facebook has to say — "It has become clear that at the most fundamental level, appropriate representation in technology or any other industry will depend on more people having the opportunity to gain necessary skills through the public education system."
In simpler words — There aren't enough qualified black and Hispanics as compared to white men.
If we take this data set and look at the tech jobs–the highest valued jobs in the Facebook, things are even worse. These tech jobs have just 1% blacks, 3% Hispanic, and 17% women.
To address such issues, Facebook has committed $15 million to Code.org over the period of next 5 years. As a silver lining, Facebook also notes that in the past 12 months, the new leadership hiring includes 9% blacks, 5% Hispanic, and 29% women.
What do you think about Facebook's latest diversity report? Share your views in the comments below.
Also Read: Facebook Moves Its 13,000 Employees To Microsoft Office