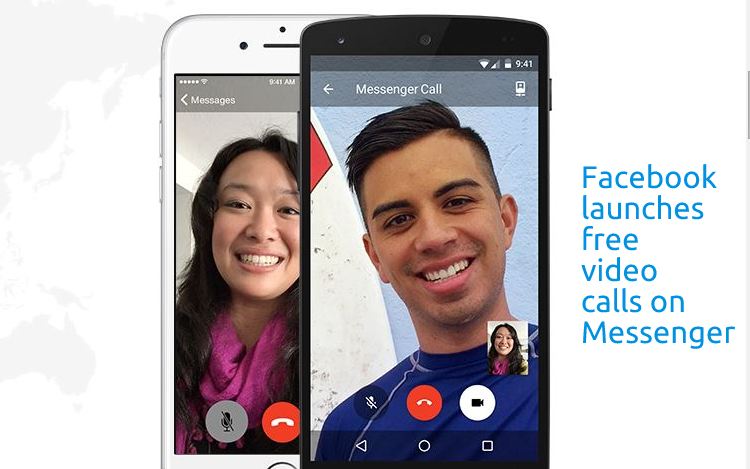 Facebook has been pushing its Messenger to develop it as a platform. At last month's F8 developer's conference, Facebook introduced various new features in Messenger. Continuing its efforts to push Messenger forward, Facebook has introduced video calling facility to its popular Messenger app.
With video calling in Messenger, Facebook will now compete with Google's Hangout, Microsoft's Skype, Apple's FaceTime and others.
How to use video calling in Messenger app?
Users can easily start making a video call with their Facebook friends by simply tapping the video icon in an active conversation.  If you are messaging someone, you can simply choose the video icon from the top right corner of the screen. With video calling in Messenger, now you can make free and HD calls with clearer voice quality
Back in the year 2014, Facebook launched Messenger app as a standalone application and users were forced to download Messenger separately to send messages and chats from smartphones.
In its blog post, Facebook wrote, "Messenger already offers people the ability to make voice calls to friends and loved ones around the world. Video calling will expand Messenger's real-time communication features, enabling the more than 600 million people who use Messenger every month to reach others wherever they are, from anywhere. It's fast, reliable and high quality."
The video calling feature in Messenger is cross-platform and an Android user can call the other person on iOS device (and vice versa).
What is the current availability of video calling in Messenger?
Right now video calling in Messenger is available for iOS and Android in select regions. Users from the US, the UK, Uruguay, Belgium, Canada, Croatia, Denmark, France, Greece, Ireland, Laos, Lithuania, Mexico, Nigeria, Norway, Oman, Poland and Portugal.
Facebook has done a similar experiment in the past with Facebook-Skype integration.
Facebook has said that this video calling on Messenger will be rolled out worldwide in the coming months. Facebook has recently launched WhatsApp calling and it is expected that video calling on WhatsApp too will be rolling out soon.
Are you going to use video calling in Messenger app to connect with your loved ones? Tell us in comments below.
Related:
After Voice Calling, Free WhatsApp Video Calling Coming Soon
Facebook is Changing Its Notifications – And It's Going to Become Messy