A
s a part of their refreshed advertising policy, Facebook won't allow advertisements related to cryptocurrencies, initial coin offerings (ICO), and binary trading,
according to a post
made by company's product management director Rob Leathern.
"Ads must not promote financial products and services that are frequently associated with misleading or deceptive promotional practices, such as binary options, initial coin offerings, or cryptocurrency. Please click here to learn more," the new policy reads.
Although the names aren't explicitly mentioned, this will prohibit anyone from promoting cryptocoins like Bitcoin, Ethereum, Monero, Litecoin, etc. Some of the examples include ads providing discounted ICOs, asking users to pay retirement funds in Bitcoin, etc.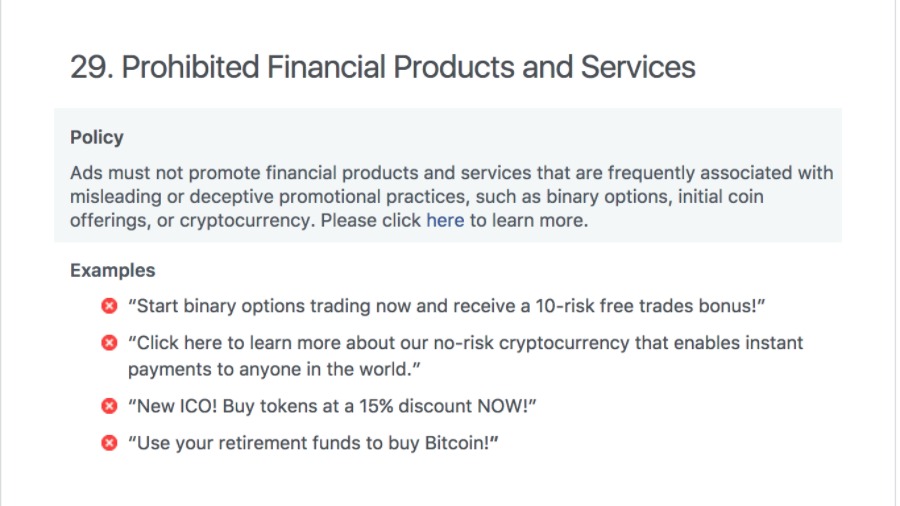 Leathern agrees that the policy is "intentionally broad" and it might affect legitimate crypto advertisers, but Facebook could make changes in the future as their signals improve. Also, their tracking system might not be fool-proof as it sounds, some ads may manage to slip through their filters. If that happens, Facebook provides users an option to report advertisements.
This move from Facebook could "better detect deceptive and misleading advertising practices" and safeguard users from online scammers running false offers and trying to pump hard earned money out of people's pockets. The new advertising policy applies to the company's platforms including Facebook, Instagram, and Audience Network.