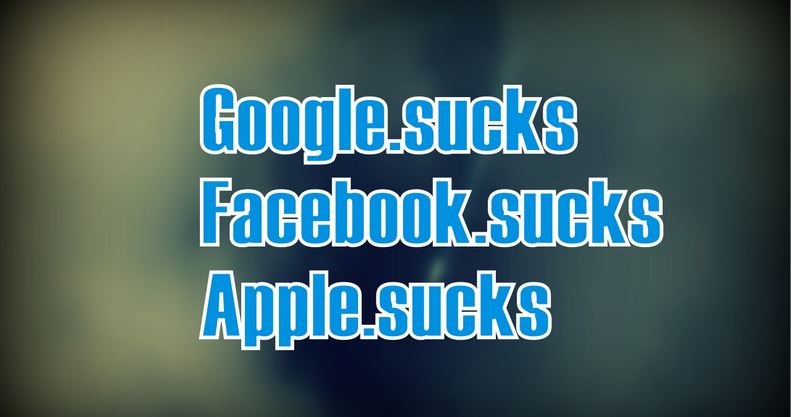 Some of the biggest brands in the world like Facebook, Google, Apple and Microsoft have buying the new and controversial .sucks domain.  The newly created ".sucks" domains are open to the trademark owners currently and will be available to the general public on June 1. This new domain name's rights were won by Vox Populi Registry, a company that manages the generic top-level domain. The Academy Award winning actor Kevin Spacey was one of the first buyers of .sucks domain name.
This controversial new domain is highly over-priced and is costing around $2,500 per year for the trademark holders. Different companies say that they never plan to use this domain name ever for any commercial purposes.
While many companies and their executives say that this is some kind of extortion, Vox Populi's CEO John Berard told TNW that he disagrees:
"We see the .sucks name space as a pointed way to get a word in edgewise.  And when one considers the effort companies put behind their marketing, customer service and product development, the new names can be an effective plank in that total platform."
Recommended for you: Cyanogen CEO: We're Putting a Bullet Through Google's Head
Here are some of the recent registrations added to the .sucks domain name:
Apple
itunes.sucks
filemaker.sucks
garageband.sucks
macbookair.sucks
facetime.sucks
itunesradio.sucks
finalcutpro.sucks
carplay.sucks
imac.sucks
osx.sucks
Microsoft
windowsphone.sucks
msn.sucks
outlook.sucks
windows.sucks
onenote.sucks
Facebook
Google
nest.sucks
gmail.sucks
glass.sucks
Recommended for you: Why WikiLeaks Redesigned its Homepage Exactly like Google's?
Should .sucks domain name be attributed to the freedom of speech, or it is just a way to extort money? Tell us in comments!