There were reports earlier this year that Facebook gathered call and text data from users without user consent. Multiple allegations of abusing Android APIs to harvest call and SMS data made headlines.
But Facebook said that it was only collecting metadata through Facebook Lite and Messenger — both of which asked users for their permission during setup.
However, the platform's integrity is once again under clouds of doubts with the revelations from internal emails released by the UK Parliament. These emails come from internal documents seized by an app developer company Six4Three.
The internal emails show employees explicitly discussing how they can avoid any Android permissions request while accessing SMS and call history.
To recall, Six4Three is the company behind the creepy app which collected bikini pictures from your contacts on Facebook. When Facebook cut off its access to data in 2014, Six4Three sued the social media giant for forcefully shutting down its business.
The internal documents in question were obtained from Facebook during the discovery phase of the lawsuit.
One of these documents contains an email thread sent on February 4th, 2015, where one Facebook employee said that the addition of a "read call log permission" would be "pretty high risk thing to do from a PR perspective."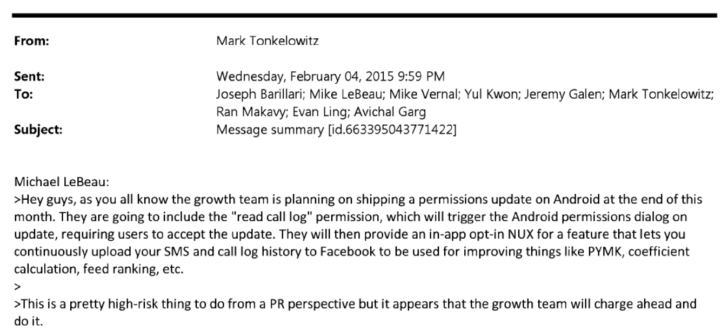 There is another email from a different employee that says Facebook's "Growth" department was trying to figure out a way to get call log permission without even showing a permission dialogue from Android users.

All evidence points towards Facebook's motive to exploit Android APIs for its own gain — but what was the gain exactly? Even though Facebook claims to use this kind of information for features like People You May Know and feed ranking, there are suspicions that the platform sells its users' data.
But as usual, Facebook denies such claims and these allegations haven't been proven yet. Meanwhile, the company has responded in a press statement:
"As we've said many times, Six4Three — creators of the Pikinis app — cherrypicked these documents from years ago as part of a lawsuit to force Facebook to share information on friends of the app's users. The set of documents, by design, tells only one side of the story and omits important context."