Short Bytes: Eye is a new case for Apple iPhone which includes an Android unit on the backside. The case comes with 5-inch FHD display, MediaTek Helio P20 octa-core processor, 2GB RAM, WiFi ac, Bluetooth, IR blaster, 280 mAh battery. The iPhone case is currently available on Kickstarter with an estimated delivery around August 2017.
A
ndroid and iOS-powered smartphones have their own set of pros and cons. But a company is trying to give the best of both worlds i.e. a case of iPhone with an embedded Android phone.
The Israel-based startup named ESTI Inc. is running a Kickstarter campaign for their off-the-league smartphone case called Eye. The Android device consists of an octa-core ARM Cortex A53 CPU, a 5-inch AMOLED display, 2GB DDR3 memory, 2800 mAh battery, dual-sim LTE support, Qi wireless charging, microSD slot, Bluetooth 4.2, WiFi ac, and a headphone jack.
Eye is connected to the iPhone via the lightening port and it is not just limited to two separate devices stuffed together in a casing. The case comes in two variants, with and without cellular support. The Android unit without cellular support can use the iPhone's internet connection.
The phone-cum-case also comes with stock Android Nougat 7.1 (promised OTA updated for 2 years), NFC, and an infrared sensor which could be used to control other devices like TVs.
The phone doesn't have a mic or speaker, requiring it to use the hardware on the iPhone. Also, you can add an SD card and transfer files to and from your iPhone which apparently doesn't support one. And the headphones, you can connect one pair to your latest iPhone.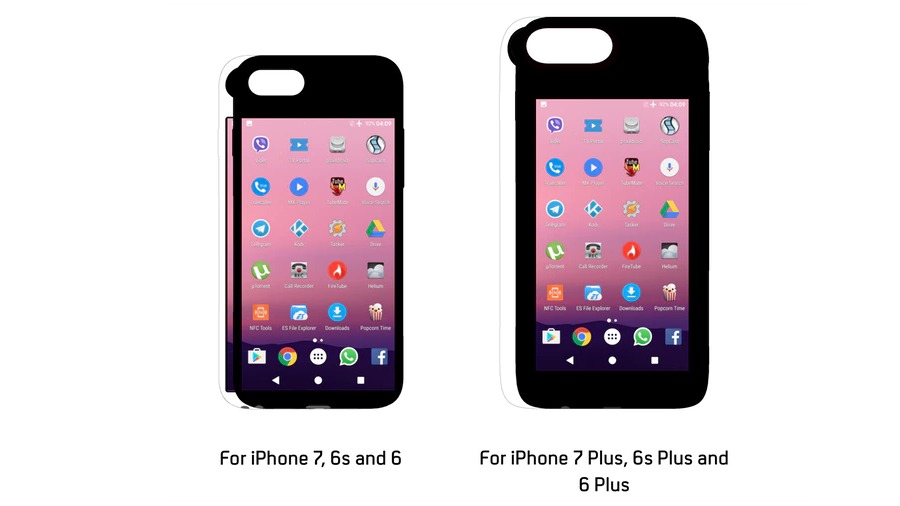 Esti has managed to receive almost double the amount of cash of what initially pledged. Sadly, the case might not be able to fit in the shoes of the Android-iOS fusion device we ever dreamt. But it can help some curious iPhone users to sneak into the Android territory.
For the future, its makers have plans to include a battery pack, and ability to offer dual-boot (Ubuntu) and even triple-boot (Windows 10 Mobile) options with the case.
You can check out Eye's Kickstarter page for more information. If you have something to add, drop your thoughts. And don't forget to tell us your feedback.
Also Read: How To Send And Request Money Using Your Gmail App For Android