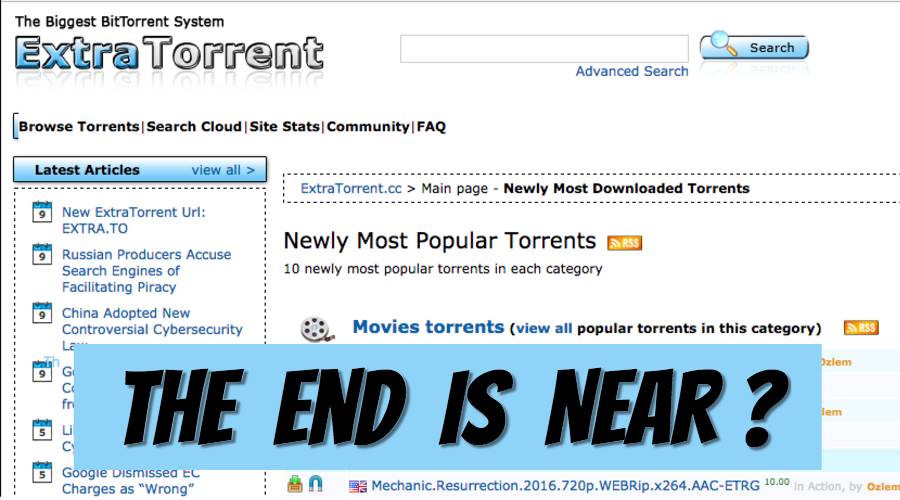 Short Bytes: World's second most popular torrent website ExtraTorrent has lost its three key official domain names. While Czech domain registrar Subreg.cz was blamed by the ExtraTorrent operator, Subreg has denied any involvement. Meanwhile,extratorrent.cc, website's most popular domain, is working fine. 
A
fter the
demise of KickassTorrents
and Torrentz, the pirates found comfort in the form of
The Pirate Bay and ExtraTorren
t. These torrent indexes enjoyed a massive boost in the popularity.
ExtraTorrent, the second largest torrent site, has lost its multiple key mirror domain names in a recent development. This happened due to its feuds with various copyright and entertainment industry groups that put pressure on the hosting companies and domain name services.
The lost mirror domains are: extratorrent.rocks, etproxy.top and extratorrent.date
Talking about the particular culprit Subreg.cz, a Czech domain registrar, ExtraTorrent's operator told TorrentFreak that they were allegedly locked out of the website's control panel and the domain stopped resolving.
On the other hand, Subreg says that they are not responsible for the domain issues being faced by TorrentFreak. "These domain names are not blocked from our side. We got a complaint which we sent to the account holder," a spokesperson said.
This suggests that some higher authority might have taken the action. However, at the moment, the exact details on this matter are thin.
Meanwhile, the primary domain name of ExtraTorrent, i.e., extratorrent.cc, is working fine.
Did you find this article helpful? Don't forget to drop your feedback in the comments section below.
Also Read: You Can Now Explore And Torrent The Galaxy In Your Web Browser