Microsoft's event last week was expected to reveal some new features of Windows 10: The upgrade that ostensibly made Microsoft skip a version number. The features were shown off alright but we all were mighty surprised when Microsoft revealed HoloLens, their take on virtual reality. These holographic goggles are the most intriguing piece of technology coming out of Redmond in a long long time.
The event also showcased Windows 10 running on PCs and tablets and phones. Windows 10 on tablets works pretty similar to the desktop version as long as you have the keyboard attached, but for sole touch use the system arranges itself in a more touch-friendly way which Microsoft is calling Continuum. The One philosophy seems to be materialising with Windows 10 which promises to deliver a cohesive experience on a myriad of devices. One Operating System. One Store. One App [for all devices]. Some great news for the developer community.
As for the consumers, Microsoft aped Apple and announced the new version to be free for existing users running Windows 7 or 8.1 and Windows Phone 8.1 provided they upgrade in the first year after launch. Yay!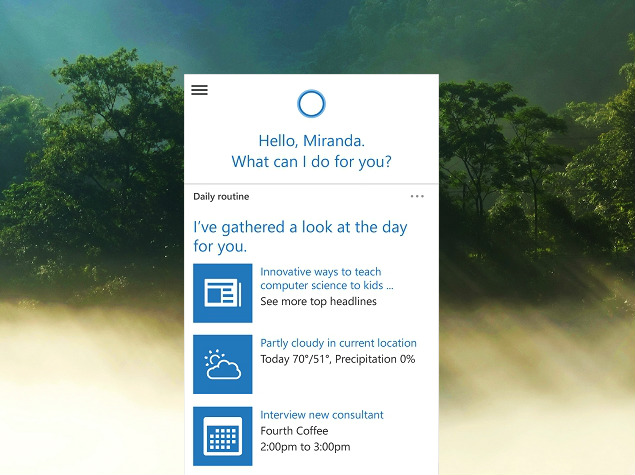 The AI from Halo brought to the present by Microsoft will now be available as a natural language understanding personal assistant on the PC as it has been on the phone for a while now and will be seated next to the start button. Cortana will take over the search functionalities in Windows and can be accessed through voice commands or typed instructions as per your wish. Cortana will keep a notebook of the details that she learns about you and what you choose to share with her. "Because she knows you, she can help in more nuanced ways," Joe Belfiore said on-stage. She can set reminders, make appointments and even remember where you parked your car.
It seems like Microsoft is sick of the trolling of its beloved Internet Explorer. The successor to the clunky old browser is the new and shiny knight in armor dubbed 'Spartan' and it has Cortana embedded too. We all know what a Spartan with Cortana can do ;)
The new browser is pretty light-weight and has a few tricks up its sleeves. A note taking mode in the browser allows you to scribble notes on the web pages you are surfing through and share them. There is a reading mode too that clears up the distractions around an article and presents a cleaned up version. A clipping tool built into the browser lets you save portions of web pages directly to your OneDrive account.
XBOX IS EVERYWHERE
A new Xbox app which will be found on each Windows build will let you stream Xbox games to your PC. The app also lets you record and share video clips from the games you play and even chat over Xbox live. This feature is available for all games and not necessarily Xbox exclusives as the feature is built right into the app. Another important announcement for gamers was that some games may support cross-platform multiplayer. People running Windows 10 on their PC or tablet will be able to play with their friends playing on the Xbox. Now, how awesome is that.
In March last year, TechCrunch had reported that Microsoft was looking forward to buy some assets on wearable computing from Ostenhout Design Group for about $200 million. The IP acquired was related to augmented reality and wearable computing. And before long Microsoft bought Minecraft in a deal of a whopping $2.5 billion. It was guessed to be a move for expanding its gaming repertoire and tapping on the huge Minecraft community. The event last week revealed what Microsoft had been up to all this while. These deals have culminated into the HoloLens and an awe-inducing futuristic demo of Minecraft.
When you change the way you see the world,
you can change the world you see.
HoloLens is a part of Microsoft Holographic which is Microsoft's bet on the future. Interactive high definition holograms subliminally merged into the real world is no longer science fiction. Out of the three video demos showed, the one with a man playing Minecraft in his living room was the best one.
Watch the video below to get your mind blown!
The device is basically a pair of goggles with 'partially reflective and partially transmissive' lenses and a third processing unit (called "Holographic Processing Unit") in addition to a CPU & GPU. The best part is that it has no wires. Many advanced sensors and spatial sound make the experience more realistic.
SURFACE HUB
The Surface hub is an 84-inch touchscreen display that Microsoft pitches as a 'powerful team collaboration device'. The screen is a 4k screen and recognizes upto 100 touch points and multiple pen tips simultaneously. It has a pen mode that is being called Ink mode and is claimed to be as fluid as pen on paper. The device runs Windows 10 tailored for touch and big screen use. That's pretty much it.
Through this single event Microsoft has demonstrated its ability to innovate, listen to suggestions, offer something new in a familiar system and all in all move into the future confidently with the trust of their customers. Read our special coverage on everything about Microsoft HERE.
---
 What do you think about Microsoft's 'next chapter'? Write in comments below.
---