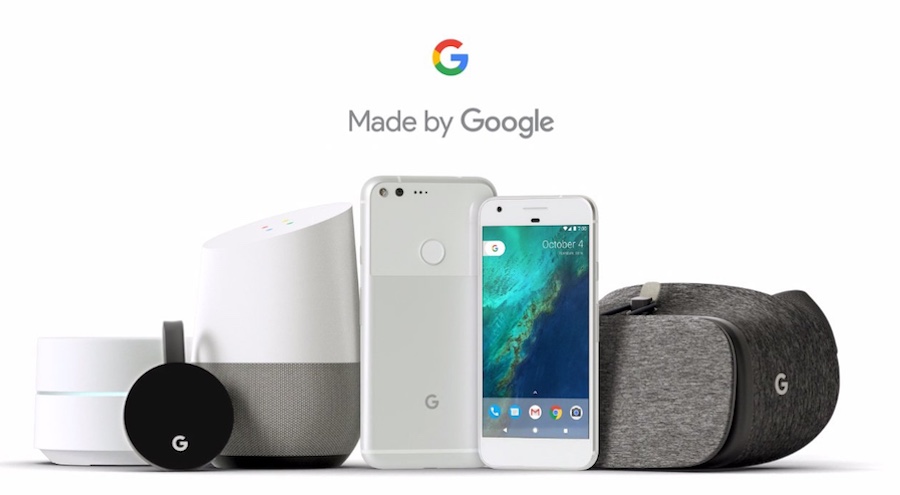 Short Bytes: At the October 4 hardware event, Google launched a bunch of devices including the much-awaited Pixel smartphone. Other devices include Google Home smart speaker, Google Wifi router, Chromecast Ultra streaming device, and Daydream View VR headset.
G
oogle, a search giant turned hardware manufacturer, hosted its biggest hardware event in a small room and launched
some big products
. These devices are the first baby steps Google has taken to create an ecosystem of Google-made devices. In past, Nexus smartphones and tablets which carried a Google tag. Now, we have several other devices to play with.
On top of these devices sits their AI bot named Google Assistant. CEO Sundar Pichai says they want to create a personal Google for you. And that's supplemented by Google's hard work in the field of artificial intelligence. Recently, they open sourced their Show and Tell algorithm which can be used to write a caption for an image.
Google Assistant is another AI dream which the company believes would streamline your Google experience. It comes as the default Assistant in Pixel smartphones. It also sits inside the Google Home and is present in the Google Allo messaging app.
Google Pixel
https://www.youtube.com/watch?v=-XZ0Xf74oVk
We have already written about Google Pixel. Please read it to know about the device specifications and price. The best thing about Pixel is that it's made by Google from the first thought on the white board to the hardware design. But we should forget the unsung hero in this story, HTC, who has manufactured the hardware. The details of Pixel got leaked in the wild well before its launch. And the actual device is somewhat similar to what we saw in the leaks.
According to benchmark tests, Pixel features the best smartphone camera. But an added advantage is the unlimited cloud storage for Google photos. An interesting thing about Pixel is its color variants, Quite Black, Very Silver, and Really Blue. Probably, a witty take on Apple's iPhone 7 released in Black and Jet Black.
Google has also launched Live Cases for Pixel phones. You can design your own cases for your Pixel phone. You can have the option put your photo, artwork, any map location on the Live case. Also, programmable buttons can be added to the Live Case allowing you to open any app by tapping on the case.
Pixel also supports Google's Project Fi which makes you independent of carrier networks. Fi automatically chooses the best carrier network and also switches between WiFi and cellular networks.
The Seamless update feature on Pixel allows it to download and install updates without interrupting your work. A developer found that changes made to the Android system to allow Seamless Updates can be used to dual-boot the phones.
Google WiFi
There was a possibility of a Google WiFi router in the works. And it is real now. Google WiFi is built upon the pillar of Google's OnHub router released last year in collaboration with Asus and TP-Link.
What Google WiFi basically is? It is a scalable wireless mesh network of Google WiFi points which work together and beam internet waves to every corner of your house. As you roam around the house, the Network Assist technology automatically transfers you from one Google WiFi point to another.
Google WiFi system can be managed using an app. It allows you to view connected devices to the network, their bandwidth usage, and ability to prioritize devices. Using the app, you can also pause WiFi on a specific device and manage security features.
You can buy a single Google WiFi point for $129 and a pack fo three for $299.
Google Home
The Google Assistant likes to talk, so, Google has given it a new home other than the smartphones. Google Home is a smart speaker that's intelligent, connected to the internet, and houses the talkative assistant. It can play songs, read news headlines, give traffic updates, make a hotel reservation, remember things, etc. You can also stream audio from your smartphone to Google Home using Chromecast compatible apps.
Apart from behaving as a voice assistant, it can also control the lighting system of your house. It offers functionality to stream music to an audio system and stream videos to a TV. But these devices need to have either native Chromecast support or a connected Chromecast device.
It comes in different colors and if you don't like it then you can change the base. Just like the Google WiFi, you can place more than one Google Home devices in your house. You need to use the same account for all of them. They will synchronize with each other and the nearest one will hear you when you'll say "Okay Google".
Google Home is a direct competitor to Amazon Echo, a smart speaker which responds when you say "Alexa". It is available for pre-order at $129.
Daydream View
https://www.youtube.com/watch?v=rLLAA4ENIP4
Another major Google I/O announcement was the Daydream which is a VR platform like Cardboard and Jump. An application of Daydream is the Daydream View VR headset launched at the October 4 hardware event.
The Daydream View is made using fabric material and comes in Slate, Snow, and Crimson colors. It's accompanied by a remote which can be used to interact with the virtual reality. The Daydream Controller can detect your gestures and movements.
It supports a variety of apps like YouTube, Street View, etc. You can tune in live NBA games, stream movies and tv shows on Netflix, and play a plethora of games.
The Daydream View will hit the stores in November. Pixel is a Daydream-compatible smartphone along with devices from partner brands like HTC, Xiaomi, LG, etc. It will be up for pre-order in the US on Oct 20 at the price of $79. It will have to face other players like Oculus. But it's price is a clear advantage over others.
Chromecast Ultra
As expected, Google's Chromecast media streaming device has received a major upgrade. Now known as Chromecast Ultra, it allows you to stream 4K content. It also supports HDR (High Dynamic Range) and Dolby Vision output. The video loading time on Chromecast Ultra is almost two times less than the previous Chromecast devices.
You can use it to mirror your Android smartphone or Chrome tabs from your computer just like you could do on older Chromecast. It can also provide an ethernet port if your WiFi network is not the up to the mark. It also works with Google Home to allow streaming of content on connected TVs which doesn't have native Chromecast support.
Chromecast Ultra is available at a price of $69.
Correction: Earlier, we wrote that the Pixel's hardware was designed by Google. We came to know that HTC  has manufactured the device. We have made the changes.
If you have something to add, tell us in the comments below.
Read More: YouTube Go: Watch YouTube Videos Without Using Internet