I review a lot of software and of different kinds. Not all of them can maintain a balance between easy-to-understand User Interface (UI) and powerful tools. EssentialPIM is exactly the opposite kind of software.
Within its simple UI, the software incorporates a rich variety of tools with enough depth that they can easily act as a second brain for you.
I used EssentialPIM for over a week for my planning, scheduling, and every other office need. Here's what I found it does better.
EssentialPIM: A Meticulous Software For The Modern Manager
There are several meetings in the office that don't lead anywhere. Similarly, there are professional contacts that get drowned in a sea of other colleagues with the same name. For these inconveniences, EssentialPIM presents solutions so good that they give me the feeling "Why didn't I think of that?"
The EssentialPIM lets me configure the following:
Daily agenda
Calendar
Tasks
Notes
Contacts
Mail
Passwords
Daily Agenda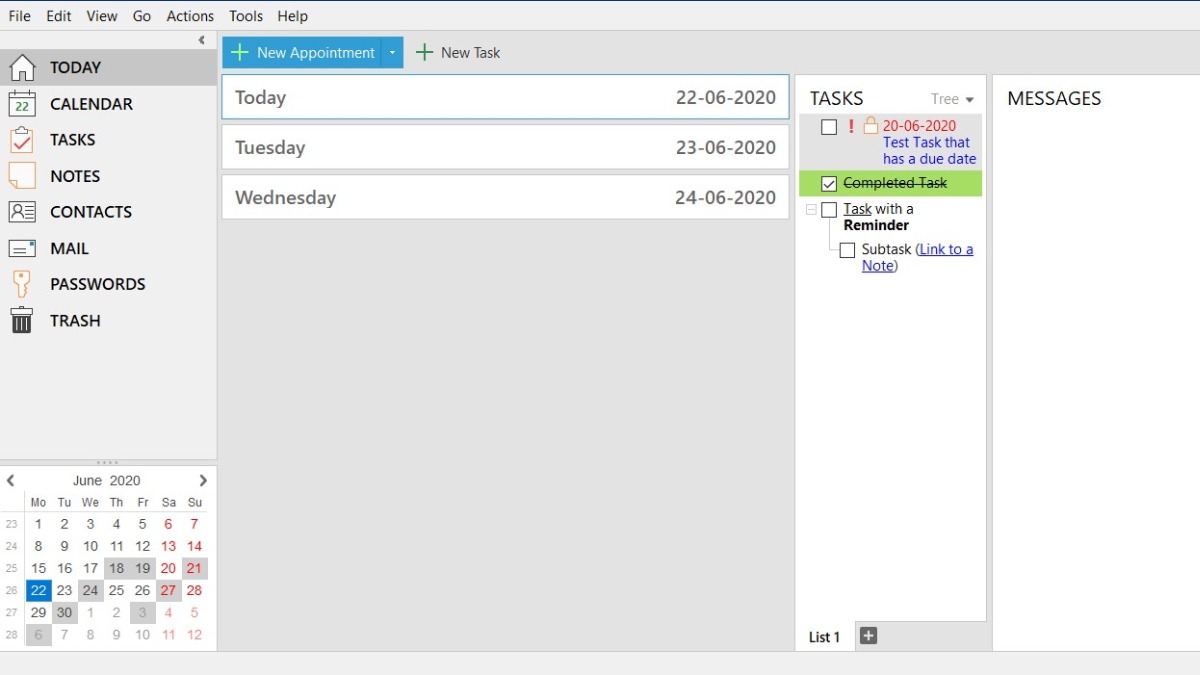 The Daily Agenda feature is for taking an overview look at the different tasks that await me throughout the day. The software collects data from all the different sections like tasks, notes, and calendars into the daily agenda.
It is particularly useful when I am rushing in the morning and just need to take a quick look at my schedule for the day. EssentialPIM offers sync features with Android and iOS mobile phones, so I just need to pop open the software app on my smartphone to follow up on my daily tasks.
How you want to see your tasks can also be managed quite easily. You can set certain to stay visible up to a certain period.
Calendar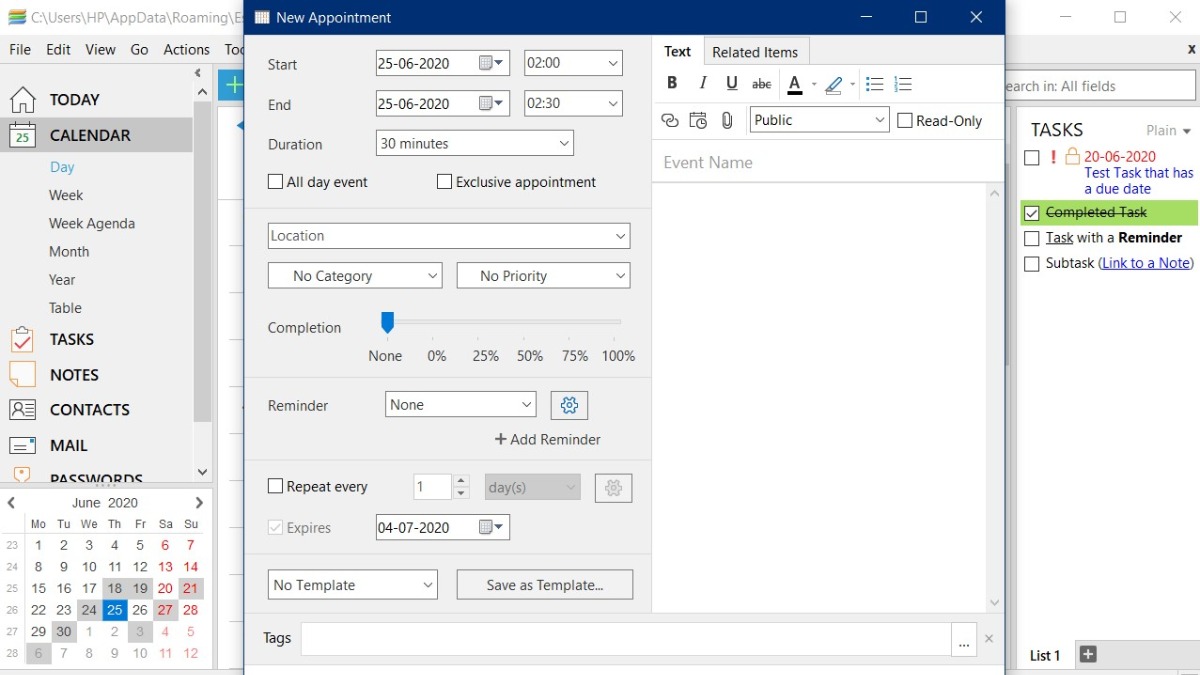 Just like your Daily Agenda, your calendar too can be easily planned using EssentialPIM. To give you an idea, with just a few clicks, you can easily plan any single day or week within a year as meticulously as you'd wish.
For example, if I select the 4:30 PM on Friday, a fresh window titled "New Appointment" pops up. Here, I can set the start date and the end date of my task along with the category to which the task belongs.
You can also set the location, priority, and completion percentage of your task.
And to make sure your appointments don't get lost in the mix, the calendar comes with a color-coding feature and an instant search option as well.
The New Appointment window also has its own note-taking area on the right side of the window. It means that I can write stuff without going back and forth to other areas.
Tasks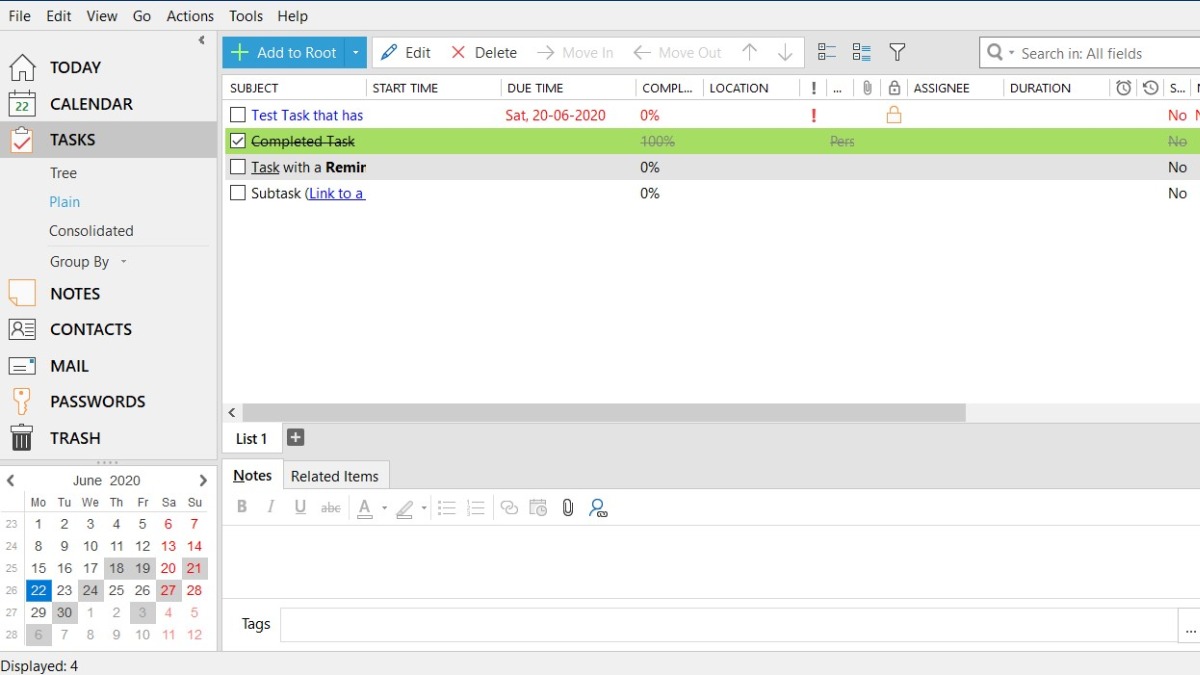 Not only can you set different tasks, but you can also define sub-tasks for the same. It is particularly helpful in my job as a video producer. Scriptwriting and pre-production often tend to be a more organic process than filling a spreadsheet. Defining sub-tasks lets me steer my team with a clear vision through every step, thus saving me a lot of time.
If you want to decouple the entire "subtask" routine, you can use "Plain" task feature.
Tasks can be differentiated either on the basis of an icon or color type for easy search. Furthermore, smartphone sync, easy printout option, and export function let you handle your data easily. Additionally, you can group different tasks by Due date and Start date.
Notes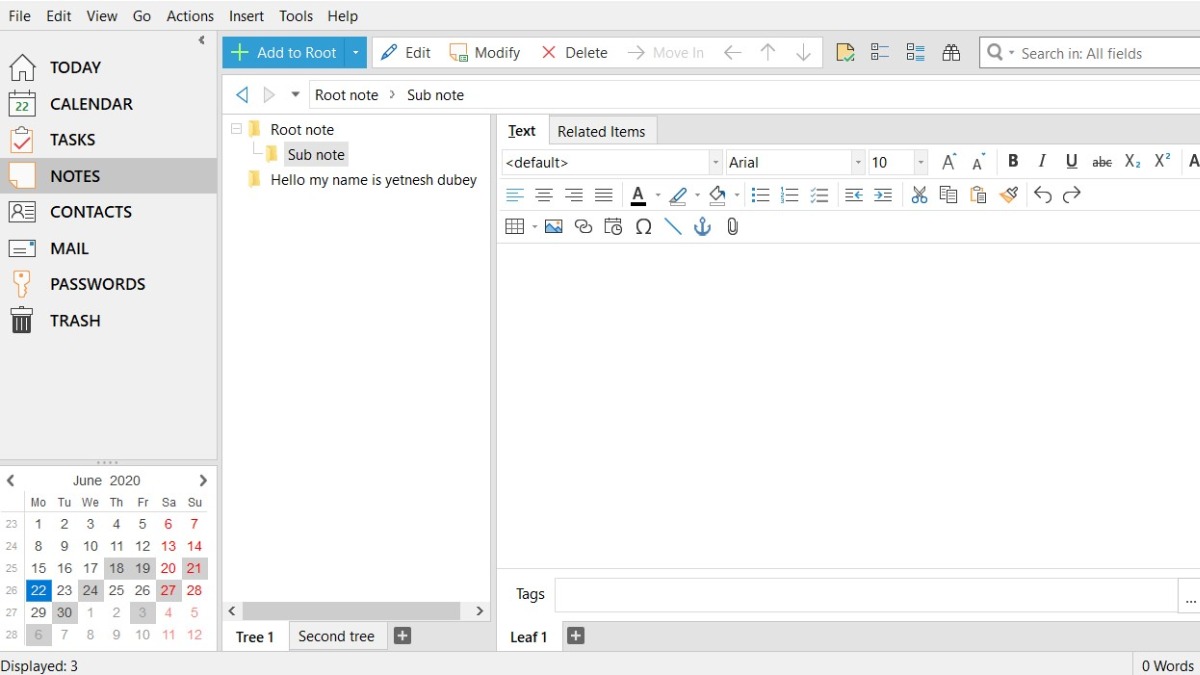 EssentialPIM allows you to take notes in different forms including, flat, table, or tree-like. Furthermore, for extensive note-taking, EssentialPIM allows you to insert photos, tables, and drawings.
While writing notes, you're presented with just as many options as in a word processing software, which is quite nice. If you're in a hurry, then the "Notes" section also has a "Sticky note" option. Using it you can quickly type important notes from a meeting or a lecture and later sort them out.
Contacts
The contact feature does exactly as it sounds. You can save different contacts and arrange them in different groups. The option to input the "Job Title" and "Company" name is really useful to separate two similar names from each other.
Having the ability to add different contact numbers to different groups and name them accordingly is a genius yet simple way to make sure one never mixes up contact again.
Joseph from the North Zone Sales team will never be mixed up with Joseph from the North East HR department. Contacts also feature integrated synchronization with Microsoft Outlook and Google across your iOS and Android devices.
Password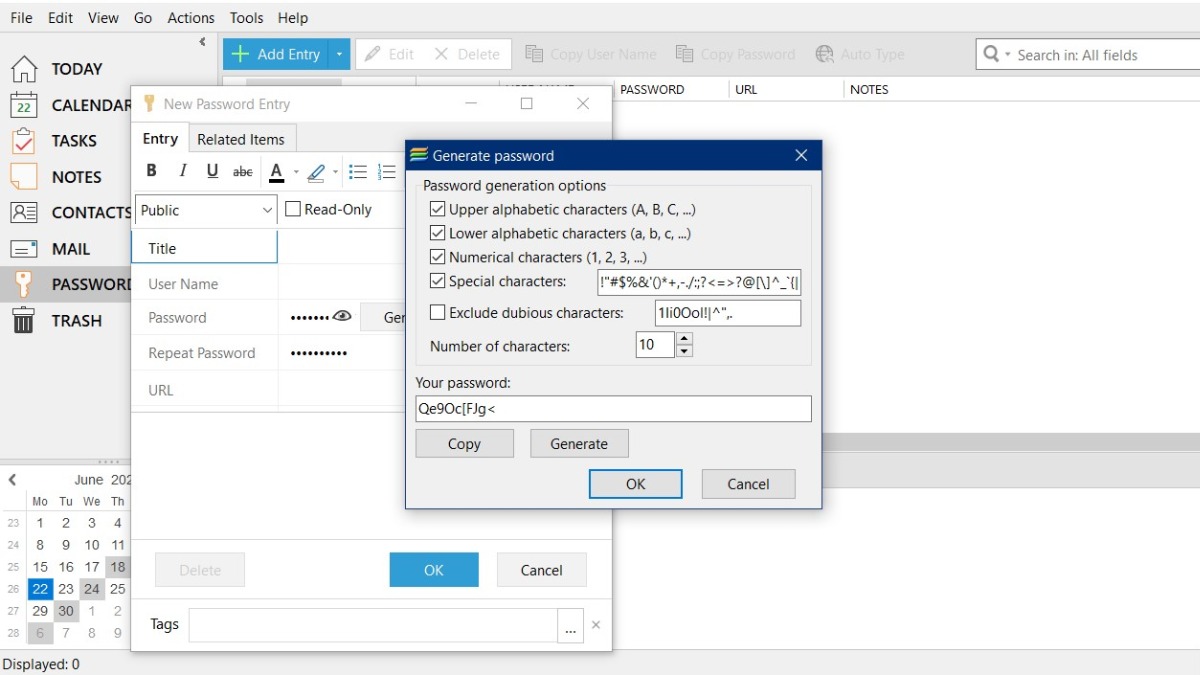 This feature allows you to store passwords for different accounts. How EssentialPIM does this better is by having the option to generate different passwords every time you need them.
The password usually consists of a combination of special characters, symbols, punctuation marks, letters, and numbers. In short, it's tough to crack.
You can also type in passwords on different websites with a single click.
EssentialPIM: Should You Buy It?
With easy sync across multiple devices and an easy yet powerful information management system, EssentialPIM seems like super easy software to recommend.
It did make me super productive for the week, but it failed to change my habit of procrastinating until the final moment arrives. But that's through no fault of its own.
EssentialPIM acts like a barrier to my lazy and forgetful self, allowing me to achieve more than I could on my own. In short, it is like having a second brain that records my thoughts as I want and stores them in it.
Within a week, I barely scratched the surface of the features in the EssentialPIM. There's still a lot of useful stuff to be discovered in this software.
You can buy one yourself either for a lifetime license or as an annual license.
EssentialPIM made me productive, but it didn't make me a productive person. And as far as I know, no software can do that. However, EssentialPIM does make some meaningful strides in that area.